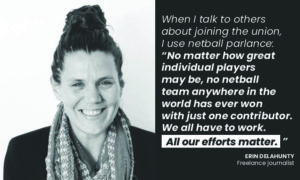 Erin Delahunty is a freelance journalist who was recently elected a Federal Vice-President of MEAA's Media section. She lives and works in regional Victoria.
Growing up, I watched my father, a primary school teacher and principal, live union values, without big-noting himself as doing such.
He believed in fair and fought for it in and out of the workplace.
That meant it felt ...