WE are storytellers – writers, producers, directors, casts and crews who make screen stories that honour past Australians and connect present and future generations to our history and to our values.
YOU are elected representatives – the custodians of Australia's stories, our unique culture. You create the environment within which our nation's stories thrive or die.
Ours is a partnership. And we need your help.
Our ability to keep telling Australian stories on screen is at risk, our voices in danger of being drowned out by a deluge of overseas content.
And if our nation's stories aren't told, they die. And when they die, future generations won't know who we are and what makes us us.
That's why we need to 'Make it Australian'.
We need:
Australian content rules to evolve, to cover new media like Netflix, Amazon, Telstra TV, telcos and ISPs;
Competitive tax incentives; and
Well-funded public broadcasters and screen agencies.
Then we can compete. Australians telling the diverse stories of our people, our country.
We call on parliamentarians, the custodians of our uniquely Australian stories, to commit to growing our screen industry so that our Australian stories will be told to our children, grandchildren and the generations of Australians that follow.
SIGNED
Camilla Ah Kin (Actor); Gillian Armstrong (Director); Su Armstrong (Producer); Tony Ayres (Director); Michala Banas (Actor); Tony Barry (Actor); Simon Baker (Actor); Natalie Bassingthwaighte (Actor); Steve Bastoni (Actor); Nicholas Beauman ASE (Screen Editor); Dion Beebe ACS ASC (Cinematographer); Nicholas Bell (Actor); Amanda Bishop (Actor); Wayne Blair (Actor); Rachael Blake (Actor); Cate Blanchett AC (Actor); Russell Boyd ACS ASC (Cinematographer); Patrick Brammall (Actor); Shane Brennan (Screenwriter); Tony Briggs (Actor); Anna Broinowski (Director); Jonathan Brough (Director); Bryan Brown AM (Actor); Chris Brown (Producer); Simon Burke AO (Actor); Jason Burrows (Producer); Mitchell Butel (Actor); Robyn Butler (Actor); Rose Byrne (Actor); Annie Byron (Actor); Rob Carlton (Actor); Peter Carroll (Actor); Michael Caton (Actor); Penny Chapman (Producer); Shareena Clanton (Actor); Dustin Clare (Actor); Justine Clarke (Actor); Adelaide Clements (Actor); John Collee (Screenwriter); Toni Collette (Actor); Ian Collie (Producer); Robert Collins (Actor); Robert Connolly (Director); Dany Cooper ASE (Screen Editor); Michael Cordell (Producer); Wendy Cork APDG (Costume Designer); Rodger Corser (Actor); Jai Courtney (Actor); Deb Cox (Producer); Stephen Curry (Actor); Helen Dallimore (Actor); Henry Dangar ASE (Screen Editor); Matt Day (Actor); Alexandre de Franceschi ASE (Screen Editor); Rolf De Heer (Director); Kate Dennis (Director); Jason Donovan (Actor); Terry Donovan (Actor); John Doyle (Screenwriter); Beverley Dunn (Set Decorator); Marta Dusseldorp (Actor); Harriet Dyer (Actor); Fiona Eagger (Producer); Joel Edgerton (Actor); John Edwards (Producer); Ben Elton (Screenwriter); Alexander England (Actor); Daniela Farinacci (Actor); Carl Fennessy (Producer); Mark Fennessy OAM (Producer); David Field (Actor); Angie Fielder (Producer); Jack Finsterer (Actor); Alan Fletcher (Actor); Roger Ford (Production Designer); Lucy Fry (Actor); Lizzy Gardiner (Costume Designer); Nadine Garner (Actor); Rebecca Gibney (Actor); Colin Gibson APDG (Production ); Designer); Antony I Ginnane (Producer); Rachel Gordon (Actor); Ian Gracie APDG (Supervising Art ); Director); Pippa Grandison (Actor); Gyton Grantley (Actor); Mac Gudgeon (Screenwriter); Don Hany (Actor); Anthony Hayes (Actor); Noni Hazlehurst (Actor); Chris Hemsworth (Actor); Damon Herriman (Actor); Scott Hicks (Director); Chris Hilton (Producer); PJ Hogan (Director); Frankie J Holden OAM (Actor); Wayne Hope (Actor); Sacha Horler (Actor); Lachy Hulme (Actor); Peter James ACS ASC (Cinematographer); Tom Jeffrey AM (Producer); Veronika Jenet ASE (Screen Editor); Ron Johanson OAM ACS (Cinematographer); Laura Jones (Screenwriter); David Jowsey (Producer); Claudia Karvan (Actor); Sean Keenan (Actor); Deborah Kennedy (Actor); Andrew Knight (Screenwriter); Samantha Lang (Director); Anthony LaPaglia (Actor); Michela Ledwidge (Director); David Lee (Sound Recordist); Steve Le Marquand (Actor); Jacinta Leong APDG (Art Director); Ewen Leslie (Actor); George Liddle APDG (Production Designer); Jeremy Lindsay-Taylor (Actor); Rob Mackenzie (Sound Editor); Deborah Mailman (Actor); Jessica Marais (Actor); Lex Marinos (Actor); Damian Martin (Prosthetic Makeup Artist); Catherine Martin APDG (Production Designer); Don McAlpine ACS ASC (Cinematographer); Catherine McClements (Actor); Andrew McFarlane (Actor); Jacqueline McKenzie (Actor); Ray Meagher (Actor); Nick Meyers ASE (Screen Editor); Sue Milliken AO (Producer); Heather Mitchell (Actor); Jocelyn Moorhouse (Director); Kestie Morassi (Actor); Geoff Morrell (Actor); Kate Mulvany (Actor); Nick Murray (Producer); Igor Nay (Production Designer); Sam Neill (Actor); Robyn Nevin (Actor); Phil Noyce (Director); Chris Oliver-Taylor (Producer); Ben Osmo (Production Sound Mixer); Hunter Page-Lochard (Actor); Helen Panckhurst (Producer); Georgie Parker (Actor); Owen Paterson APDG (Production Designer); Craig Pearce (Screenwriter); guy Pearce (Actor); Deborah Peart ASE (Screen Editor); Jen Peedom (Director); Rachel Perkins (Director); Jacquelin Perske (Screenwriter); Adrienne Pickering (Actor); Jo Porter (Producer); Susie Porter (Actor); Leah Purcell (Actor); Daina Reid (Director); Chloe Rickard (Producer); Deborah Riley (Production Designer); Brian Rosen (Producer); Richard Roxburgh (Actor); Bill Russo ASE (Screen Editor); Martin Sacks (Actor); Jan Sardi (Screenwriter); Fred Schepisi (Director); John Seale AM ACS ASC (); Cinematographer); Dean Semler AM ACS ASC (Cinematographer); Emile Sherman (Producer); Greer Simpkin (Producer); Sarah Snook (Actor); Dan Spielman (Actor); Kriv Stenders (Director); Barbara Stephen (Producer); Kat Stewart (Actor); Yael Stone (Actor); Gary Sweet (Actor); Nadia Tass (Director); Michael Tear (Producer); Lisa Thompson (Set Decorator); Erik Thomson (Actor); Sigrid Thornton (Actor); Lesley Vanderwalt APDG (Hair and Makeup Designer); Matt Villa ASE (Screen Editor); Jeffrey Walker (Director); Mandy Walker ACS ASC (Cinematographer); Stephen Wallace (Director); Damian Walshe-Howling (Actor); Tasma Walton (Actor); Rachel Ward AM (Actor); Elka Wardega (Prosthetic Makeup Artist); Hugo Weaving (Actor); Peter Weir (Director); Bob Weis (Producer); David Wenham (Actor); Jo Werner (Producer); David Williamson (Screenwriter); Margot Wilson APDG (Costume Designer); Rebel Wilson (Actor); Stephen Windon ACS ASC (Cinematographer); Ben Winspear (Actor); Dan Wyllie (Actor); Julia Zemiro (Actor).
Australian Directors' Guild; Australian Writers' Guild; Media, Entertainment & Arts Alliance; Screen Producers Australia. With support from the Australian Cinematographers Society, Australian Production Design Guild, Australian Screen Editors, Australian Guild of Screen Composers, Australian Screen Sound Guild, Women in Film and Television, Visual Effects Society.
Performers, producers, writers, directors and crew are joining forces to campaign for the future of the screen industry. We want Australian stories told on Australian screens by us, to us, about us. We want to Make It Australian.
Stories have been told on this continent for thousands of generations.
We want Australian stories told on Australian screens by us, to us, about us because no-one else will tell stories of the diversity of Australian experiences in our unique Australian landscapes.
But story-telling on screen is at risk. Our capacity to make it Australian is at risk because:
•  The rules that ensure Australian stories appear on Australian screens must evolve so that streaming services like Netflix, YouTube, Stan, ISPs and Telcos have obligations to promote and invest in original Australian content.
•  Major supporters of Australian stories – Screen Australia and the ABC – have had their funding cut year after year.
•  Commercial TV broadcasters want to walk away from any requirement to create children's content.
•  Tax incentives that encourage production in Australia are no longer competitive.
The campaign references the successful "TV – Make it Australian" campaign of the 1960s and 1970s. In response to a parlous situation where only 1 per cent of drama on commercial networks was Australian – the other 99 per cent foreign – the industry sought local content obligations on commercial broadcasters. The Australian Film, Television and Radio School was also established out of the original campaign.
What the campaign is asking for
The campaign is seeking a strong government commitment to a sustainable film and television industry for producers, cast and crew, writers and directors that supplies a diversity of quality Australian content for Australian and international audiences.
To this end, the campaign is asking for:
•  Local content obligations to be evolved to include new market entrants (e.g. Netflix, Amazon, telcos, ISPs);
•  Competitive tax offsets (producer, PDV and location);
•  Well-funded public broadcasters and screen agencies.
Will you join us?
In a time of great challenge and change, telling our own Australian stories to each other and the world has never been more important.
Rules for minimum Australian content only apply to the commercial networks (free to air and pay TV).
• It is time to extend content regulation to the digital realm. Digital content providers that generate revenue from the Australian market (particularly, subscription video on demand services like Netflix and Stan) should contribute to telling Australian stories.
• Commercial networks want to abolish children's content quotas. When UK children's quotas were removed, 93% of children's content production ended. If children's quotas are removed we will never get them back. These quotas must be kept up and be extended to the digital realm. #savekidsTV
Updated incentives to support production
Australia is competing in the global market but we are held back by our tax system.  Competitive tax offsets will increase production and support local jobs.
• It is time to update the 40% producer offset for Australian feature films by making it platform neutral – television and digital are now just as important as film.
• At 16.5%, the location offset for international productions is simply not competitive. It is time to put Australia on a level playing field and increase the location offset to 30%. The investment, training, and profile of international productions keeps our industry on the cutting edge.
Proper funding to public broadcasters and Screen Australia
Public broadcasters and Screen Australia play an important cultural role as a major source of funds for film, television and digital productions in this country.
• Since 2014, more than $250m has been cut from the ABC. Over this same period, the ABC's commissioning budgets for adult drama and children's content each dropped by 20%.
• Given their important cultural role, the ABC and SBS need to be properly funded.
• It is time to set minimum Australian content levels for the ABC and SBS and provide sufficient funds to meet these requirements.
• Restore Screen Australia funding to at least $100m per year (2012/13 levels) so that more projects can be green-lit.
MEAA members have a long and proud history of campaigning for local content. In the 1970s Australian performer Terence Donovan was a founding member of the Make it Australian campaign. Here he reflects on its success.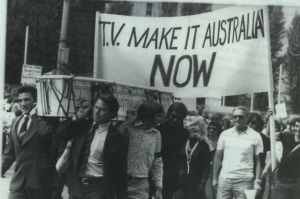 Having started my professional career in 1960 in West Side Story at Melbourne's Princess Theatre, I quickly came to realise I had a lot to learn. There was no educational facility like the Victorian College of the Arts, NIDA or WAAPA to study with; you had to rely on natural ability to get you through.
At that time, actors were not considered very productive members of the community and, therefore, had little say. The arts, generally, were not well supported, which was one good reason to belong to Actors' Equity where, collectively, performers had a stronger voice and could be better protected with regard to basic rights and conditions, as well as helping to change prevailing attitudes towards them.
I was fortunate to meet director Wal Cherry and actor George Whaley, who were starting up an alternative small venture in South Melbourne called The Emerald Hill Theatre Company. I was given many opportunities to play substantial parts in their productions, which proved an incredible experience and training ground.
Many years of my career were taken up with working for Crawford Productions. The main show I was involved in was the police series, Division 4, and it was fairly primitive when it started. We didn't have a caravan to change in – just the backs of cars − there was hardly any catering, and make-up and wardrobe were limited. More often than not, we wore our own clothes.
This became such a problem that when my one and only suit started to fall off me, my dear friend Pat Forster, who was in charge of wardrobe, took me to the boss to explain our problem. He looked me up and down and said: "You look fine." I turned around and bent over, and my arse was hanging out of my pants. He said: "Well, that won't do" and promised he would do something. The next week, they did a deal with a clothing shop and all the actors got new suits.
I went to thank the boss but thought better of it when I saw he also had a new suit, as did his nephew and the accountant, and pretty well everyone else in the building.
Pat Forster had a constant battle trying to clothe people, with hardly any budget. She wheeled and dealed to make sure everyone was dressed correctly, but the egos of some actors were another thing. One leading actor in a police series refused to believe that his waist measurement was 38 inches [about 96cm], which was what Pat had written down. She had to put up with constant harassment from this actor, who asserted that the tape measure was wrong. In desperation, Pat changed all the labels on his clothing and that did the trick.
I was the Equity deputy for Crawford Productions on Division 4. In 1968-69, there was a great deal of controversy about royalties. Actors in America and Britain were paid royalties for their work on television programs but not in Australia.
In conjunction with Equity's Victorian secretary, Vic Arnold, I called a meeting of all the actors at Crawford's to discuss this injustice. After much heated debate, it was decided, to the credit of our members, that we should campaign for more Australian content, and that the royalty question should be put on hold ‒ for the moment.
Out of all this, we eventually established the 'TV Make it Australian' committee to lobby the government and public servants. Our boss, Hector Crawford (the Silver Fox), turned a blind eye to what we were doing, which was using his phones, office equipment, secretaries and writers, having endless meetings with the Broadcasting Control Board and lobbying politicians.
Politicians … my God, have we got to be careful of them. I am sure most of them go into politics with the best of intentions but the reality of their world is that you have to toe the party line, and who knows when the line might change to suit their own ends or those of their friends. It seems difficult to believe that Australian politicians took so much convincing of the merits of Australian production.
Although I didn't realise it at the time, on reflection, those were wonderful years at Crawford Productions. I think we all owe so much to the founders of the company, Dorothy and Hector Crawford. They were the real pioneers of Australian television because, against all odds, they survived to prove that the public wanted to see locals on our screens and, because of their efforts, on the screens of the world.
Terence Donovan has been a proud member of Equity since 1960. This article was originally published in the Spring 2014 issue of the Equity Magazine to commemorate Equity's 75th Anniversary.
The Make It Australian Sydney launch:
Campaign launch video:
Amazing historical footage from an ASIO film of an Actors' Equity rally for local content in Canberra in the 1950s: