WA Media Awards
---
Winners announced in the 2019 WA Media Awards.
---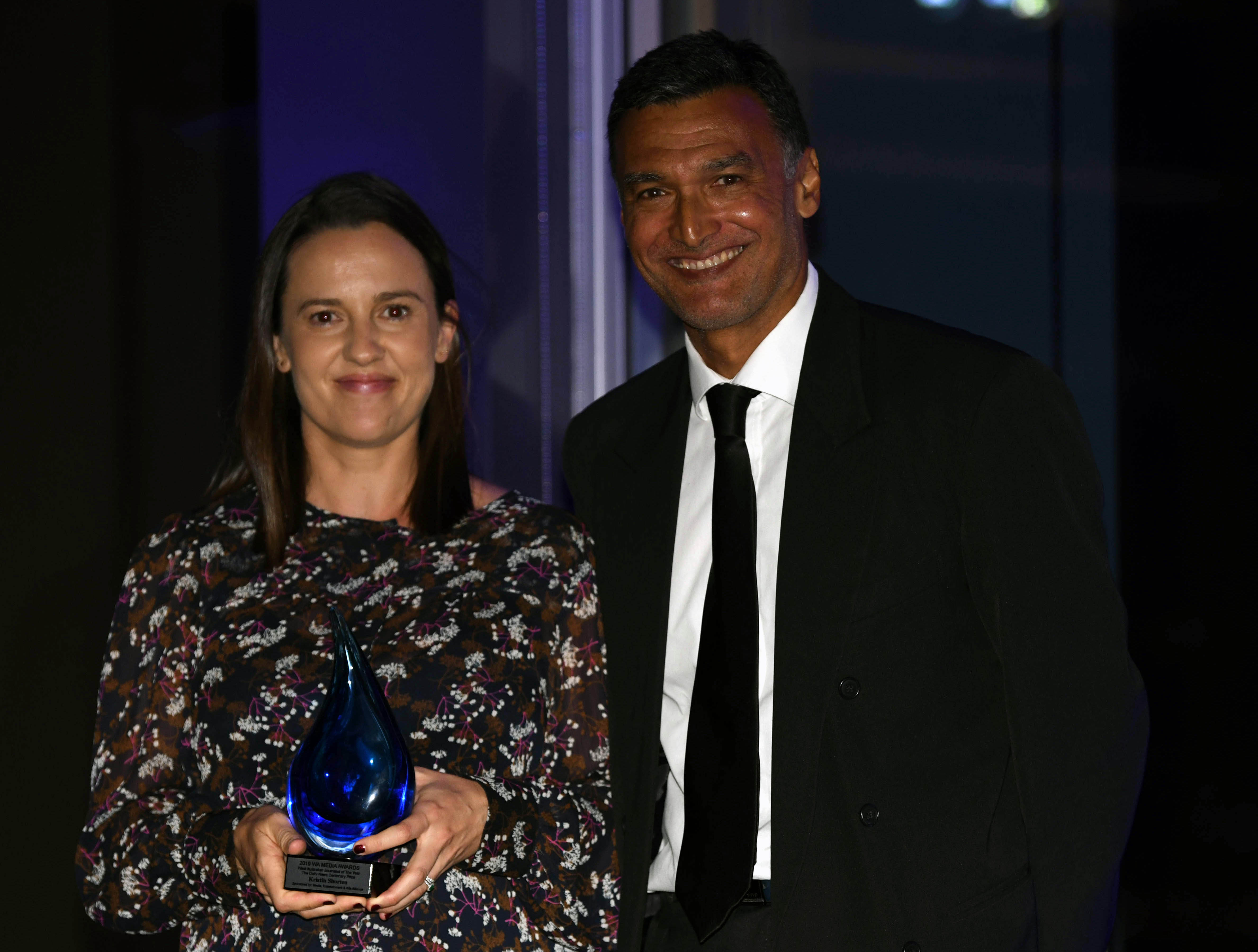 2019 WA journalist of the year Kristin Shorten with MEAA WA Media section Branch President Martin Turner. Photo: Sharon Smith
The winners of the 2019 WA Media Awards were announced at a gala dinner on Saturday November 2, hosted by Lisa Barnes and Geof Parry at the Aloft Perth ballroom.
Freelance journalist Kristin Shorten was named West Australian Journalist of the Year, receiving The Daily News Centenary Prize, for her investigation into Father Joseph Tran.
Shorten spent months researching and conducted countless interviews for The West Australian to get the full backstory of how Tran's alleged crimes and subsequent death affected the community.
The judges said, "Reporting suicide is always difficult, but constructing a four part series that centres on one man's suicide is fraught with complexity. However, this controversial story provided a compelling insight into a largely closed community as it grappled with the death of a dominant figure. Kristen showed persistence and built up trust to the point where she could tell a story that gripped readers".  Shorten also won the Freelance Journalist category.
The award for Outstanding Contribution to Journalism—The Clarion Award went to 7NEWS Perth cameraman, Simon Hydzik.
The judges paid tribute to Hydzik's commitment to the craft: "He lives for the job and is always at his best—and feeling his best—when he's in the thick of it. Whether he's covering street protests in Hong Kong, earthquakes and tsunamis in Indonesia, or suburban crime and grime in Perth, tonight's winner is one of the cammos every reporter wants by their side. He has contacts that would be the envy of any journalist, but also has an uncanny ability to find the centre of the action on a breaking news story, and get there before anyone else. In every way, he sets the bar high."
The WA Media Committee congratulates all the winners in this evening's awards. MEAA WA Media Section president Martin Turner said: "The quality of work—and the record number of entries—demonstrates the richness of experience being drawn from, as well as the enthusiasm and dedication to the craft of journalism here in Western Australia."
For more information, please email MEAAstateawards@walkleys.com or phone Gemma Courtney on 02 9158 3822.