Queensland Clarion Awards
---
Winners announced in the 2019 Queensland Clarion Awards
---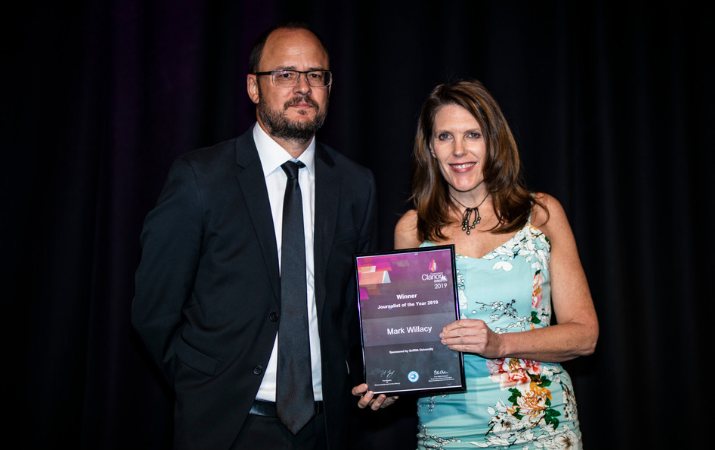 Queensland Journalist of the Year Mark Willacy accepts his award from Dr Monique Lewis of Griffith University. Photo: Dylan Crawford
The winners of the Queensland Clarion Awards were announced at a gala event on Saturday September 7, at the Brisbane Convention and Exhibition Centre, hosted by Lane Calcutt and Alison Sandy.
It was a huge night for the ABC's Mark Willacy, who won in four categories and was named Journalist of the Year for his Four Corners exposé, "Inside the Watch House". The judges described the report as "a masterpiece of investigative journalism into the horrors children were forced to endure at an adult detention facility" and praised Willacy's in-depth reporting, incredible access, and forensic approach to the thousands of documents he obtained. The story had enormous impact, with the Premier announcing the creation of a new Youth Justice Department in the same week the program was broadcast.
The award for Most Outstanding Contribution to Journalism went to former The Courier-Mail journalist, Terry Sweetman, who was acknowledged for a career in newspapers spanning more than 55 years. The committee praised Sweetman's legacy, "not only in his accomplishments as a journalist and editor prepared to fight in the name of the health of democracy, but as a voice of reason and an inspiration to generations of journalists who followed his path."
The Queensland Clarion Awards are the pre-eminent state-based awards promoting excellence in the media. The annual awards celebrate quality journalism, and reward a media professional whose commitment to excellence in media coverage best informs and entertains Queenslanders.
For more information: MEAAstateawards@walkleys.com