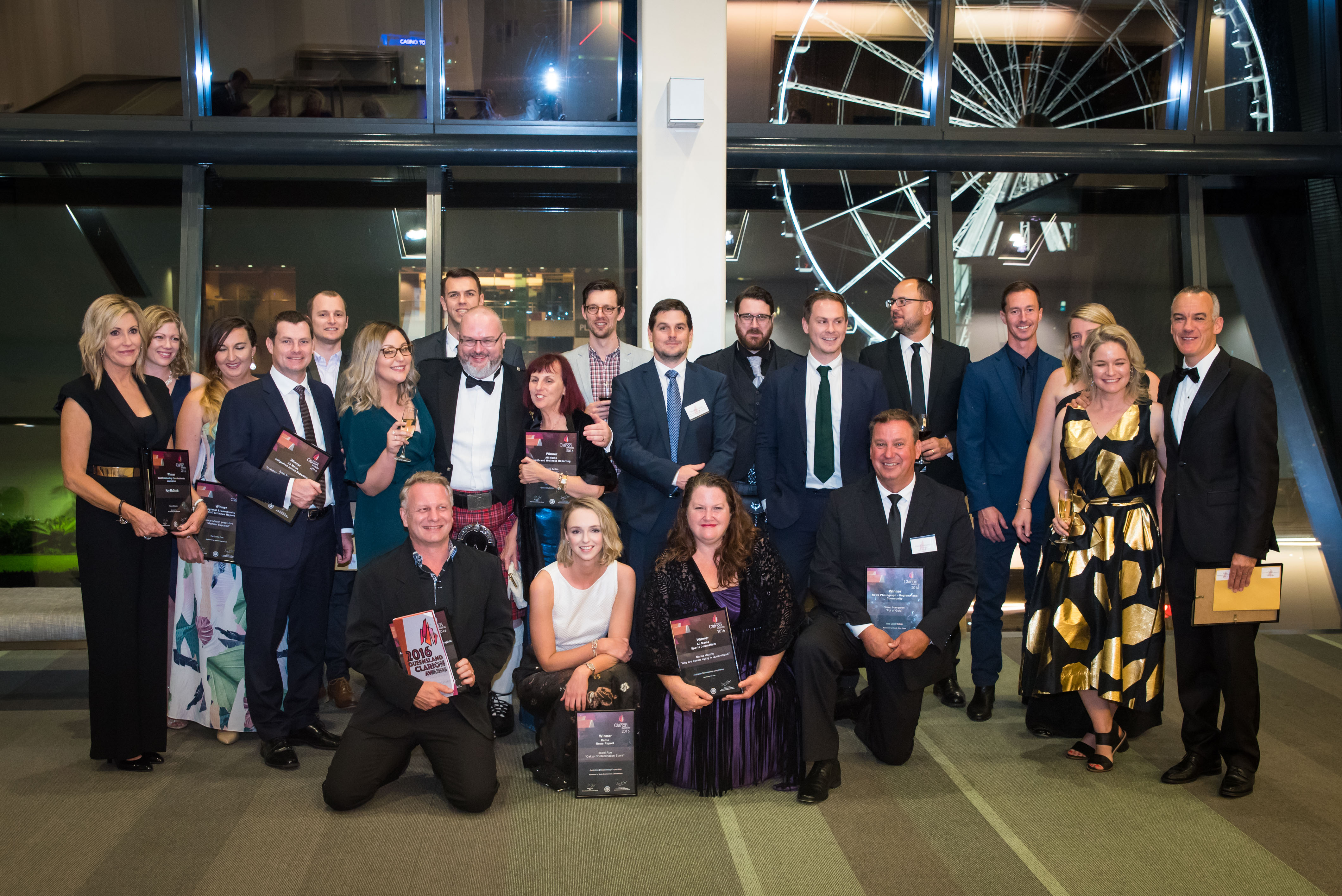 All the winners of the 2016 awards.
All Media – Broadcast Interview
Sponsored by Media Entertainment & Arts Alliance
Winner
Kay McGrath, Paula Doneman, Seven Network, Terry Lewis's Last Card
Finalists
Annie Gaffney, Karyn Wood, ABC Sunshine Coast, Sunshine Coast Man Caught-up in Christmas Island Riots
Judges' comments:
"Kay McGrath and Paula Doneman's interview with disgraced former Queensland police commissioner Terry Lewis was the stand-out in this year's category. Based on meticulous research and hard-earned contacts, the Lewis interview was a chance to re-visit a key character from one of the state's darkest periods. The experienced McGrath struck the right balance, allowing Lewis to put his side of the story but also holding him to account over his answers and his behaviour which ultimately led to him being jailed for corruption and fraud and stripped of his knighthood. There were also new revelations about Lewis's time in jail. The archival research by Doneman, a veteran crime reporter, and McGrath also helped put the events in context for those who may not have been around for the Fitzgerald Inquiry. The Lewis interview showed the power of a long-form broadcast interview – something that is becoming increasingly rare in modern journalism."
All Media – Business Journalism
Sponsored by Brisbane Airport Corporation
Winner
Sarah Elks, The Australian, Unmasking Terry Smith
Finalists
Mark Ludlow, Fairfax Media/The Australian Financial Review, The rise and fall of Queensland Nickel and Clive Palmer
Michael McKenna, The Australian, Adani
Liam Walsh, The Courier-Mail, Guvera: Greatest hits and misses
Judges' comments:
"The collapse of Queensland Nickel was one of the biggest business stories of the year, with the Australian newspaper and the Financial Review often leading the coverage. In this highly competitive environment, the judges were impressed by Sarah Elk's series of exclusives, including one of the defining details of the whole saga – Clive Palmer's bizarre decision to go by the pseudonym Terry Smith."
All Media – Commentary, Analysis, Opinion & Critique
Sponsored by Three Plus
Winner
Mark Ludlow, Fairfax Media/The Australian Financial Review, Lunch with The AFR & more
Finalists
John Birmingham, Brisbane Times/Fairfax Media, Blunt Instrument: Body of Work
Jacinda Tutty, The Courier Mail/ News Queensland, #Techtalk
Judges' comments:
"Mark Ludlow's columns filed for the Australian Financial Review represented an entertaining, informative and important collection of work. Addressing subjects as diverse as a sportsman's near fatal medical condition, the personal side of life after politics for a former minister, profiles about key Queensland political figures and a critical look at the state Budget, Ludlow's work both entertained and informed. His journalism revealed an ability to engage with a number of powerful and intriguing interview subjects and encourage some frank admissions in a manner that provided fertile material for comment. In some cases, his subjects opened up about topics which they had rarely discussed previously or in any great detail. As a result his work was always relevant and on occasion provided up to date insights or even information about controversial issues that had not been previously reported. The columns while lengthy were excellently back-grounded giving context to the new insights being presented. The result was a body of work that was both newsworthy and eminently readable. The pieces were exceedingly well researched, creatively solid, original and newsworthy."
All Media – Health and Wellness
Sponsored by Diabetes Queensland
Winner
Janelle Miles, The Courier-Mail, Gift of Love
Finalists
David Lewis, ABC, Mount Isa Mines still breaching national air quality guidelines
Lucy Smith, Daily Mercury, Re-emergence of black lung in Queensland
Highly Commended
Judges' comments:
"This real life or death drama had you in its grip from the start, with raw medical details of how a person is kept alive while waiting for an organ transplant. One family's heartbreak in death, followed by another's elation at a second chance of life through organ donation is conveyed with both directness and compassion. The story details how a grieving family's decision to donate a loved one's organs three years earlier not only saved the interviewee's life, it allowed her to create a new one as she later had a baby. The judges felt the story not only creates an emotional response, but gives a direct call to action – to discuss organ donation with your family and make sure they know your wishes. Janelle said she set out to write a story that would ignite a community conversation about organ donation, and she succeeded."
All Media – Indigenous Issues Reporting
Sponsored by Queensland Council of Unions
Winner
Brian Bennion, APN News and Media/The Queensland Times, Is Nothing Sacred? – Deebing Creek Mission
Finalists
Allyson Horn, ABC News, Indigenous Queensland: Body of Work
Dominique Schwartz, Australian Broadcasting Corporation , Closing the Gap with better ear health
Highly Commended
Judges' comments:
"All entries in this section were inspiring, covering a wide range of indigenous issues in an accurate, "non-highbrow" way with warmth, intelligence, empathy and humour. From this excellent work, including radio, television, print and online entries, we chose the best-prepared pieces which broke important news and walked readers inside indigenous communities. The judges were equally-impressed by the no-nonsense cultural sensitivity shown in all entries, allowing the reporting to be told in a straightforward way. The copy is one feature entry was truly gorgeous. However, one piece however stood out for all judges because it had the real news "wow factor". This winning entry was well researched, written in good clean copy, accurately covered the community anger and anguish of a serious evolving issue and ultimately forced a change local authorities and developers. At the conclusion of a series of stories it broke the reality of a previously-undocumented mass grave of indigenous people – proven on underground radar – at one of Queensland's earliest aboriginal missions, the Deebing Creek Mission near Ipswich as a housing development is being considered. And it left us asking "Why don't we know about this?"
All Media – Most Outstanding Journalism Student
Sponsored by Media Super
Winner
Joseph Ogilvie, Queensland University of Technology, Body of Work
Finalists
Hannah Kotaidis, Queensland University of Technology, Body of Work
Catherine Moore, University of the Sunshine Coast, Body of Work
Judges' comments:
"The judges agreed this was a very strong body of work across print, radio and television, showing a grasp of the three platforms. We were impressed with the range of subjects, from human interest stories such as the trans-gender and domestic violence stories to the Baden-Clay High Court case which distilled complex legal arguments to an easy-to-digest package for television. This showed a great understanding of not only the topical and complicated subject but of the medium and how to use it effectively. The judges also highly commended Jorgia White, especially her work on the human trafficking and child labour scandal in the cocoa industry."
All Media – Multicultural Queensland Award
Sponsored by Media Entertainment & Arts Alliance
Winner
Leisa Scott, News Corp, The Road Ahead
Finalists
Stefan Armbruster, SBS World News, Queensland's diversity – Body of work
Cindy Wockner, News Corp, Right at Home
Judges' comments:
"A perceptive and skilfully-crafted piece that takes the reader into the home of an Afghan refugee, and her family, living in Toowoomba. "The Road Ahead" uses small details to paint a vivid picture of the challenges and benefits of the family's new home in Australia, as well as providing insights into the lives they have left behind, and the difficult decision to leave. The piece steers clear of cliché and sentimentality, bringing a fresh perspective, currency and context to a much-covered topic. Leisa Scott treats her subjects with respect and sensitivity, whilst still being unafraid to ask difficult questions. A worthy contribution to the national debate on refugees and multiculturalism."
All Media – Rural Journalism
Sponsored by Rural Press Club
Winner
Kirstin Murray, Australian Broadcasting Corporation, Baby Cash
Finalists' road casting 
Elly Bradfield, Australian Broadcasting Corporation, St George's ice struggle
Mark Willacy, Australian Broadcasting Corporation, The Final Battle
Highly Commended
Judges' comments:
"Kirstin's entry, `Baby Cash' was a gripping, well-executed story about a rare parasite active in warm water. It not only highlighted a single family's pain, but revealed wider, potentially deadly implications for other rural households. Kirstin went to considerable effort to obtain interviews with the doctors and families affected. The piece was beautifully shot and edited, and told with empathy and insight through the eyes of the parents of baby Cash."
All Media – Social Issues Reporting
Sponsored by Network Ten
Winner
Heidi Davoren, Matthew Liddy, Lucy Fahey, Ben Spraggon, Colin Gourlay, Australian Broadcasting Corporation, These women are not just statistics
Finalists
Stefan Armbruster, SBS World News, Detention centre cancer consuming Manus Island
Trent Dalton, The Australian, Chain Reaction
Judges' comments:
"The panel thought that all three were excellent examples of the craft. In the case of Stefan Armbruster's Manus Island Detention Centre stories, the fact that Stefan was able to get a camera INSIDE the centre, and shine a light on conditions that the Governments of Australia and PNG had gone to great lengths to keep covered up, made this a riveting story. In Trent Dalton's chilling "Chain Reaction", he was able to give a concrete example of the much-discussed (but rarely detailed) trans-generational cycle of sexual abuse. But the standout story in the category, the judges felt, was "These Women are not just statistics". The team led by Heidi Davoren was able to bring to light each of these victims of violence in a way that the bare bones of their stories could not. While the stories could have been told in a traditional format, the use of hypertext links from each woman's image (or the lack of an image, for cultural reasons) was considered a great example of using the online medium to its best advantage – creating a montage of interrelated stories within a single overarching portal. But behind the 'bells and whistles' of the presentation, more important than the medium, was the message. Each individual story was like a shock to the system, each 'vignette' made the judges feel anger, and sorrow, and grief. Taken as a combined whole, the judges felt this was an important, and truly award-worthy, piece of journalism."
All Media – Sports Journalism
Sponsored by Lion
Winner
Nance Haxton, Australian Broadcasting Corporation, Why are boxers dying in Queensland?
Finalists
Peter Badel, The Courier-Mail, League legend's cocaine addiction
Mike Colman, News Queensland , The Medal Factory
Judges' comments:
"She tackles an important but largely unreported subject, deaths in the boxing ring and identifies dangerous flaws in the system in Queensland and the Northern Territory. She uses Freedom of Information legislation to expose inaction from governments of both sides of politics in Queensland. The judges felt that of all the high quality entries in this category this was the campaign that could and should lead to changes in policy within the sport and at government level and could potentially even save young lives."
All Media – New Journalist of the Year
Sponsored by Queensland Parliamentary Media Gallery
Winner
Rhian Deutrom, News Corp, Body of Work
Finalists
Jonathan Hair, Australian Broadcasting Corporation, Body of Work
Rachel Riley, Townsville Bulletin, Social media suicide
Judges' comments:
"The high standard of journalism among the emerging members of our industry gives great hope for the future. The three finalists exemplified that in their talent, professionalism and commitment to the craft. Rhian Deutrom's work was a stand-out for her comprehensive and revealing stories on the problems at Lady Cilento Hospital and contamination in Oakey. The judges were particularly impressed with Rhian's tenacious reporting in getting to the truth of the Department of Defence's cover-up of its toxic mess in the Darling Downs' community. Rhian led the coverage of the emerging scandal, and delivered exclusive reports that exposed the government. It led to the federal government announcing a $55 million assistance package for locals facing property depreciation and health concerns. The series – which included news reports, feature articles and online packages – also led to the government committing to land buybacks, blood tests and counselling for the most vulnerable in the community."
All Media – Investigative Journalism
Sponsored by WATPAC
Winner
Sarah Elks, The Australian, Unmasking Terry Smith
Finalists
Stefan Armbruster, SBS World News, Detention centre troubles consuming Manus Island
Owen Jacques, APN Australian Regional Media. Wanted "Death Ship" captain discovered in Queensland
Judges' comments:
"The common thread between these disparate reports was their high standard of journalism. The judges genuinely found them difficult to separate. The quality and breadth of entries across print, radio and television show investigative journalism in Queensland to be in great health and forcing lasting change. The reporting of the Queensland Nickel collapse by Sarah Elks, of The Australian, particularly stood out for its tenacity and newsworthiness. The judges were impressed by Elks' agenda-setting pursuit of the QNI yarn. Elks' reports constantly led the way in extremely competitive circumstances, divulging inconvenient truths behind the multimillion-dollar collapse. Elks' series of exclusive reports, including the unmasking of "Terry Smith" as businessman Clive Palmer, were the pay-off for her determined shovel work in developing a network of contacts – from lunchrooms to boardrooms – whose information fuelled her dogged pursuit. Her work is a tremendous "how-to" for journalists young and old and deserves recognition."
All Media – Freelance Journalism
Sponsored by Bond University
Winner
Andrew McMillen, Various, Body of work
Finalists
Brian Cassey, Courier Mail, News Corp, Cairns Post + Others, Portraiture in the News/Body of Work
Andrew Stafford, Various, Body of work
Judges' comments:
"The judges were impressed by the diversity and overall high quality of his work. He maintains a strong voice through his elegant prose but never "takes over" the stories, allowing the subjects to be central to his storytelling. He manages to research and present highly sensitive subjects such as Story Bridge suicides ("Over Troubled Water") and the sketching of stillborn babies ("Etched in Memory") without clichés or allowing emotion to overtake the messages."
All Media – Multimedia Journalism
Sponsored by Telstra
Winner
Tim Leslie, Will Ockenden, Simon Elvery, Colin Gourlay, Australian Broadcasting Corporation, What your metadata reveals about you
Finalists
Matthew Liddy, Gregor Salmon, Ben Spraggon, Colin Gourlay, Australian Broadcasting Corporation, Southern Exposure: the growing, glowing allure of the aurora australis
Blythe Moore, Australian Broadcasting Corporation, Outback Yacht Club
Highly Commended
Judges' comments:
"Tim Leslie's entry – What your metadata reveals about you – took on a very complicated issue and broke it down into simple steps. By accessing the telephone, text and internet records of one person's smart phone, Tim was able to reveal an astonishing amount of information about that individual. But, the cleverness of this entry was the multi-layered approach it took in telling the story. Beyond just showing us what all this data actually looks like and how it works, the audience was invited to interact with the data. This active and unique approach drove home how much detail of our lives can be revealed to others – a fascinating and frightening experience."
All Media – Cartoon Illustration or Graphic
Sponsored by The Walkley Foundation
Winner
Tony Bela, The Courier-Mail, Game of Toads
Finalists
Sharni Hargrave, Seven Network, Body of Work – The dynamics of graphics
Steve Quirk, Nine Network, Body of Work – Implementing real 3D into TV News
Judges' comments:
"Tony Bela's Game of Toads was a standout in this category. He used an idea so simple it did not need instructions and created a humorous and clever work of art that is both an entertaining board game and exciting online offering. The artwork appeals to both children and adults and plays beautifully on Queensland's profound parochialism during the State of Origin series. A fun, charming, yet sophisticated idea, very well executed."
Photography – News Photograph- Metropolitan
Sponsored by Media Entertainment & Arts Alliance
Winner
Luke Marsden, The Courier-Mail/ The Sunday Mail, Kindergarten Cops
Finalists
Liam Kidston, News Corp Australia, Beirut Bungle
Jono Searle, News Queensland, Toolbox Tomb
Highly Commended
Judges' comments:
"This powerful image by Luke Marsden graphically illustrates the problem of a town under siege, where gangs of drug-affected children as young as six roam the streets of Mt Isa committing crimes and acts of violence. The viewer is struck by the age of these children and the situation in which they find themselves. We often see images of adults in this situation but it is shocking to see children as young as these being questioned by police when they should be in bed. One child is seen trying to hide a paint can which he had been sniffing from the police. It's a timely image given the controversy surrounding youth detention centres. Luke has expertly shown understanding of the ability of his camera to capture the sombre mood of this image using only the available street light."
Photography – Photographic Essay
Sponsored by Media Super
Winner
Liam Kidston, News Corp. Australia, Beirut Bungle
Finalists
Brian Cassey, News Corp, Manus – Heaven & Hell
Tara Croser, News Corp Australia, One Punch: Cole Miller
Judges' comments:
"The jailing of the 60 minutes team and Brisbane mother Sally Faulkner was one of the biggest stories of the year. This was a tough assignment in a foreign country where news crews had been faced with deportation for doing their job. Liam was also under constant threat of arrest and confiscation of his gear. It's a job where his pre-planning and use of local knowledge paid off. Showing a mastery of his craft, Liam was able to capture all the major players at crucial moments in the last days of the saga. Using contacts and working out various scenarios before their release, he was able to shoot and even follow them through three airports back to Australia. After talking his way up to the First Class Cabin he surprised the 60 Minutes crew and took a picture they never wanted to be taken – showing their real celebration, sipping Dom Perignon. This was a telling contrast to the situation Ms Faulkner found herself where she was forced to leave her children behind with her estranged husband and the child recovery crew in jail."
Photography – Sports Photography
Sponsored by Media Entertainment & Arts Alliance
Winner
Luke Marsden, The Courier-Mail, Capsize
Finalists
Chris Hyde, Getty Images, Domination
Wesley Monts, The Townsville Bulletin, Kickass Bull
Judges' comments:
"Luke Marsden's "Capsize" captures the moment an irresistible force meets a very movable object. Perfectly framed and focussed, this image of the Mermaid Beach surf boat crew being tossed into the sea by a churning wave is as iconic as it is frightening. Marsden has summed up in a single frame the courage and conviction needed to tackle the rising swell. The photo also captured the panic and determination on the faces of the crew."
Print/Text – Feature Article
Sponsored by Local Government Association of Queensland
Winner
Kate Kyriacou, The Courier-Mail/The Sunday Mail, Ravenshoe – the untold story
Finalists
Trent Dalton, The Australian, Tiahleigh Palmer
Susan Johnson, The Courier Mail, Breast Cancer
Highly Commended
Judges' comments:
"This was a story easily forgotten because of its remoteness from the big newsgathering centres of the state. By going back to it, Kate ensured it wasn't. She had to win the trust of those involved in the terrible tragedy and talk to many people before crafting a beautiful narrative. She clearly worked hard to win the trust of those involved for a piece of writing which evoked deep emotions. Her feature, describing the number of lives saved and the actions of those who saved them showed the incredible community spirit of Ravenshoe which is permanently celebrated thanks to this piece of journalism."
Print/Text – News Report
Sponsored by Channel Nine Brisbane
Winner
Kate Kyriacou, The Courier-Mail/Sunday Mail, Five hours to catch a killer
Finalists
Sarah Vogler, Matthew Killoran, The Courier-Mail/The Australian, Carmody
Sarah Elks, The Australian, Unmasking Terry Smith
Judges' comments:
"A dogged determination to get the story combined with a mountain of research and a great ear for telling a story made Kate's work the standout from a highly competitive field of entries. Daniel Morcombe's murder was a profoundly traumatic event for Queensland and only someone able to pass the multiple tests of the highest journalistic standards, respect for the truth and empathy for those affected by his loss could do the story justice. Kate's focus on the undercover officer whose work touched off the covert operation that led to the conviction of Daniel's killer is a masterful telling of a crucial aspect of this awful story."
Print /Text – Best Three Headings
Sponsored by Seven Network
Winner
Baz McAlister, News Corp, Threat Level: Hilux
Finalists
Gareth Hose, The Courier-Mail, Three Headings
Matt Oberhardt, The Courier-Mail, Turn Back The Bros
Judges' comments:
"Baz McAlister's entry highlights his ability to consistently produce insightful, witty and contextualised headlines which are both entertaining and clever. "Threat Level Hilux" neatly encapsulated a story claiming stolen Utes were being used to fund ISIS. "Ready, Jedi, Dough" illustrated the vast profits expected to made by the latest Star Wars instalment and "Liar Belle for Prosecution" summed up the massive penalties faced by cancer fraudster Belle Gibson, with an expert play on words."
Radio – Current Affairs, Feature Documentary or Special
Sponsored by Queensland Police Union
Winner
Elly Bradfield, Australian Broadcasting Corporation, St George's ice struggle
Finalists
David Lewis, Australian Broadcasting Corporation, Queer, young, and homeless
Mark Willacy, Australian Broadcasting Corporation, Hopeland
Judges' comments:
"Elly Bradfield's story about the scourge of ice in her beloved home town of St George was beautifully crafted, insightful and compelling. She tackled a difficult subject with sensitivity and a genuine desire to understand the issue from all angles, interviewing a former addict, a police officer, the local hospital medical superintendent, and a community worker who was also the mother of an ice user, to discover the emotional, financial and physical toll of the drug on individuals and the wider community. Elly employed a range of devices to make superb use of the medium, including music, natural sound and innovative editing. The end result was powerful, authentic and touching. This is the art of audio storytelling."
Radio – News Report
Sponsored by Media Entertainment & Arts Alliance
Winner
Isobel Roe, Australian Broadcasting Corporation, Oakey contamination scare
Finalists
Kallee Buchanan, Australian Broadcasting Corporation, Queensland vets charged over Hendra Virus
Nick Wiggins, Australian Broadcasting Corporation, LNP Leadership Spill
Judges' comments:
"Isobel Roe's report into contamination near the Oakey Army Base displayed initiative, perseverance and the ability to establish and maintain contacts in the local community. The radio reports are newsworthy, well-written and well presented. The exclusive angles were followed by other media, and the story has become a national issue. The journalist was also able to communicate a complex story within the constraints of a radio report, and include personal stories of those affected."
Regional & Community – Print/ Text: News Report
Sponsored by Ipswich City Council
Winner
Grace Mason, The Cairns Post, Member Exposed
Finalists
Adam Davies, Joel Gould, Australian Regional Media, Reckless Jo
Andrew Potts, Paul Weston, Wayne Watson, Gold Coast Bulletin, Trojan Council
Judges' comments:
"The judges were highly impressed by the strong standard of work by regional journalists. All three finalists were worthy of merit and demonstrate the power of regional contacts in breaking stories of statewide significance. Grace Mason's entry Member Exposed was a genuine exclusive with serious political ramifications. On a day a State MP was cleared of allegations of domestic violence, her article revealed a new investigation into inappropriate text messages. This was outstanding work, followed extensively by other media outlets, and with the potential to bring down the government of the day. The judges particularly commended the Gold Coast team of Andrew Potts and Paul Weston for the entry Trojan Council and recognised their extensive research and comprehensive coverage exposing issues with wider implications for regional communities."
Regional & Community – Broadcast Report
Sponsored by Media Entertainment & Arts Alliance
Winner
Elly Bradfield, Australian Broadcasting Corporation, St George's ice struggle
Finalists
Allyson Horn, ABC News Townsville, Regional Queensland: Body of work
Mary McCarthy, ABC Sunshine Coast , Queensland authorities powerless to stop rising land clearing rates
Judges' comments:
"In a high-quality field with a very healthy number of entries from across Queensland, Elly Bradfield's mini-documentary "St George's Ice Struggle" is an exceptional example of broadcast journalism. Within seconds, Elly hooks you in with her personal connection to and childhood memories of this town, and the hint of a dark underbelly about to be revealed, then by subverting her narrative from "me" and "I" to powerful use of the word "you", she forces you to consider that this is not just a story about one town, that it could be playing out somewhere near you. Elly demonstrates lavish and complex use of sound – often just a few seconds of something (eg the bakery, the pub) to create a mental image – and a high quality grasp of radio production. Natural sound, well-chosen music, Elly's clever storytelling and a range of voices (honest, open and compelling) are woven together seamlessly to bring the story alive, to take you into this community, to create an eye-opening, emotional and informative insight. The judges congratulate Elly Bradfield on winning the 2016 Clarion for Regional/Community Broadcast Report."
Regional & Community – Print /Text: Feature Article or Opinion
Sponsored by Council on the Ageing (COTA)
Winner
Vani Naidoo, APN Australian Regional Media, Pucker up for progress, Giving the homeless hope,& Laying cancer bare
Finalists
Sherele Moody, APN Australian Regional Media, Learning to live life in the face of death
Kylie Bartholomew, Annie Gaffney, ABC Sunshine Coast , Queensland kindergarten gives toy gun licences to kids
Judges' comments:
"Vani Naidoo was the standout winner in this category for her well-written and moving feature articles on breast cancer, mental illness and homelessness. Vani showed great skill in dealing with these complex issues in a sensitive manner, offering a range of voices and perspectives on the topics she covered. She also showed immense talent in her writing style, crafting beautifully written pieces that were very moving for the reader. Her article on young mother Lana Rhodes and the challenges she has faced following a double mastectomy (beautifully illustrated by Mike Richards) was an extraordinary piece of journalism."
Regional & Community – News Photograph
Sponsored by Clovely Wine Estate
Winner
Glenn Hampson, Gold Coast Bulletin, Pot of Gold
Finalists
Marc McCormack, Cairns Post, Running Man
Anna Rogers, Cairns Post, Punched
Highly Commended
Judges' comments:
"The entries were of an extremely high standard with entrants showing an acute understanding of their community to give themselves the best opportunity to capture the shot. Glen used his knowledge of the Gold Coast surf and in his own words "a large slice of luck'' to photograph a stunning image that judges were unanimous was the clear winner. The image was well composed and he executed the shot at the right angle to enhance the light of the sun and hint of the rainbow to perfectly capture the weather event."
Television – Current Affairs, Feature Documentary
Sponsored by Queensland Police Union
Winner
Mark Willacy, Ben Hawk, Australian Broadcasting Corporation, Into the Zone
Finalists
Chris Allen, Allan O'Brien, Nine Network, Cage Boy
Josh Bavas, Australian Broadcasting Corporation, Body of Work – Outback Dinos
Highly Commended
Judges' comments:
"The standard of entries in this category was incredibly high and the content very diverse; however 'Into the Zone' was the unanimous choice for the judging panel. Mark Willacy's return to Fukushima, five years after a tsunami swamped the local nuclear plant resulted in a standout piece of investigative journalism that stays with the viewer long after the piece concludes. Willacy and his producer Ben Hawke were given unique access to the facility and revealed for the first time that the operator of the plant is yet to pinpoint the exact location of the 600-plus tonnes of nuclear fuel that melted in the disaster. The haunting account of the disaster through the eyes of elderly locals juxtaposed with the harsh scientific evident delivered a well-written, well-researched real life horror story with significant impact."
Television – The John Bean Award for News and Current Affairs Camerawork
Sponsored by Australian Broadcasting Corporation
Winner
Luke Dorrington, Seven Network, North Queensland Drought
Finalists
Jonathan Lea, Network Ten- Eyewitness News, The Cuban Question
Craig McDonald, Seven West Media, A cross section of Townsville News
Judges' comments:
"We congratulate all the entrants this Year and are happy to see entries from regional areas. Even though the numbers were down on previous years, the standard of entries are up to the high standard we expect. Special mention must be made of one of our finalists this year. Jonathan lea who is predominately a journalist, has made the transition to being a VJ(video Journalist) The combining of two skills is a tough task and is now a growing trend in the industry. It is hoped that next year we will have a separate category for this growing sector of the media. To this year's winner of the John Bean Award. This work demonstrates all the skills needed to tell a story with pictures: to be innovative and resourceful, while at the same time, meeting the daily demands of the turnaround required in the instant news environment. Again encouragement is given to all cinematographers to enter their work in the future."
Television News Report
Sponsored by Queensland University of Technology – Creative Industries
Winner
Darren Curtis, Nine Network, Jakarta Bombing
Finalists
Stefan Armbruster, SBS World News, Solomons 'disaster' gold mine
Max Futcher, Andrew Currie, Paula Doneman, Seven Network, Tinny Terror
Judges' comments:
"The calibre of entries in this year's TV News Report category was exceptional. The judges feel the bar has been raised dramatically and the diversity of the work entered shows enormous depth in Queensland broadcast journalism. From breaking news events to in-depth investigations into international matters of national importance, the standard of the entries made selecting a winner extremely difficult. The winner in this category covered a significant international event but with the in-depth research and mastery of technology that lifted it beyond a breaking news report. It was informative and compelling, and showed great tenacity in the details Curtis was able to uncover."
Most Outstanding Contribution to Journalism
Sponsored by The University of Queensland
Winner
Kay McGrath, Seven Network
2016 Queensland Journalist of the year     
Sponsored by Griffith University
Winner
Sarah Elks, The Australian