Queensland Clarion Awards
---
Winners announced in the 2021 Queensland Clarion Awards
---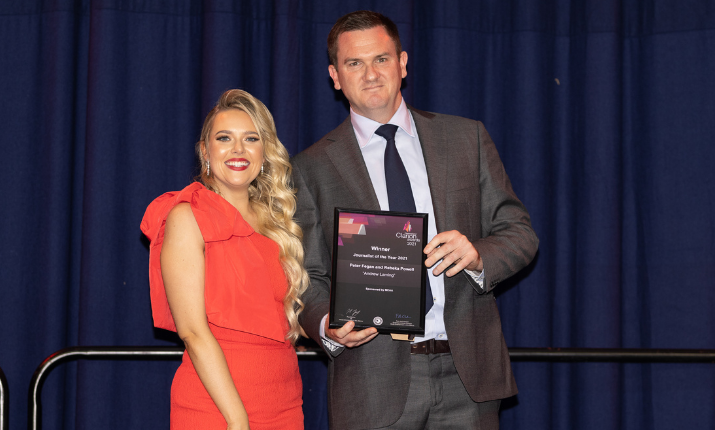 2021 Journalists of the Year Rebeka Powell and Peter Fegan
The winners of the 2021 Queensland Clarion Awards were announced at a cocktail event on Saturday, October 9, hosted by Seven's Katrina Blowers and Ten's Pippa Sheehan.
Nine's Peter Fegan and Rebeka Powell won two categories and also took out the major 2021 Journalist of the Year Award for their series of reports on Andrew Laming. The judges commended their strong reporting, ability to gain the trust of the subject as well as the significant public benefit and sheer impact of these reports on the political landscape.
Ann Lund was awarded the 2021 Outstanding Contribution to Journalism Award. The judges paid tribute to her career of more than three decades as a reporter, producer and presenter in broadcast newsrooms in the UK and Australia. Ann has worked in commercial radio, for the BBC and the ABC, and over the past 20 years she worked as a lecturer and tutor of radio and television journalism at QUT.
The judges said: "There can be few newsrooms in Queensland without an ex-QUT student who has worked with Ann. Not only do we consider her contribution to journalism outstanding… We consider it, in a "class" of its own."
The Media, Entertainment and Arts Alliance proudly congratulates all the finalists and winners.
For more information: MEAAstateawards@walkleys.com