Tasmanian Media Awards
---
2023 Tasmanian Media Awards winners announced
---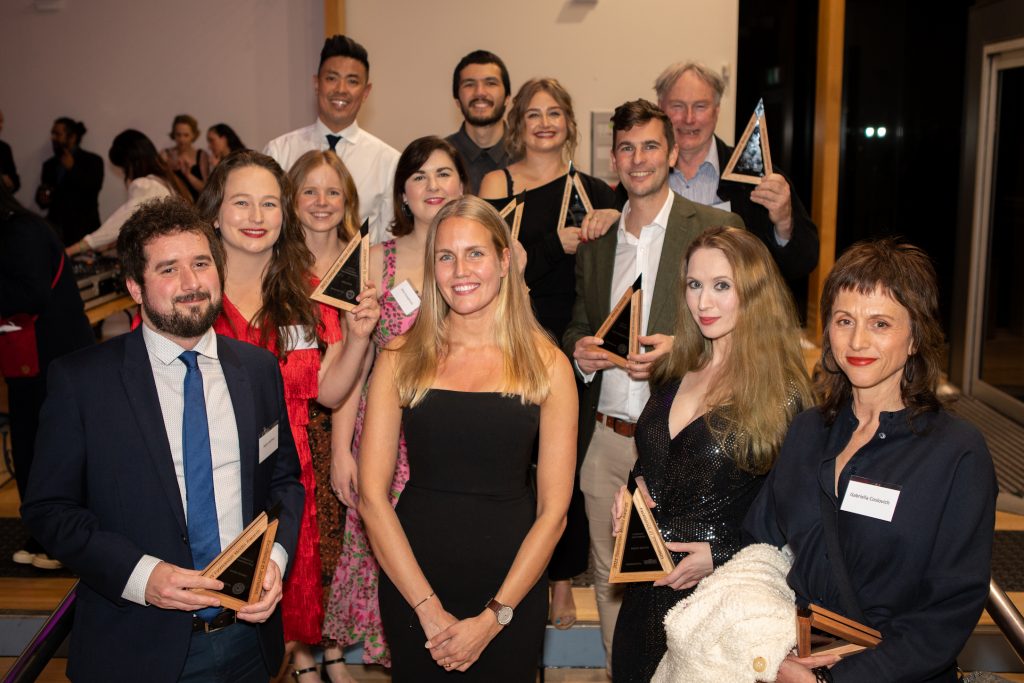 Journalist of the year Katri Uibu (front centre) with other winners at the 2023 Tasmanian Media Awards.
ABC News Hobart reporter Katri Uibu has been named the Tasmanian Journalist of the Year following a year-long national crowd-sourced investigation into the abuse and mistreatment of children in state care. The body of work she entered to the 2023 Tasmanian Media Awards also earned her the 'Best News Story' award.
"Hearing many graphic disclosures of assault took a toll – but seeing the impact my work had encouraged me to keep going," Katri wrote in her statement of entry to the Tasmanian Media Awards. "Despite extreme resistance from departments, I went to great lengths to convince whistleblowers to go on the record."
Katri has been with the ABC for eight years and holds a doctoral degree for her research into domestic violence media coverage.
"Her work is of huge public interest and benefit, already resulting in one parent being reunited with their child and Federal Attorney General Mark Dreyfuss promising to address these horrific problems," the judges said. "This was investigative journalism at its best."
See more judges' comments below.
Katri was among 13 category winners named at a special cocktail event at Waterside Pavilion in Hobart on Friday, May 26.
This year, the awards attracted 121 entries. Seven panels of judges, composed of media professionals, academics and previous award winners, chose 12 overall winners on the basis of journalistic excellence. Other considerations included the resources available to the entrant/s and the effort expended in the preparation of the submitted work.
"For 23 years now, I have had the honour and privilege of being involved in the Tasmanian Media Awards, recognising excellence and the vital role of public interest journalism," said Mark Thomas, the Media, Entertainment & Arts Alliance (MEAA) President for Tasmania.
"This year's entries are full of stories that changed Tasmania's political landscape and led the national conversation."
Adam Portelli, MEAA Deputy Chief Executive, said  journalists continue to serve their communities by reporting on the issues that matter to Tasmanians. "This year's entries have again highlighted the breadth and quality of journalism in Tasmania," Mr Portelli said.
Mr Thomas gave special mention to Adam Holmes who has picked up the 'Excellence in Legal Reporting' award two years running, and ABC Hobart visual journalist Luke Bowden who was named a finalist in five categories, winning the Feature, Documentary or Current Affairs category with a team entry.
Luke is a two-time winner of 'Best News Image' at the Tasmanian Media Awards (2019 & 2021).
"I'd like to thank everyone who entered our awards, and the awards' sponsors for your great support of Tasmanian journalism," Mr Thomas further remarked.
The full list of winners and the judges' comments can be found below.
The Tasmanian Media Awards recognise and reward excellence in reporting. The awards are administered by The Walkley Foundation on behalf of MEAA.