Tasmanian Media Awards
---
2023 Tasmanian Media Awards winners announced
---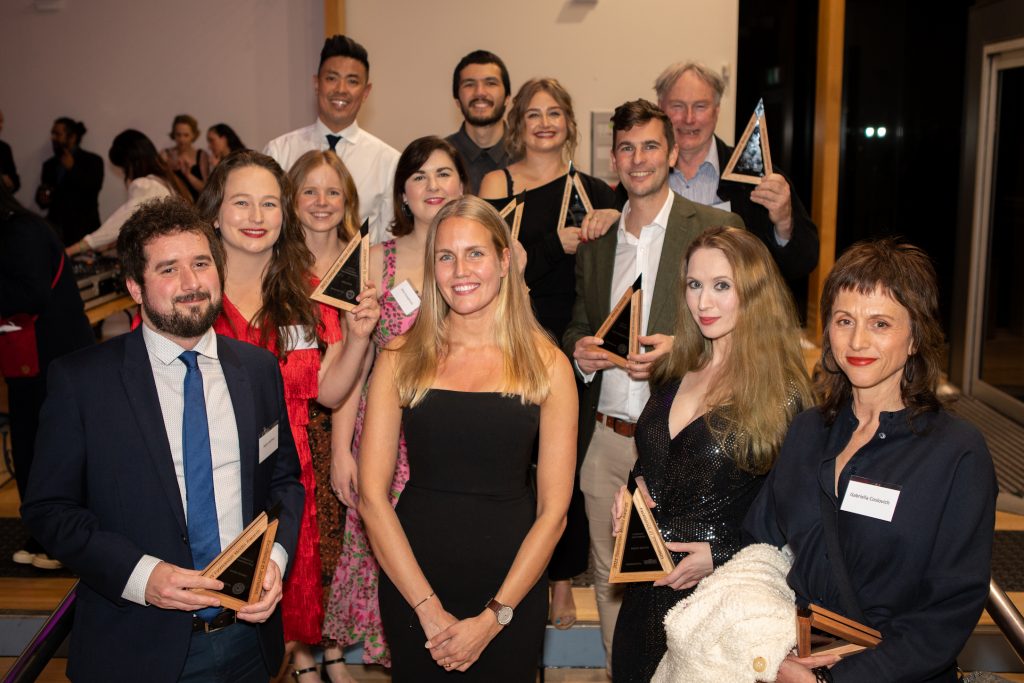 Journalist of the year Katri Uibu (front centre) with other winners at the 2023 Tasmanian Media Awards.
ABC News Hobart reporter Katri Uibu has been named the Tasmanian Journalist of the Year following a year-long national crowd-sourced investigation into the abuse and mistreatment of children in state care. The body of work she entered to the 2023 Tasmanian Media Awards also earned her the 'Best News Story' award.
"Hearing many graphic disclosures of assault took a toll – but seeing the impact my work had encouraged me to keep going," Katri wrote in her statement of entry to the Tasmanian Media Awards. "Despite extreme resistance from departments, I went to great lengths to convince whistleblowers to go on the record."
Katri has been with the ABC for eight years and holds a doctoral degree for her research into domestic violence media coverage.
"Her work is of huge public interest and benefit, already resulting in one parent being reunited with their child and Federal Attorney General Mark Dreyfuss promising to address these horrific problems," the judges said. "This was investigative journalism at its best."
See more judges' comments below.
Katri was among 13 category winners named at a special cocktail event at Waterside Pavilion in Hobart on Friday, May 26.
This year, the awards attracted 121 entries. Seven panels of judges, composed of media professionals, academics and previous award winners, chose 12 overall winners on the basis of journalistic excellence. Other considerations included the resources available to the entrant/s and the effort expended in the preparation of the submitted work.
"For 23 years now, I have had the honour and privilege of being involved in the Tasmanian Media Awards, recognising excellence and the vital role of public interest journalism," said Mark Thomas, the Media, Entertainment & Arts Alliance (MEAA) President for Tasmania.
"This year's entries are full of stories that changed Tasmania's political landscape and led the national conversation."
Adam Portelli, MEAA Deputy Chief Executive, said  journalists continue to serve their communities by reporting on the issues that matter to Tasmanians. "This year's entries have again highlighted the breadth and quality of journalism in Tasmania," Mr Portelli said.
Mr Thomas gave special mention to Adam Holmes who has picked up the 'Excellence in Legal Reporting' award two years running, and ABC Hobart visual journalist Luke Bowden who was named a finalist in five categories, winning the Feature, Documentary or Current Affairs category with a team entry.
Luke is a two-time winner of 'Best News Image' at the Tasmanian Media Awards (2019 & 2021).
"I'd like to thank everyone who entered our awards, and the awards' sponsors for your great support of Tasmanian journalism," Mr Thomas further remarked.
The full list of winners and the judges' comments can be found below.
2023 Tasmanian Media Awards Winners:
---
Best News Image supported by Media Super  
Eve Woodhouse – The Advocate Newspaper (ACM) – "Unwelcome news"
 Judges' comments: Eve Woodhouse's entry of five strong individual images showcased a tenacity to get the shot and get to the scene as well as the delicate balance of being an unwanted presence while capturing tragedy in her neatly themed entry 'Unwelcome News'. The Scott Morrison tackle was a defining shot of the 2022 election campaign and while we saw many entries of the whale stranding, Eve's had emotion and impact the others lacked.
---
Comment & Analysis supported by Unions Tasmania
Amber Wilson – The Mercury Newspaper – "Commission of Inquiry"
Judges' comments: This was a particularly difficult category in which to choose a winner. All entries were exemplars of very fine journalism and the analysis shed light on a range of issues affecting Tasmanians. Judges acknowledge that much of this analysis is happening with limited resources and increasing time pressures in busy newsrooms, and the results show a passion and commitment to producing quality journalism. Local news content in 2022 was dominated by the proceedings of the Commission of Inquiry, and coverage produced multiple examples of ethical and insightful journalism. Ultimately, the winning entry in this category displayed a consistently high level of research, and a commitment to keeping the public informed.
---
Arts Reporting supported by MEAA
Gabriella Coslovich – Nine Newspapers – "Investigating the visual arts"
 Judges' comments: Gabriella Coslovich stood out in a very competitive category as a compelling writer and shrewd investigator at the tricky intersection of the visual arts and the arts market. In these pieces, Gabriella shines an important light on unscrupulous practices in the Australian art market, while keeping her eye on the artists at the heart of these stories.
---
Science, Technology & Environment supported by The Mercury
Zoe Kean – ABC Radio Hobart – "Death life and science in the Anthropocene"
Judges' comments: The judges were impressed by the storytelling ability showcased by entrants in this category. Zoe Kean's pieces were surprising, original and beautifully told. Her thoroughly reported stories were a delight to read, spotlighting the impact of climate change and conservation wins.
---
Sports Coverage supported by MEAA
Chris Rowbottom – ABC News Online – "Body of Work"
Judges' comments: In a year when sport-related stories have dominated the Tasmanian public discussion, Chris Rowbottom's work provided insights beyond the usual parameters of sports reporting. Chris's work on the complex negotiations surrounding Tasmania's AFL bid, his investigation into the governance of TasRacing, and analysis of the JackJumpers fairytale rise are all local stories that demand national attention.
---
Health Reporting supported by MEAA 
Adam Langenberg – ABC News – "Body of Work"
Judges' comments: Amid a pool of high calibre entries, Adam Langenberg's reporting stood out for its insight into the Tasmanian health system and the toll its shortcomings can have on people's lives. Adam's reporting on the unfairness of Tasmania's guardianship system, the suspension of chief psychiatrist Aaron Groves, and the shortage of neurological specialists in the state showed his skill turning a news tip from a contact into a compelling set of exclusive stories.
---
Freelance Journalist supported by Launceston Freelance Festival
Bob Burton – Tasmanian Inquirer – "Secret state"
Judges' comments: Bob Burton's original investigations shone a light on matters crucial to Tasmanians, including the functioning of the state's democracy. His pieces were well-written, informative and fair, despite clear roadblocks from the government and industries.
---
Public Service Journalism supported by TasCOSS
Alexandra Humphries – ABC – "Election grants"
Judges' comments: Alexandra demonstrated an impressive level of investigative skill and dogged reporting, over many months, to break this story, which set the agenda for newsrooms across the state and helped to spark a parliamentary inquiry into the issue. By essentially "following the money", Alexandra exposed a political practice that has been described as "electoral bribery". And the stories she produced were concise and compelling, distilling what could have been a murky and complex topic into something that was accessible and easy to understand. Her work – in print and broadcast form – expertly highlighted the outrageous nature of the practice, a clear benefit to the public, who have a right to know but rely on the news media to follow that paper trail and report back.
---
Excellence in Legal Reporting supported by MEAA 
Adam Holmes – The Examiner Newspaper (ACM) – "Commission of Inquiry, Body of Work"
Judges' comments: Adam Holmes' reporting on the Commission of Inquiry into the Tasmanian Government's Responses to Child Sexual Abuse in Institutional Settings was second to none. The body of work submitted reflected Adam's deep knowledge and understanding of the subject matter and his commitment and ability to regularly report on the commission while under daily deadline pressure for unrelated stories is further testament to his talent and capabilities.
---
Feature, Documentary or Current Affairs supported by ABC News
Lucy MacDonald, Will Murray, Maren Preuss, Luke Bowden, Dane Meale, Paul Strk, James Dunlevie – ABC – "Inside the prison for kids"
Judges' comments: The entries in this category were of an exceptionally high standard this year, demonstrating excellent research, storytelling and tenacious investigative skills across multiple media platforms. The judges were particularly impressed by the number of stories which are being told in new and innovative ways, responding to changing audience habits and needs. The winning entry not only told a very important story, but did so with invention and originality, and the result had incredible impact. The quality of research and production values evident in the winning story demonstrate the importance of news organisations committing time and resources into producing meaningful stories, which require attention beyond the 24/7 news cycle.
---
Best News Story supported by Media Super
Katri Uibu – ABC – "Bad parent life at the hands of Australia's child protection system"
Judges' comments: Katri provides a harrowing insight into the child protection system and neglect, racism, child abuse and government failure. Judges were unanimous in their decision due to the extensive year-long investigation undertaken by a journalist to give a voice to those who were fearful to speak out. Through crowd sourcing and contact with 1300 people, it shows dogged determination by a journalist to get beyond the 'PR' responses of authorities. The reports resulted in the issue gaining the attention of the federal Attorney-General. Its impact is best defined by the response to a mother who said this story "saved" her son who now had a chance to heal. The production is very sophisticated and sensitive, contributing to the overall impact of the piece. A fine example of investigative reporting – without fear or favour.
---
Best New Journalist supported by the University of Tasmania 
Makenna Baily – Southern Cross Austereo / 7 Tasmania News – "Body of Work"
Judges' comments: Makenna's entry demonstrated great skill on breaking news and colour. Her stories were sharp and informative. Her live crosses were particularly impressive, given her limited experience. Acknowledging her recent entry to the profession, the limited resources at her disposal and the quality of her work, Makenna was the clear winner of the category. More generally, it was heartening to read Tasmania's new journalists' dedication to local news. It was a difficult category to judge, and Tasmanians are well served by their up-and-coming journalists.
---
Journalist Of The Year supported by MEAA
Katri Uibu – ABC – "Bad parent life at the hands of Australia's child protection system"
Judges' comments: Katri's series of excellent investigative stories expose and shed much-needed light
on Australia's failing child protection system, revealing hundreds of confronting, raw, shocking and often graphic accounts of stories of horrific sexual, physical and mental (as well as racial) abuse endured by children both in and out of the system of child protection. Her work is of huge public interest and benefit, already resulting in one parent being reunited with their child and Federal Attorney General Mark Dreyfuss promising to address these horrific problems. This was investigative journalism at its best.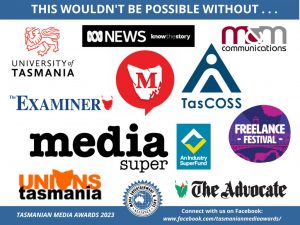 The Tasmanian Media Awards recognise and reward excellence in reporting. The awards are administered by The Walkley Foundation on behalf of MEAA.