Tasmanian Media Awards
---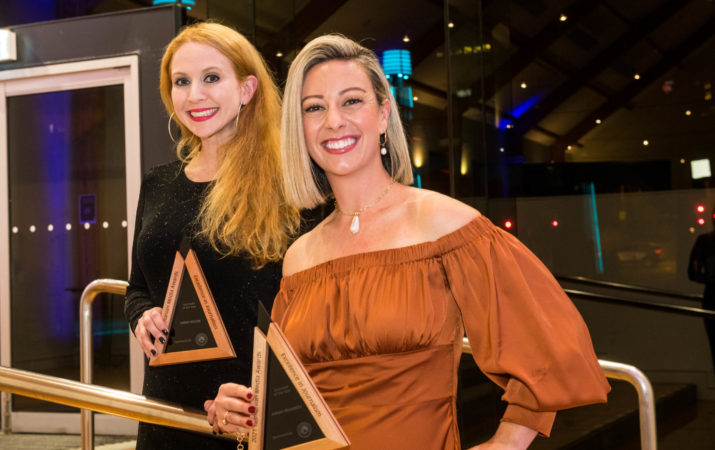 Tasmanian Journalists of the Year for 2021 Amber Wilson (left) and Annah Fromberg.
---
Winners announced in the 2021 Tasmanian Media Awards
---
Annah Fromberg, ABC and Amber Wilson, The Mercury were joint winners of the 2021 Journalist of the Year announced in Hobart on Friday, May 7.
The judges said both winners had the x-factor in their stories and journalism, across multi-media platforms. Annah Fromberg had a forensic approach to her reporting which led from a Tasmanian story to connections in the Northern Territory, Queensland and NSW. Amber Wilson showed great tenacity to tell a sensitive story which was the catalyst for change in Tasmania.
David Brill and Tony King were both awarded the 2021 Keith Welsh Award in recognition of outstanding contribution to journalism in the state.
The judges outlined the impact of David and Tony's dedication to the craft as well as to Tasmania. David spent decades travelling the world, covering most of the major international conflicts of the past 50 years – the fall of Saigon, the fall of the Berlin Wall and on assignment in Afghanistan, the Balkans and South America. David worked as a video journalist for SBS' Dateline program from 2006-2016 and continues to work with ABC journalists and at UTas.
In a career spanning five decades Tony King has earned the reputation as Tasmania's most dependable news cameraman – the man in the right place, at the right time, getting the angles that guarantee the best coverage of any breaking event.
MEAA's Regional Director for Victoria and Tasmania, Adam Portelli, said the judges of this year's awards were extremely pleased with the quality of the entries. The Tasmanian Media Committee congratulates all the finalists and winners for this year.
The Tasmanian Media Awards are an initiative of the Media, Entertainment & Arts Alliance and are the pre-eminent Awards for journalists in Tasmania. The Awards recognise and reward excellence and encourage professionalism through ethical reporting.
For more information, please email MEAAstateawards@walkleys.com