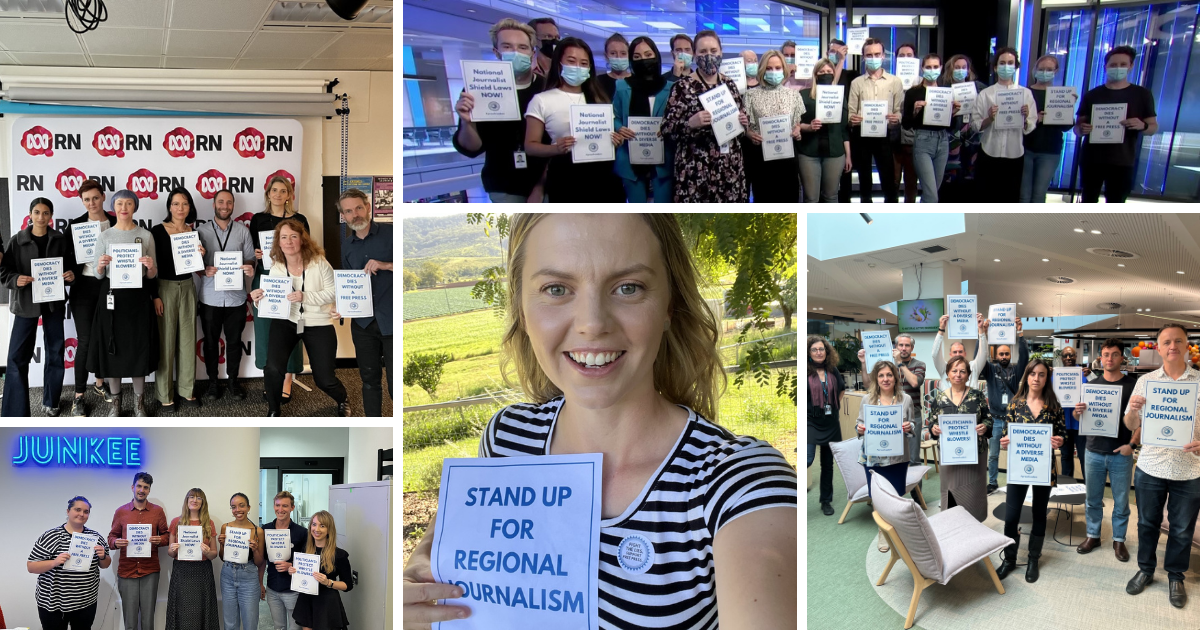 On World Press Freedom Day, Tuesday, May 3, all Australian media workers need to make a stand for a free press and quality and ethical journalism.
With a federal election underway, MEAA members around Australia will be taking action on World Press Freedom Day to call on the major political parties to commit to reforms to protect public interest journalism and support media freedom.
Stand with your colleagues for a free press and quality journalism. Tweet a photo of yourself on the job wearing your badge or sticker and use the hashtag #pressfreedom and tag @withMEAA
You can download and print out the resources here.
---
WATCH: World Press Freedom Day 2022 Message from MEAA Media President Karen Percy
---
Spread the word:
---
Why is press freedom important?
A robust free and independent press is essential in a democracy to hold the powerful to account and to counter lies and disinformation spread by bad actors. But journalists cannot do their jobs effectively with one hand tied behind their back.
This federal election, MEAA members are calling on the Coalition, Labor and the Greens to act on a number of outstanding issues to demonstrate that they support press freedom in this country.
Among the reforms that are needed are:
•  Boosting the Public Interest News Gathering (PING) program for a minimum of three years with $150 million per annum available to the small and medium news sectors, with a with substantial funds quarantined for providers of regional news services.
•  Restoration of adequate funding to public broadcasters the ABC and SBS with greater certainty over a five-year funding cycle.
•  New provisions to ensure that any future media mergers meet a "diversity of voices" test before they are approved by government regulators.
•  Financial reforms to enable the costs of journalism to be offset via taxation incentives.
•  Implementing reforms to protect whistleblowers who disclose confidential information to media in the public interest.
•  Conducting an urgent review of Australia's security laws with a view towards taking action to remove impediments and sanctions against public interest journalism.
•  Harmonising across all national, state and territory jurisdictions journalism shield laws which protect journalists from identifying sources.
•  Increasing international advocacy in support of journalists and allied workers when they are exposed to arbitrary detention, imprisonment and threats to their life, and adopting the International Federation of Journalists' International Convention on the Safety and Independence of Journalists and Other Media Professionals.
Read more from MEAA's Federal Election 2022 Issues and Priorities policy document which has been sent to the major parties for consideration.
Find out more about press freedom
Every year on World Press Freedom Day, MEAA publishes an annual report on the state of press freedom in Australia at pressfreedom.org.au
Click on the image to download a PDF of this  year's report or go to website for the full archive.