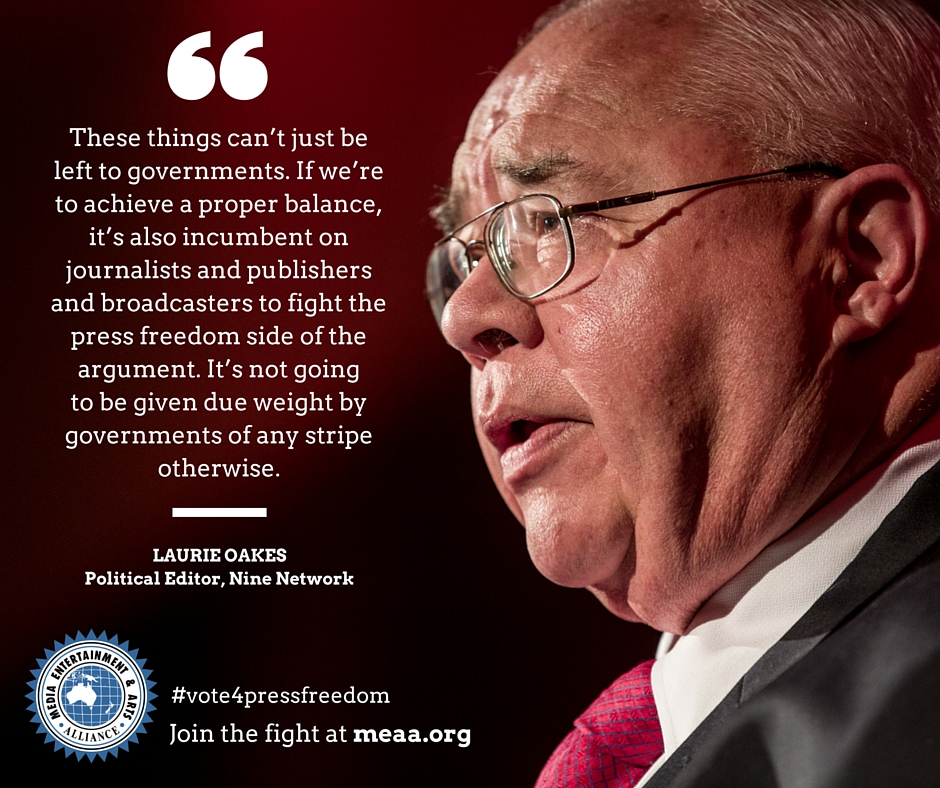 It goes without saying that in an open democracy, a robust free press is essential.
Press freedom allows journalists to scrutinise and report accurately on governments, big corporations and the powerful in our society.
Only with genuine press freedom can we, the voters, make informed decisions at the ballot box every couple of years. Without it, the public can be kept in the dark about what is really going on and what governments do in our name.
In Australia recently, we have seen changes that threaten to restrict press freedom, constrain the way journalists work, and muzzle legitimate news stories from becoming public.
It is no exaggeration to say that when these changes are combined, they represent the greatest assault on press freedom in Australia in peacetime and legitimate journalism in the public interest is being "criminalised".
And of course, press freedom is a global issue.
Around the world, our colleagues face government intimidation, restrictions on free speech, arrests and violence, and even death as they go about their jobs of exposing corruption, injustice and abuses of power. Worse still, the killers of journalists are getting away with murder because of the global problem of impunity.
Australian journalists working overseas are not immune from these attacks; just ask Peter Greste or the Four Corners team recently detained in Malaysia. But also think about the failure of successive Australian governments to bring to justice the killers of the Balibo Five, Roger East, Paul Moran, Juanita Nielsen and Tony Joyce.
Campaigning for press freedom, for the right of journalists to go about their business without harassment, persecution or censorship, is at the very core of the work of MEAA.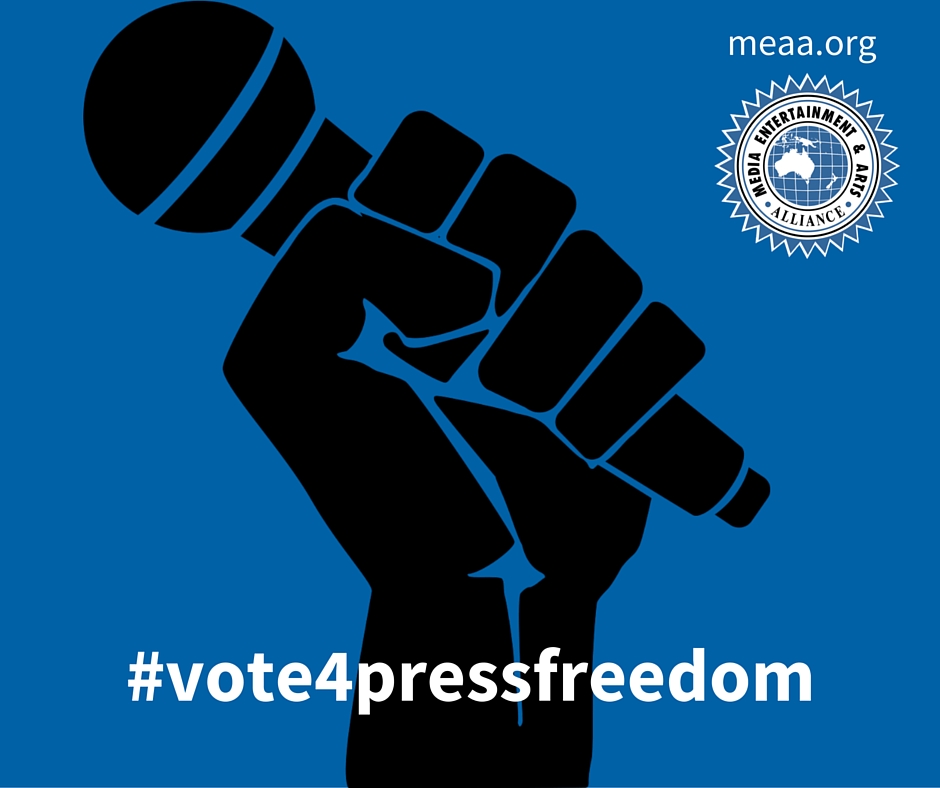 In the 2016 election year, MEAA called on everyone to #vote4pressfreedom.
We want to remind people of the importance of press freedom in a healthy functioning democracy, and put a spotlight on recent changes that are constraining press freedom in Australia.
These changes include the metadata retention laws, which allow government agencies to secretly pursue journalists' confidential sources, such as whistleblowers; and Section 35P of the ASIO Act, which has jail terms of up to 10 years for legitimate public interest reporting on ASIO special intelligence operations.
We know that the Australian Federal Police are being asked to pursue whistleblowers, particularly in relation to asylum seeker boats. And the new Border Force Act threatens to imprison people for telling the truth about what really goes on in offshore detention centres.
The most recent laws passed the Parliament with bipartisan support. Nothing will change unless journalists and the supporters of press freedom raise the volume.
MEAA has also written to the major parties and key independents calling for for an end to the war on whistleblowers, journalists, and the public's right to know.
Suggested reforms to whistleblower protections are outlined in a policy paper, 'Whistleblowers need support, not harassment'.
Among the reforms proposed by MEAA are consolidated public and private sector whistleblower legislation, an independent statutory office or public interest disclosure panel, immunity from suit or direct financial assistance in defending disclosures in the public interest, and strengthened penalties for taking reprisal against a whistleblower. Read the full policy paper below.
MEAA's Criminalising the Truth, Suppressing the Right to Know – the report into the state of press freedom in Australia in 2016, is available to view online at www.pressfreedom.org.au or you can read it as an e-book below.
Download a PDF of the full report here.
Press Gallery veteran Malcolm Farr: "This election campaign highlights the importance of shared information but it shouldn't just be an issue during the election campaign."
---
Fairfax political editor Mark Kenny: "Democracy itself is at stake here if freedoms that have existed, that have underpinned the democratic system, continue to be crimped."
---
Melbourne Press Freedom dinner, 28 September 2015 (including address by Laurie Oakes)
Sign up to keep in touch with the Press Freedom Australia campaign.
And follow the campaign on Facebook.