NT Media Awards
---
The winners of the 2021 NT Media Awards have been announced
---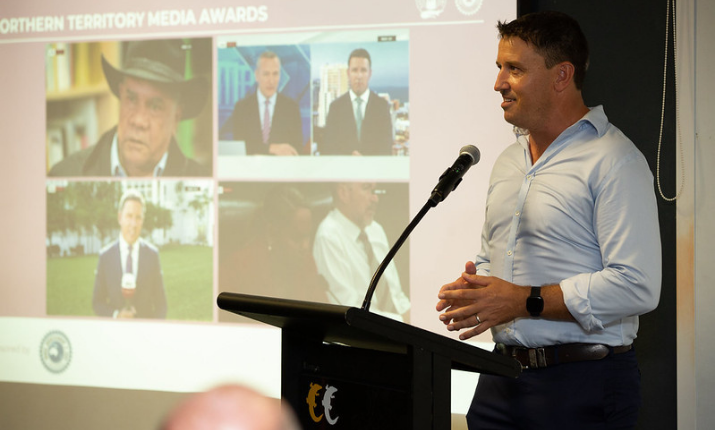 2021 Journalist of the Year Matt Cunningham. Photo: Pete Garnish
The Media, Entertainment & Arts Alliance and the NT Press Club congratulate all those who have been named winners in the 2021 NT Media Awards and thank everyone in the media in the Northern Territory for their hard work this year. 
It was a huge night for Matt Cunningham, who took out TV/Radio Best News Coverage, Indigenous Affairs Reporting and was named the 2021 Journalist of the Year for his coverage on the Treaty Commissioner Mick Dodson. The judges acknowledged Matt's professionalism, thorough research, investigation and follow up pieces that led to Mr Dodson's resignation. The judges' applaud Matt's dedication to holding the powerful to account.
Sarah Matthews was named the 2021 Marchbanks Young Journalist of the Year. The judges were impressed with her coverage of diverse issues which are highly important in the NT and nationally. The judges said: "The effort Sarah has gone to, in identifying these issues and then thoroughly and proactively pursuing them, is obvious in the final stories."
NT Press Club president Phillippa Butt congratulated all the winners. "This year's NT Media Awards show great journalists work at all the news outlets in the Territory," she said. "A big congratulations goes to all the winners, particularly Journalist of the Year Matt Cunningham and Marchbanks Young Journalist of the Year Sarah Matthews, who took Territory stories and issues and raised them on the national stage.
"Thank you to everyone who entered the Awards. Regardless of whether you won, were a finalist or entered; we all work incredibly hard up here and these Awards have shown the standard of journalism in the Territory continues to be incredibly high."
Read on to see the full list of winners.
For more information: MEAAstateawards@walkleys.com