NT Media Awards
---
Winners announced for the 2022 NT Media Awards
---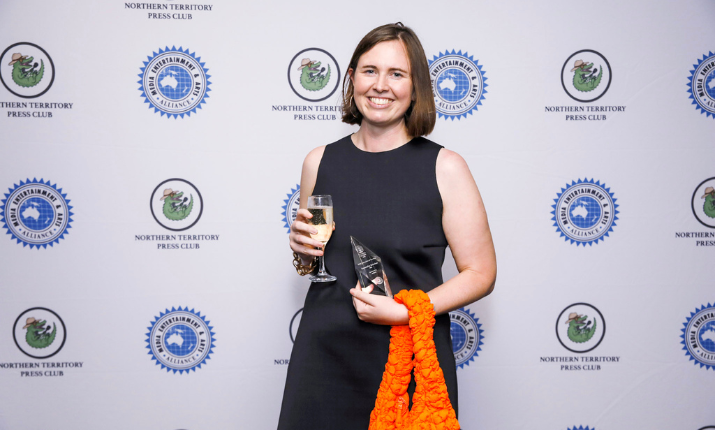 NT Journalist/Photojournalist of the Year Samantha Jonscher
The winners of the 2022 NT Media Awards were announced in Darwin on Saturday, November 19.
Samantha Jonscher of the ABC won the top award and was named 2022 NT Journalist/Photojournalist of the Year for her coverage of the controversial approval of a water licence to Singleton Station, which also won the "All Media" award for Best Online Coverage.
The judges said Jonscher's investigations over 11 months "exposed a story of national importance and gave voice to Indigenous people who had been marginalised by million dollar deals that ignored their interests" and were characterised by respectful reporting and meticulous writing and research.
"The work Samantha put in on the ground making several trips on her own to this region is evident in every story, [and] she clearly gained the trust of this community," the judges said.
The other major "All Media" award, the 2022 Marchbanks Young Journalist of the Year, was won by Hugo Rikard-Bell, who was until recently also based at the ABC's Alice Springs office.  The judges said Rikard-Bell's body of work demonstrated exceptional skills for a young journalist and displayed "a unique ability of identifying and extracting deep personal stories from everyday characters giving them a voice that resonates with a local and national audience".    Hugo has just moved to Salt Lake City, Utah to take up a role as a Features Reporter for KSL NewsRadio.
The Media, Entertainment & Arts Alliance and the NT Press Club acknowledges all the winners and nominees in the 2022 NT Media Awards and thank everyone in the media in the Northern Territory for their hard work this year.
Read on to see the full list of winners.
For more information: MEAAstateawards@walkleys.com