NT Media Awards
---
2023 NT Media Awards winners announced
---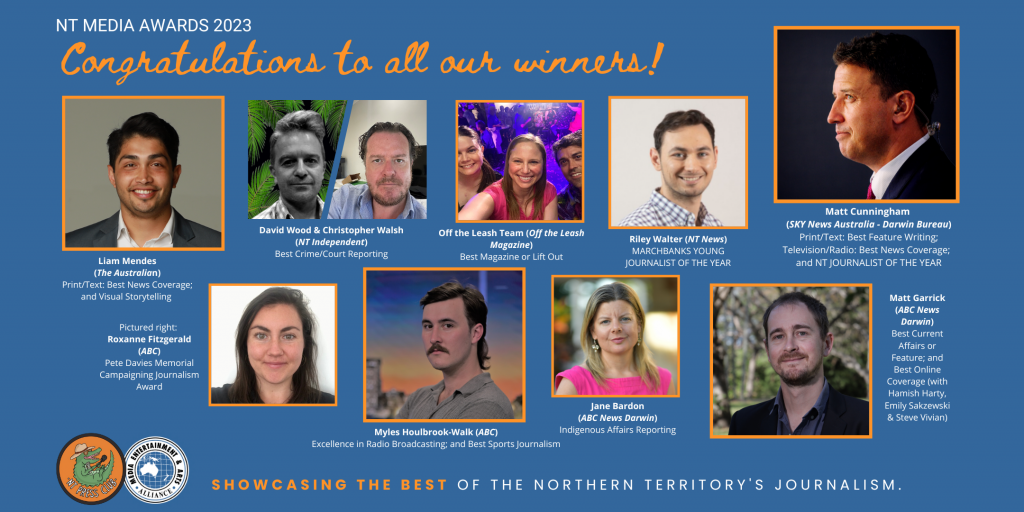 Sky News Australia's Northern Territory correspondent Matt Cunningham has been named 2023 NT Journalist of the Year.
The stories entered by Cunningham into this year's NT Media Awards shined a light on the domestic and family violence against Aboriginal women in Alice Springs, and a disastrous government-sponsored affordable housing project in Darwin. His reporting on a wave of crime in Alice Springs, also included in the submission, prompted a snap visit by the Prime Minister and his TV reporting and coverage on this issue received 105,000 video views on YouTube.
"Only the best reporting can make a nation stop and listen – Matt Cunningham's brilliant and sensitive coverage of Alice Springs did exactly that," the judging panel said.
Cunningham was also recognised as winner of the 'Television/Radio Best News Coverage' and 'Print/Text Feature Writing' awards at the NT Media Awards ceremony held at Darwin City's Smith St Social on Saturday, November 4.
An initiative of the Media, Entertainment and Arts Alliance, delivered in partnership with the NT Press Club, the annual NT Media Awards support and encourage professional and ethical reporting and celebrate excellence in Territorian journalism.
Other notable winners included 'Marchbanks Young Journalist of the Year' Riley Walter, who also won the 'Text Formats: News' category at the 2023 MEAA SA Media Awards, and triple J Hack reporter Myles Houlbrook-Walk who picked up two NT Media Awards awards in 'Excellence in Radio Broadcasting' and, for the second straight year, 'Best Sports Journalism'.
The Australian journalist Liam Mendes also clinched two NT Media Awards: 'Print/Text: Best News Coverage' and 'Visual Storytelling', as did ABC Darwin journalist and digital producer Matt Garrick – for 'Best Current Affairs or Feature' and 'Best Online Coverage' (with colleagues Hamish Harty, Emily Sakzewski and Steve Vivian).
The full list of 2023 NT Media Awards winners can be found below.
The annual NT Media Awards recognise excellence, independence, innovation and originality in storytelling and distinctive reporting. This can be through research and investigations, well-crafted and innovative presentations, news-breaking single stories or features, and engaging, entertaining and/or informative reporting.
Eleven panels of judges, composed of media professionals, academics and previous award winners, chose this year's winners on the basis of journalistic excellence.
Tiffany Venning, the MEAA Regional Director for the Northern Territory, and NT Press Club president, Sarah Spina-Matthews, applauded the incredibly high standard of entries this year.
 "I would like to congratulate all of the winners, finalists and entrants, as well as all of the members of the NT media industry who work hard every day to keep the public informed and hold those in power to account – quality journalism is incredibly important in the Northern Territory and these awards demonstrate the calibre of work being produced here," said Ms Spina-Matthews.
"I consider myself lucky to work alongside the reporters, producers, editors, operations staff, camera operators and managers who make what we do possible."
Ms Venning said the high ethical standards, creativity and indefatigable passion of the journalists in the Territory continues to impress.
"This year's NT entries are full of stories that changed the political landscape and had a profound impact on the national dialogue," she said. "Congratulations everyone!"
More information: MEAAstateawards@walkleys.com