NT Media Awards
---
Winners announced in the 2019 NT Media Awards
---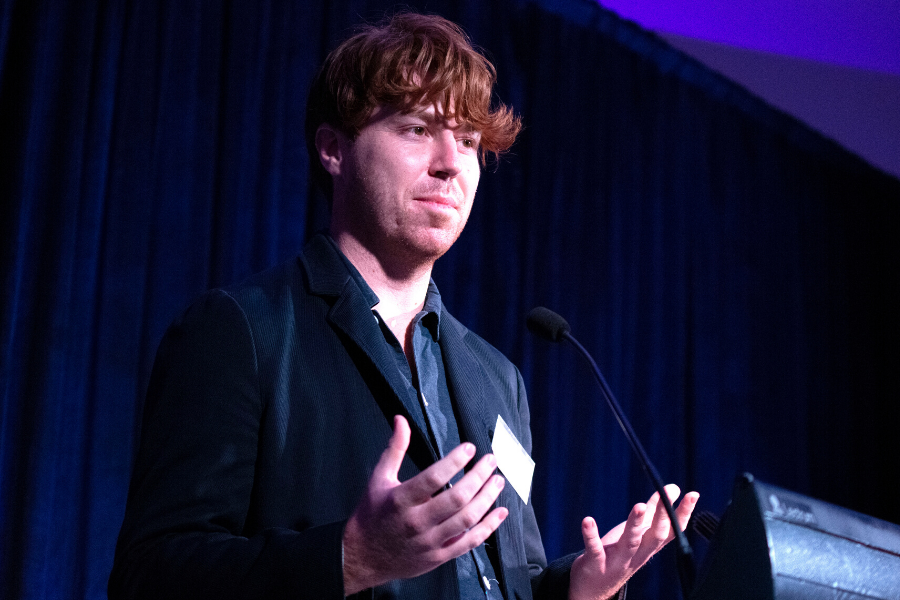 Oliver Gordon accepting one of his awards. Photo: Anita Lakatos
ABC journalist Oliver Gordon was named the 2019 Journalist/Photojournalist of the Year, at the NT Media Awards held at the Grand Ballroom at DoubleTree by Hilton Esplanade Darwin on Saturday November 16. 
Gordon was acknowledged for his ABC Background Briefing investigation "The Black and White Hotel; Inside Australia's Segregated Hotel Rooms" and associated coverage into racial profiling at a hotel in Alice Springs. Judges said, "Oliver Gordon's piece demonstrates clearly and effectively the brutal segregation at an Alice Springs hotel. Working on only a tip, Oliver methodically gathered evidence, before prosecuting the case against the hotel and the discrimination most in Australia thought was long gone. The story rightfully received national attention and was filed across multiple platforms maximising the audience it reached and the impact it had." In June, Gordon won the 2019 Walkley Young Australian Journalist of the Year Award for the story.
NT News journalist Phillippa Butt received the other top gong for the night, the 'Marchbanks Young Journalist of the Year 2019' award for a body of work including a story she followed up after an anonymous tip that workers at a domestic violence shelter were being told to ignore mandatory reporting guidelines and "water down" abuse reports. "Phillippa Butt's entries demonstrated an impressive ability to write informative and valuable pieces on diverse topics. Phillippa was a standout in this category because of the way she went beyond the fundamentals of journalism; the pieces were agenda-setting, contained exclusive details and informed the public debate," judges commented.
ABC journalist, Jane Bardon won four categories on the night.
The NT Press Club committee congratulated all the winners at the awards and said the standard of the journalism produced in the Northern Territory since the last awards, was incredibly high. MEAA and the NT Press Club congratulate the winners of the 2019 NT Media Awards and thanks everyone in the media in the Northern Territory for their hard work this year.
For more information: MEAAstateawards@walkleys.com