SA Media Awards
---
2023 SA Media Awards winners announced
---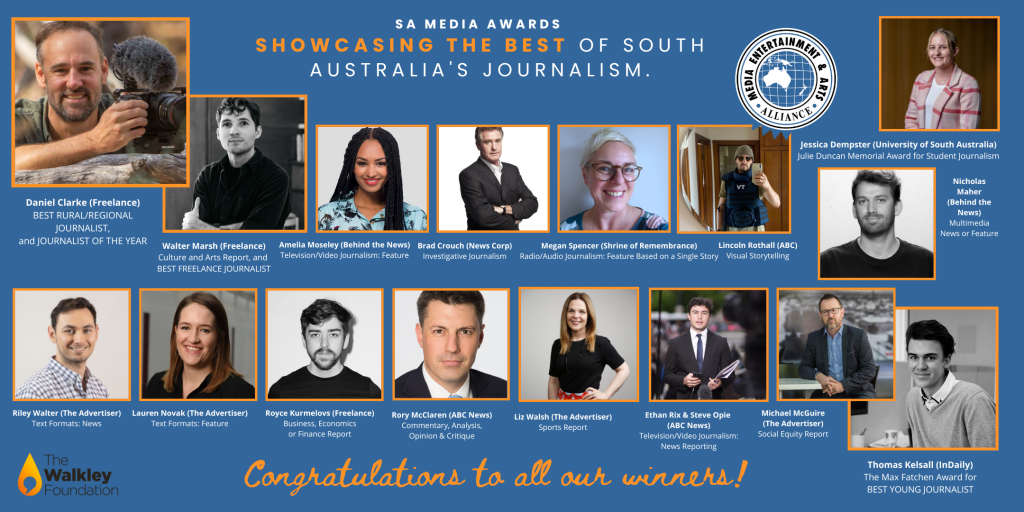 Freelance journalist and filmmaker Daniel Clarke has been named South Australia's 2023 Journalist of the Year.
"In a close race of journalistic excellence, Daniel Clarke emerged a narrow but clear winner," the judging panel said.
Clarke was also recognised as 'Best Rural/Regional Journalist' for the second straight year at the 2023 SA Media Awards ceremony held at Adelaide's The Gallery on Saturday, July 8.
It's been a big year for Clarke, whose feature documentary – about the Kangaroo Island timber plantations saga that has split the community, tainted the highest office in South Australia and left a growing list of dangers in its wake – will premiere across Australia and New Zealand on the popular Fox Docos channel on Tuesday, August 15. It will then be available for streaming on Foxtel Now and Binge.
The documentary has been part-funded by Meta, in partnership with the Walkley Foundation, which helps administer this hotly-contested awards program every year.
Tarntanya/Adelaide-based journalist and author of forthcoming book, Young Rupert: the making of the Murdoch Empire, Walter Marsh also won two awards at the SA Media Awards. These were for Freelance Journalist and for a new award, Culture and Arts Report – a nod to South Australia's claim as the Festival State.
"Thank you to the SA Media Awards for this recognition, and the broader recognition of culture and arts reporting in the creation of this new category," said Marsh.
Other award recipients included inDaily reporter Thomas Kelsall, winner of the Max Fatchen Award for Best Young Journalist, supported by Telstra, and Jessica Dempster, winner of the Julie Duncan Memorial Award for Student Journalism, supported by the University of South Australia.
The award, named after late Walkley Award-winning Adelaide journalist Julie Duncan, is open to final-year students of the University of South Australia and recognises both excellence in journalism and academic study.
'Inspirational storytelling, cutting through the pain of adversity'
Daniel Clarke's dual-winning entry to the SA Media Awards expertly explored complicated grief in a family bereaved by a suicide, post-traumatic stress symptoms in the wake of the brutal Kangaroo Island bushfires, and processing loss through art.
"These are clear examples of personal experiences through journalism enabling a wider community to better cope with loss and mental anguish," the judging panel said.
"The stories in this body of work are compassionate, sensitive and skillfully translate his community's pains and triumphs for a national audience. His nuanced and unflinching account of one community member's suicide was a particular triumph."
Deeply affected by the loss of friend Simon Wheaton, a pillar of the Kangaroo Island community who took his own life, Clarke worked closely with his family through grief "to tell his story in the hope of helping others, especially with the continued mental suffering of islanders since the Black Summer bushfires," he said.
"Receiving this State Media Award is an acknowledgement of the importance of talking openly about this subject and I dedicate it to those we have lost and the families who have shown immense courage and trust to tell their stories. It also acts as a dedication to the tragic loss of community-minded mother Sarah Strong-Law on our roads."
The full list of winners can be found below.
The SA Media Awards recognise excellence, independence, innovation and originality in storytelling and distinctive reporting. This can be through research and investigations, well-crafted and innovative presentations, news-breaking single stories or features, and engaging, entertaining and/or informative reporting.
Eight panels of judges, composed of media professionals, academics and previous award winners, chose this year's winners on the basis of journalistic excellence. Other considerations included the resources available to the entrant/s and the effort expended in the preparation of the submitted work.
"It's terrific to see such a high standard of entries across the board – and there are such deserving winners," said Karen Percy, the Federal President of MEAA Media and deputy chair of the Walkley Foundation, which helps administer this hotly-contested awards program every year.
"The excellent reporting from SA's regions is so good to see; those communities benefit so much from rigorous reporting," she added.
Percy made special mention of South Australia's freelance community "who are well represented in the winners."
"We are so grateful for their dedication to bringing important stories to light," she said.
"Overall I have been struck by how the difficult subject matter by many winners has been handled with sensitivity, empathy and compassion. It leads to the finest ethical, public-interest journalism. The best stories are those that serve their audience and put people first.
"Congrats to all of the winners, but kudos to all entrants for showing pride in your work."
Media enquiries: Isabell Petrinic, isabell.petrinic@walkleys.com or 0450 907 910.
An initiative of MEAA, the SA Media Awards support and encourage professional and ethical reporting, and celebrate excellence in South Australian journalism.