Top ten tips: Queenie van de Zandt
---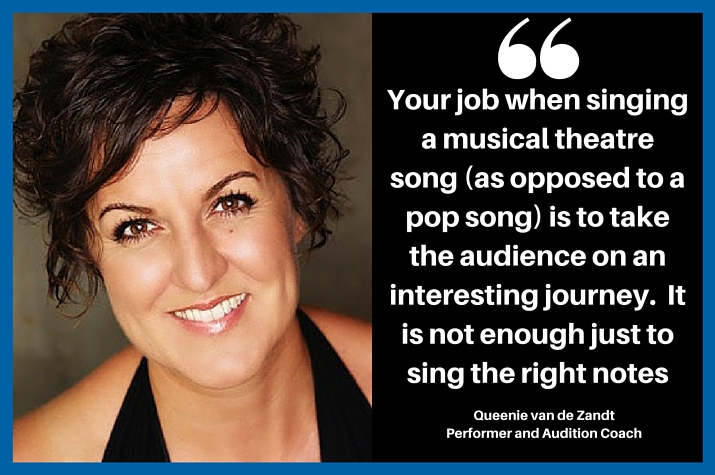 One of Australia's most respected musical theatre performers shares her advice for mastering the audition process.

Queenie van de Zandt's credits include Face to Face and Threepenny Opera (STC), Women of Troy (STC/Malthouse), Abigail's Party (Ensemble), Smoke & Mirrors (Sydney Festival), Very Small Business, Da Kath & Kim Code (ABC 1), and musicals such as Into the Woods, Oliver! and King Kong. She has also released two albums, and has a cult following as her comic alter-ego - Jan van de Stool and has been nominated for 13 major theatre awards, winning 3 times. Queenie is also the co-founder of  The Australian Musical Theatre Academy who is presenting The Advanced Audition Technique for Musical Theatre Course in August/September.
1.Get to know the show you are auditioning for
Now a-days it's pretty easy to find out what shows are coming up. Sites like AussieTheatre.com, regularly report what is in store for Australia in the commercial and independent music theatre scenes. You can learn a lot about a show by looking at its website.  You can see what 'types' they are casting in the various roles in the show by looking at photos and promotional footage, which also tells you a lot about how they will cast the show. These days there is also footage of nearly every musical on YouTube. If the show is based on a film or has been made into a movie, watch it.  If there is a book that the musical is based on read it.  If there is sheet music for the show, buy it.  If there is a script available, read it.  Do whatever you can to be as prepared as possible for what lies ahead.
2.Find an appropriate song for the audition
When choosing a song to sing at your audition, make sure you choose a song that is appropriate to the CHARACTER you are auditioning for, the PERIOD that the show is set in, and to the STYLE in which the musical is written (i.e. legitimate or contemporary musical, a rock or jazz musical etc).
3.Understand the lyrics
Learn the words first.  Make sure you know exactly what you are singing about and what every word means.  If there are words or sayings in the song that you don't understand - look them up.  The lyrics are a monologue and should be treated as such.
4.Explore how to sing the song
The best way to learn the music is to take your sheet music to a pianist and ask them to record the song for you, played at half speed, with the melody line played (so you can hear and learn each note of the song). If other artists have recorded the song, listen to their interpretation.  Put all that into the melting pot and then put it aside while you do the next two steps.
5.Develop the character who is singing the song
Don't limit your performance of your audition song by performing it as the character from the musical it comes from.  If you have chosen your song well, you should be able to perform the song to fit the role you are auditioning for. To develop your character, first look at the 'givens' of your character.  The 'givens' is what is well known, 'a given', about your character. This might come from the text from the show, or the audition notice/breakdown, from the research you have done or if you are playing an historical character, what is written about her/him in the history books.  The rest should come from your imagination.
6.Develop the story of the song
Your job when singing a musical theatre song (as opposed to a pop song), is to take the audience on an interesting journey.  It is not enough just to sing the right notes, have a good feel for the song and make your voice 'sound' nice – you must be a story-teller.  If you have chosen your song well, you should be able to perform the song as the character you are auditioning for, telling the story of a moment in their journey in the musical.
7.Arranging and interpreting the song
Once you have developed the character and the story of the song, you then have the blueprint of how to arrange, interpret and perform the song. You can adapt the song in any way you like, changing keys, lyrics, putting in key changes, pauses in the music, changing the phrasing or notes – as long as it doesn't jar with the song (unless that is your intention).  Basically you are free to adapt the song to fit your story and the character telling it.
8.Prepare mentally for the audition and learn how to control nerves
Performance anxiety (nerves, panic attacks, stage-fright) is incredibly common amongst performers, even the most gifted and famous performers often suffer from performance anxiety. A performer must overcome this anxiety to perform at peak potential, this is especially important in auditions where tension is often at its peak. Visualisation techniques, cognitive thinking, and even positive affirmations and meditation, by building self-awareness and self-esteem, are among the most powerful tools to control nerves and combat performance anxiety.
9.Do a thorough warm-up before the audition
On the day of the audition, make sure you do a physical, speech and vocal warm-up before you attend an audition where you will be required to sing, dance and act. It will help you to perform better and also help keep you safe from injury during the audition. Yoga stretches, held for 20 seconds or more are a good basis for a physical warm up.  Doing tongue twisters and reading out loud are 2 great ways of getting ready to deal with any scripts you may be required to perform and there are lots of great vocal warm up CDs and apps out there – with one of my favourites being an app developed by some leading musical directors from our industry – called Warm Me Up (you can get it here)
10.Audition, reflect and let go
Treat the audition like opening night. It's a performance. The aim when auditioning, should not be to get the job – the aim should be to do a great performance (which is how you then get the job). Once the audition is over – take a moment to reflect on what you did right and what could be improved next time. AND THEN GET ON WITH YOUR LIFE!  Nothing will be gained by sitting around and obsessing about the audition.  Just keep moving.  Remind yourself that it's all just a big game. It's great to play the game like your life depends on it – but remember – it actually doesn't.