Ten top tips: Succeeding as a producer
---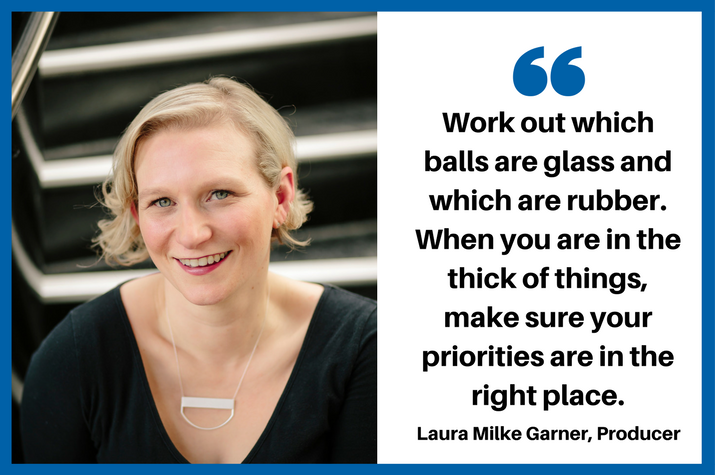 Producer Laura Milke Garner shares some practical advice for performers looking to create their own work.
Laura Milke Garner has worked as a producer for 20 years. In 2008, she established her own company MILKE to help artists produce their work and also provide mentorship for artists and producers. MILKE has creatively developed and produced major work for Sydney Opera House, Sydney Festival, Arts Centre Melbourne, Brisbane Festival, Brisbane Powerhouse, Adelaide Cabaret Festival, Adelaide Fringe, Melbourne International Arts Festival, Melbourne Fringe and Melbourne International Comedy Festival. Visit milke.com.au and facebook.com/milkeproducer/
1. Know your show. As the producer, you have to know exactly how your show operates, what it needs to get it from the page to the stage. You then need to know its requirements for any future seasons, touring, legal requirements, budgets and so on.
2. Love your budget. You have to love a budget and a spreadsheet. This needs to be a living document, not something you work on at the start of your project. A well-managed budget will allow you to make informed decisions about what you can do with your show.
3. Do one thing every day on your show. You might have booked in a show that is months away and think you have heaps of time, but don't be fooled. The trick is, the more you can do in those early stages, the better set up you'll be when things start to get busy and more people require your attention.
4. Work out which balls are glass and which are rubber. When you are in the thick of things, make sure your priorities are in the right place. There will be many balls in the air; work out which are glass and which are rubber. Prioritise what you need to focus on and that not only includes your work but also your family and home life. Shows can take over your life; make sure you keep things in check.
5. Build and trust your team. Building a team is one thing but trusting them to do their thing is harder to learn. Once your team is in place, give them the space to do what they do best.
6. Be sure to communicate. To each member of the show, communication is the key. While it's the one thing that can quickly break down, it's also one of the easiest things to maintain. Just keep people informed of where things are at, where they are going, what you are doing and what they need to do.
7. Get it in writing. Yes, there are contracts/agreements, but I would go a step further and note any meetings or chats with the main members in your show – something as simple as an email with dot points of what you discussed. This can be handy if, somewhere along the line, you need to refer back to a conversation.
8. Read the room. In any situation, with your cast, creative team or networking events, knowing how to read the room is key to being a good producer. Use your intuition. Be the guiding light; don't be reactive.
9. Talk with a range of people. Another word for this is 'networking', but that doesn't sit well with some people. To put it another way, it's just about having a chat. Talk with people about your show, projects and future plans. Have the conversation – who knows where it will lead. If you don't seize that moment, someone else will.
10. Be patient – it's a long game. When you're touring or pitching shows for future seasons, you can be working a year and a half in advance to fall in line with programming from venues and festivals. Start conversations early and keep up the good work.