Ten top tips: Daina Reid
---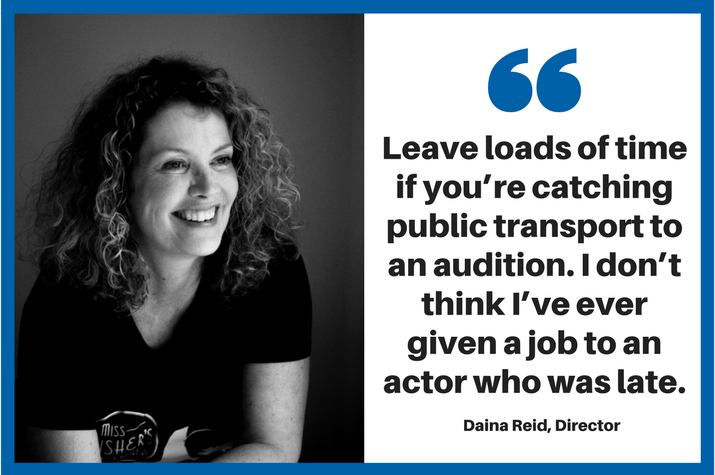 Daina Reid is one of Australia's most successful television directors. Here she shares her ten top tips for audition success.

Daina Reid has cemented her position as one of Australia's most sought-after directors of premium-event television over the last decade. She has been a frequent collaborator with award-winning producer John Edwards on projects including Paper Giants: The Birth of Cleo and Howzat! Kerry Packer's War. Following the success of The Birth of Cleo, Reid directed the follow-up, Paper Giants: Magazine Wars, as well as Nowhere Boys, INXS: Never Tear Us Apart and The Secret River, and Romper Stomper for Stan.
1.Don't apologise when a director gives you a note that is contradictory to what you have played in an audition or rehearsal. You haven't made a mistake. Often what you have played could give the director an idea to go a different way with the character. If they've got a certain vision for the tone of their project or perhaps something about the way you look (yes, as superficial as that – it's showbusiness) could have given them an idea of a way to play the character. Any number of reasons could result in the director going a different way; it wasn't that you were wrong.
2.Try not to be too rigid with the choices you make when preparing for auditions. The director will be looking at how well you respond to direction, so if you deliver the same performance because you've got an idea so stuck in your head, whether that's because of nerves or something else, it's not going to help you get the job. The director may end up going with your first instinct but you've got to be flexible enough to experiment.
3.If you are a guest actor on an established show nerves and a desire to prove yourself could see you doing your best performance when the cameras aren't rolling. Keep your powder dry and 'save it'.
4.Some writers might not like me saying this but the big print is not gospel. You and the director can discuss what is and isn't relevant. If the director wants certain parts, go for it, but don't feel obliged to follow it. Use your instincts. If it's not working for you, discuss it.
5.If you forget your lines in an audition, don't let it throw you. The director is not looking for a flawless delivery.
6.If there is a line of big print in the middle of your character's speech, read it, understand why it is there, then cross it out.
7.If you've only performed in theatre and you're auditioning for film or television, work with the director to get your performance 'size' right.
8.Connect with the actor you're performing the scene with, whether in the rehearsal room or the audition room. Don't get caught up in remembering all your preparation. Your fellow actor can be your inspiration.
9.Leave loads of time if you're catching public transport to an audition. I don't think I've ever given a job to an actor who was late.
10.If the director asks you to read for another part, it doesn't mean you haven't got the one you've auditioned for – it just means the director has seen something else in you, so go for it, even if it means learning the lines in 10 minutes in the waiting room.