Sky's the limit – Making the most of pilot season
---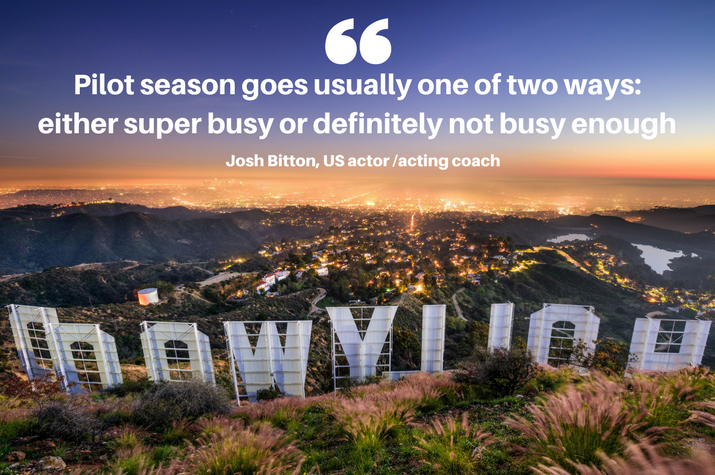 In the lead up to this year's pilot season we set out to get the best possible advice to help Australian and New Zealand actors maximise their chance of success. Those we spoke to included actors, acting coaches, agents and casting directors. If you're in the midst of the mayhem, here's their timely advice.
"In Los Angeles, particularly during pilot season, auditioning is such a fast-paced game," says US actor and acting coach, Joshua Bitton. "I've seen a lot of actors come over from Australia, in particular, and be completely thrown by it."
Bitton has a long list of Australian and American clients, including Nicole da Silva, Hamish Michael, Josh Helman, Ashley Zukerman, Sean 'Puffy' Combs and Omar Benson Miller. As an actor, he has appeared in more than 30 TV programs – he played Agent Tork on CBS's The Mentalist and Sully on ABC's Castle. Most recently, he starred in HBO's The Night Of and Netflix's Daredevil.
"There's little to no process in the audition room here [in LA], meaning that often you'll go in, say hi, chat for a couple of minutes, then run the scene. And then it's on to the next actor," he says. "If you're lucky, you might get an adjustment on a scene, maybe two. What happens to a lot to actors who haven't been in that environment before is that their ego and confidence and the momentum they have felt coming to LA dies very fast."
Bitton helps actors learn to use the script as a 'road map' rather than a 'crutch', a method he employs personally when auditioning. "Here, it's pretty acceptable to have the page in your hands. And it's pretty acceptable to use it. So I use my script as a map, with marks and lines and things circled and underlined, so that I have a visual cue and a reference for moments. Being able to take words off the page quickly – not knowing them off by heart but enough that you can still play in the moment – is something actors have to become more attuned to when they're over here.
"If I have three or four days and no other auditions to prepare, I'm going to be off-page, but if you're having a really good pilot season, you might have three auditions in a day. What I see with a lot of Aussie actors is this idea that they've got to learn all the words. And a lot of times, what happens is that the freedom of the moment – playing, listening and responding – goes away because they're just trying to be professional and speak all the dialogue without having to look at the page."
One of the first pieces of advice Bitton was given when he moved from New York to Los Angeles was to find things he enjoyed in his life, other than acting. "Pilot season goes usually one of two ways: either super busy or definitely not busy enough. When you're here, you feel inundated by the business. It's everywhere. You're hearing about your friend's screen test, this one's call back, they just booked a pilot. And often that becomes someone's entire existence, especially when you've flown across the Pacific and moved your life over here. So make sure you're still feeding your soul with whatever it is you enjoy. I think the more complete your life is, the more comfortable you are in your own skin, the more that flows in the audition room with you, and you can bring something authentic and unique."
Australian actor Patrick Brammall, whose credits include Offspring, A Moody Christmas, Upper Middle Bogan and Glitch, moved to Los Angeles for work in his late 30s. "I wasn't ready to come across earlier," he says. "I didn't have the maturity. I wouldn't have been able to handle it."
This year, Brammall co-created a US remake of No Activity with fellow Aussie Trent O'Donnell. He also starred in the show, which premiered in November on Stan and CBS All Access to excellent reviews.
"I think the best rule of thumb is, don't play the comparison game," he says. "It's so easy to go, 'Well, that Australian came over and did really well'. We all left Australia to come and join the circus. We're not here for a haircut – we're here to work. So you can feel competitive, not with other people, just with yourself, but you have to remember that everyone's got their own journey."
Brammall says being an actor in Los Angles is "fundamentally the same" as being an actor in Australia. "You're waiting for the audition, you're waiting for the phone to ring. So, just like in Australia, I would say, if you can do something else, if you can write, produce, direct or make your own work, do it, because it's far more empowering than waiting for a job."
Australian casting director Tom McSweeney agrees. "Work begets work. As an actor, you should always be doing something, whether it's theatre, short films, a web series. You need those muscles limber, so when you get an opportunity, it's just another scene, as opposed to the biggest moment in your life."
McSweeney has worked on more than 200 feature film, miniseries and telemovie projects, as well as 500-plus hours of episodic television for the US, UK, Canadian and Australian markets. During pilot season in February and March 2018, he will do the Australian casting searches for all CBS pilots.
"We cover roughly 16 pilots," he says. "We look for specific characters. CBS tell us which characters to focus on if there's somebody remarkable in Australia and suggest them for it. And we do wide testing, both in the room and through self-tests. Last season, we had five actors get pilots. Unfortunately, not all of them went to series, but people really progress from that experience."
McSweeney is a firm believer that you don't need to go to Los Angeles to book work during pilot season. "While there's definitely something to be said for the experience itself, I actually think you get a leg up here because most of the actors who go over to LA don't have Green Cards. So there's a better case for the network saying, We found someone over in Australia we want to sponsor, rather than somebody who is in LA for the short term.  "Actors from this part of the world are very popular, so sponsoring has become a standard process for the networks, which they factor into production timelines."
Australian agent Sue Barnett says that while many actors still go to LA for pilot season, it has become increasingly popular to test locally. "There are advantages to both," she says. "If you stay in Australia, local CDs get to see your auditions, which may lead to Australian work. Actors often self-tape in LA, as you still have to be selected to go into the room, so you are saving money staying home and putting down tapes in a familiar and more relaxed environment. The advantages of going over are that you are immersed in the culture and accent, which can help authenticate playing a US role, and new relationships are built and strengthened the longer you are there."
Barnett says that deciding to go or stay is a "very individual" choice and, ultimately, there's no right or wrong. "If you are going, make sure you have a perfect US accent. Ideally, have an 0-1 Visa or Green Card in place – or at least underway, in the case of an 0-1."
Matt Skrobalak, Vice President of Talent and Casting at CBS Television Studios, says that the sheer volume of projects during pilot season means he's looking "anywhere and everywhere" for the actors to cast. "I consider a self-test the same as an in-person read, so they are definitely a viable way of being cast in a US production."
Skrobalak has been travelling to Australia and New Zealand for more than a decade to scout for acting talent and has hosted events at the Equity Foundation's Casting Hothouse on five occasions. "Australasia is now a requested area that producers and directors want and expect to be covered and sourced when we are looking for talent, I think that's a pretty incredible testament to the strength of the performers coming from Australia and New Zealand".
During pilot season, casting directors can see 500-plus actors per role via self-tapes, pre-reads, producer reads and the studio's domestic and international casting outreach. The typical pilot has location casting directors seeing actors in LA, Chicago, NYC, Toronto, London and Sydney. "If you come over here and want to be in the mix, the crucial thing – some people will heed this advice and some won't – is to have local representation, because those are the people who have trusted relationships with the casting directors to get them to see somebody they don't know.
"As much as there is an open-mindedness towards all actors, because we ultimately want to find the right person for the role, there are still limitations in terms of our time, so we do have to rely on referrals, particularly during pilot season. With producers and directors so willing to review taped auditions and make decisions based on those, I tell most actors from that part of the world, 'If you're not represented over here, stay home. Go in and see local casting directors who are covering pilot season'."
For actors going to Los Angeles to get representation, Skrobalak advises having your meetings set up before you arrive. "The idea that you should get on an airplane for thousands of dollars to fly to Los Angeles, when you do not have one confirmed meeting, is insanity. Your agent at home can and should be sharing your reviews, press, film and television work with LA reps in advance to show what you have to offer, suss out those interested to meet you and lock in meetings for you weeks before you arrive."
Skrobalak says having experience in the Australian or New Zealand market is crucial to securing good representation. "For example, you'd have to have had proper recurring guest-work or regular status on a series over there [in Australia or NZ]. Or a role in a local film that's done well on the international festival circuit. If you're super-young and fresh out of drama school, you obviously won't be expected to have as much professional experience."
When it comes to making the daunting decision of agent versus manager, Skrobalak usually advises actors from Australia and New Zealand to focus on a manager first. "The reason I say that is that managers, generally, are more patient. They're not looking for an immediate return on the investment they've made. An agent has more clients because they want to make money; they want to see the return on the energies they put forth quite quickly. Whereas a manager, while still interested in you booking and making money for them, is more on a two- or three-year track with you.
"There are so many wonderful actors who don't have careers because they don't have proper representation. This is a sad state of affairs but it's the harsh reality."
"I tell people when going into meetings that in some ways it's like a first date," says Bitton, of trying to find the right representation. "I think actors make the mistake of just talking about themselves as a professional: This is what I've done, where I've I trained. That stuff's on your resumé and chances are your Aussie agent has already told them that. You need to tell them about you. Maybe a funny story, something about where you're from or who you are.
"You should be thinking: Do we get along? Do I feel comfortable enough with you that I want to talk to you all the time on the phone or have lunch every couple of weeks to touch base? Because that's what a good relationship is going to be like. You want them to be excited about you as a person, so that when they pitch you, they will completely understand who you are."
Australian actor Kate Jenkinson, who this year starred in season four of Wentworth and The Ex-PM, has been visiting LA for work since 2010. "I met my manager on my first trip over in 2010," she says. "We have mutual friends/colleagues in the industry, and he did some research on me and vice versa, and, thankfully, we decided to work together. I got my agent once I'd been on a TV show in the US. They had seen the show, liked my work and offered to represent me."
As well as an agent and a manager, Jenkinson advises actors to get a business manager once they start booking work in the US. "The tax system over there is really tricky to work out yourself. It saved me a lot of hassle and a lot of money in taxes."
Jenkinson, who starred alongside Rebel Wilson in US comedy Super Fun Night, says she finds the biggest challenge in the US is the audition process. "Sometimes, you can be in and out of the audition room in a couple of minutes. You have to bring the goods immediately because you don't often get a second chance to impress. It's just the nature of how the industry is over there, but I certainly find the Australian audition process to be much kinder and more rewarding."
Skrobalak says he's often asked how to stand out in the audition room, given how little time you get and how fierce the competition is. "I might have 20 actresses come in for the same role. Fifteen of them will be perfectly fine. If an audition is a road map, they know where to go right and left, and stop and pause… they can follow directions. But you're not looking for somebody who can just follow directions – you want somebody who is going to find the shortcut or the new path, or find a different way of looking at it. At the end of the day, it is just make-believe, but there's make-believe that feels truthful and then there's make-believe that feels false."
Article by Lizzie Franks, originally published in the Summer 2017 edition of The Equity Magazine.