Ten top tips: Anna Kennedy
---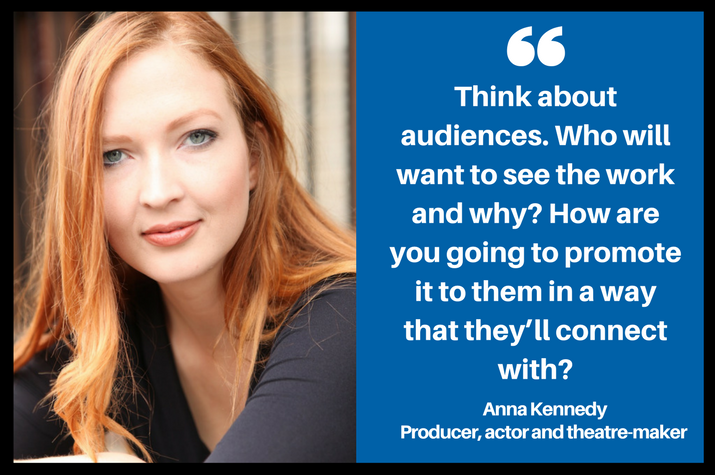 Producer, actor and theatre-maker Anna Kennedy shares her ten top tips for actors who would like venture into producing independent theatre.
Anna Kennedy is a Melbourne-based producer, actor and theatre-maker. She is the creative producer of She Said Theatre and Company Manager of Rollercoaster Theatre. Anna has produced HART by She Said Theatre for six seasons across Australia and New Zealand, For the Love of Pina by Rollercoaster Theatre, F. by Riot Stage, FR!SK Festival for True North Arts Festival and Living Positive Victoria's ENUF Stigma campaign. Performance credits include A Room of One's Own, Steppe, The Living Museum of Erotic Women and Since the Death of Sarah Kane, among others. Anna graduated from VCA with a BA of Fine Arts (Theatre Practice) in 2014.      
Research what a producer does and think about whether producing is right for you. Google will tell you almost everything you need to know; however, I would add that producing is often about filling the gaps. If you can't afford a publicist, that becomes the producer's task. If your production manager drops out, that's your job now, provided you have the skills to do it. Not everyone wants to be a producer, so collaborate.
Know why you're doing the project and be transparent about it with your creative team. It's important to be passionate about your project, and I don't believe there is a 'right reason', but your team needs to know why they should dedicate their time to achieving this particular vision. Think about how the project will benefit the people you're working with, as well as how it will benefit audiences. What are the goals of the project and why does it need to exist?
Communicate clearly and keep written records. One of the greatest and most common challenges I face is making verbal agreements with team members that are forgotten or mis-remembered (this goes both ways). Take notes at meetings, email them to the team, and re-state deadlines and delegation of tasks. If you have a phone conversation, take accurate notes and email to confirm. Emails are your best friend now.
Delegate. Be realistic about the time you have and tasks you can commit to, and ask for support from the team. Our industry is rife with mental health challenges, so look after yourself and the people you're working with by clarifying roles and responsibilities early in the process, so that everyone can manage their time more effectively.
Be transparent (and realistic) about the budget and fees for your team. When you're doing your budget, imagine that everyone on the team will see it – they have a right to ask for it – and have clear justification for all expenditure.
Be flexible, supportive and open to compromise. Humility and sincerity are the foundations for trust and respect within teams, as in life. Deadlines won't be met. Things will come up. People will be tired and stressed. Work with the team to stay on track together and don't sweat the small stuff. Calmly and clearly communicate the urgency of deadlines and the impact missing deadlines has on the project as a whole, and trust that team members all want to do the best work possible.
Be accountable. If you make a mistake, especially if it has an impact on the people you're working with, accept responsibility and take steps to correct it. Not only is this a good-human thing to do, but it will also help develop a culture for others to do the same without fear of judgement.
Think about audiences. Who will want to see the work and why? How are you going to promote it to them in a way that they'll connect with? Do some workshops on marketing and publicity.
Think about the future of the project. What industry people should you be connecting with to create future opportunities for you and your team, as well as the project? Connect with them ahead of time by (buzzword alert!) networking via email, over the phone and in person, if possible. Respect their time.
Remember why you're doing it. Most of us get into the performance industry because we enjoy it. Many of us also do it because we want to communicate through art about things that are important to us. Practice gratitude for doing simply that.