Solidarity with striking Broadway actors
---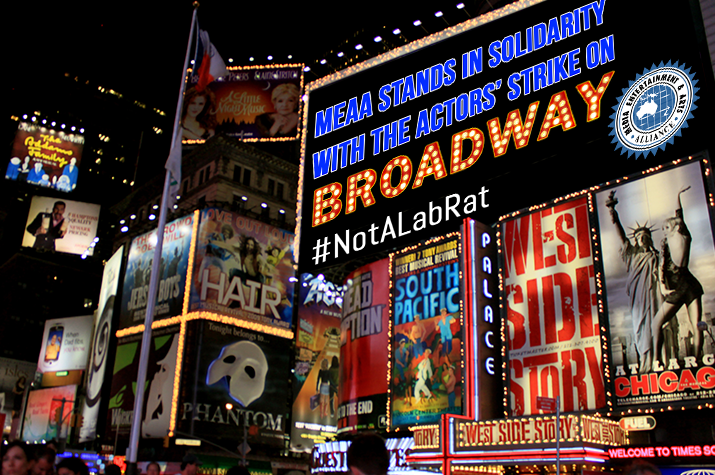 MEAA Equity stands in solidarity with American Actors' Equity in their campaign to improve payment for development work on Broadway musicals.
Fair rates for development work are a standard condition in Australia, which were hard fought for and won by earlier generations of performers.
American Actors' Equity has declared a strike against members of the Broadway League on new Broadway show development.
The strik is part of a bid improve pay and profit share for performers who participate in increasingly popular "lab sessions", a way to develop new Broadway productions.
American Equity has resolved that its members will no longer take part in lab sessions that have become an increasingly popular way for writers and performers to develop new productions, especially musicals. The strike also covers workshops and staged readings.
Weekly salaries under the lab agreement have been frozen at US$1000 per week since 2007. Amercian Actors' Equity is seeking a pay raise on the current weekly rate and a 1% share of any profit after recoupment.
American Equity says the strike "follows media reports that 2018 was Broadway's highest-ever grossing year on record", and it has been trying to renegotiate the lab agreement with the Broadway League for nearly two years.
It is unacceptable that weekly salaries under the Broadway Lab Agreement have been frozen at $1000 for more than a decade.
MEAA Equity supports our American colleagues and calls on the Broadway League to reach a fair deal for performers working on show development by agreeing to increase the weekly rate and include a 1% share of any profit after recoupment.
In solidarity with our American colleagues, we have conveyed to the Broadway League that Australian performers will not support any runaway developments in Australia who are trying to break the strike.
This is an edited version of a statement of support sent to American Actors' Equity.