Casuals underpaid at the ABC
---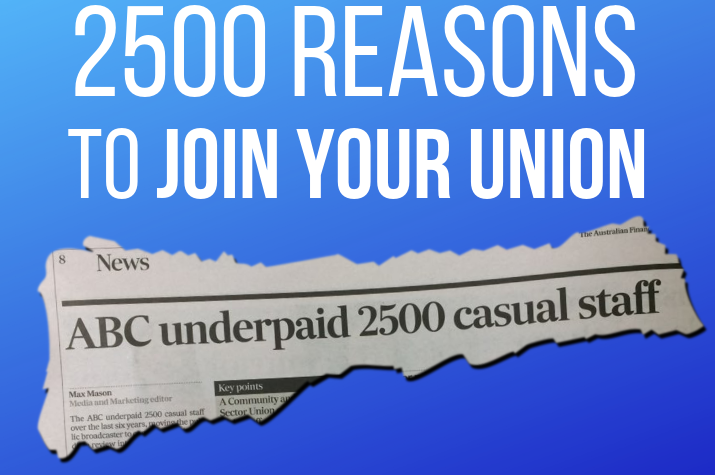 The ABC has publicly admitted that it may have underpaid up to 2500 casual staff over six years and is now reviewing how penalties, allowances and loadings should have been correctly calculated and applied to those workers.
MEAA is aware that some current and former casual employees in ABC news and current affairs are among those who have been underpaid.
We will be working with the Community & Public Sector Union to ensure that all of our members who have been underpaid get what they are entitled to.
It is unfortunate to say the least that these underpayments at the ABC were not uncovered until a union member raised the alarm, but it demonstrates the value of joining your union.
This scandal highlights a bigger issue at the ABC, which is the over-reliance on casual jobs, short-term contracts and other forms of insecure work instead of offering permanent employment.
In 2019, we will be negotiating a new enterprise agreement, and ABC management is now on notice that we will fight any moves to cut ABC workers' take-home pay or conditions.
We are stronger together, so please encourage your workmates to join MEAA or to ensure their membership is up to date.
If you have been employed as a casual at the ABC during the past six years and believe you have been underpaid, please contact your workplace's House Committee delegates or MEAA Member Central on 1300 656 513.
Whether you are casual or permanently employed, your MEAA representatives can also help to decipher your pay cheques to determine if you have been paid correctly.