Ready to deal with whatever challenges come our way
---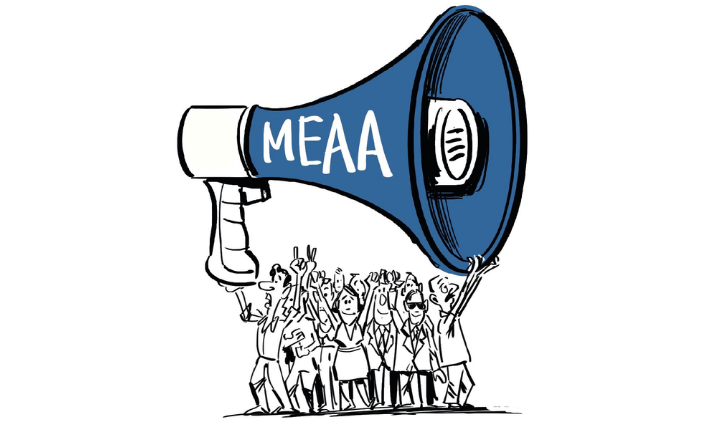 MEAA has not allowed COVID to distract from the opportunities available to build a stronger and better union, says Federal President Simon Collins.
---
In good times and bad, Australians turn to MEAA members to be informed and entertained.
They look to us for news that they can trust; that is factual, accurate and obtained ethically.
They seek joy from the shared experience of a live performance put together by actors, musicians, crew, and front of house. They are educated and entertained by the stories we tell through the big and small screen.
Despite all the constraints on their work, MEAA members have remained dedicated to their craft over the past 18 months as Australia, like the rest of the world, has been in the grip of COVID-19.
Rarely has the role of our Media members been more important in ensuring that the community is provided with information that is evidence-based and free of any political agenda.
The work of MEAA members in the screen industry has been a lifeline for so many trapped inside their homes by lockdowns and restrictions on public gatherings.
But for many MEAA members, the COVID pandemic has been a period of enforced inactivity. The inability to do their jobs has been frustrating and stressful physically, emotionally, and mentally.
This has been compounded by the continued negligence of the Federal Government towards the arts and entertainment industries. Few industries have been harder hit by the pandemic than the arts and entertainment sectors, but the assistance provided by the Government has been poorly targeted, manifestly inadequate and much too late.
For your union, the challenge throughout the pandemic has been to remain focused on the strategic plan adopted by the Federal Council at the start of 2020 while pivoting when necessary to deal with the regular flare-ups and crises caused by COVID-19.
We are not waiting for the pandemic to end. The MEAA Board has been resolute that we cannot allow COVID to distract us from the opportunities available to build a stronger and better union.
Throughout 2020-21, MEAA staff, led by Chief Executive Paul Murphy, have managed to balance these two priorities by providing excellent support and service to members affected by the pandemic while always striving to build power in the workplaces and industries we cover.
This has not been easy. Our determination to help members manage the crisis by offering fee waivers and concessional memberships had a significant impact on the union's finances.
Our approach to organising has had to be adapted for the restrictions imposed by COVID, and our staff have had to cope with the disruption of prolonged periods of working from home.
Of the many achievements outlined in this report, I am particularly pleased that in 2021 MEAA has delivered on one of our most important commitments, our first Reconciliation Action Plan, which was launched publicly during NAIDOC Week.
In the past 12 months, MEAA established an Indigenous Committee, improved First Nations representation on its key section committees, and assisted with the launch of the National Aboriginal Press Club. We now employ two First Nations, First Peoples organisers, but we still have a long way to go, including education of our staff, changes to union protocols and how we do business.
For much of 2021, our major cities were again under strict lockdowns. Theatres, concert halls, cinemas, and sporting stadiums in our two biggest cities were empty for weeks on end and tens of thousands of workers in the arts and entertainment industries endured a second year of enforced unemployment or underemployment.
Slowly, over coming months our nation will begin to emerge from the shadow of COVID-19.
While the health crisis may ease, just as big a challenge for our recovery is to rebuild the sense of community that has been frayed by the stresses of the pandemic.
During moments of trauma throughout our national history – such as bushfires, droughts, floods, or wars – MEAA members have always been willing to provide solace and entertainment, to help raise funds for the victims, and to articulate the emotions that lie under the surface. COVID is another of those moments and MEAA members are again ready to play our part. All going well, Australia is on track to meet its vaccination target late in 2021 and we will be able to begin adjusting to a return of some form of normal life.
When that happens we can all be confident that thanks to the hard work of the past year and a half, our union is absolutely equipped and prepared to deal with whatever challenges come our way next.
This article was first published as a message from the Federal President in the 2020-21 MEAA annual report.