Speech by Federal President Simon Collins to 2021 Federal Council meeting
---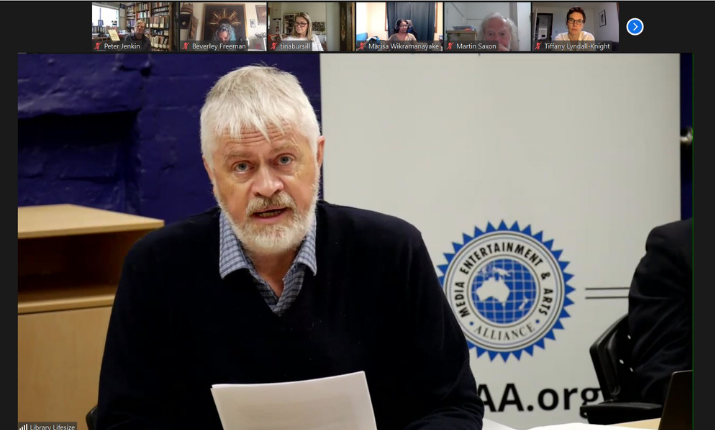 When we all last met face-to-face in February 2020, it was to sign off on an ambitious strategy to grow our union's membership, power and influence over the following four years.
This is our vision for a forward looking union willing and able to adapt and innovate in a constantly changing environment – to be relevant and representative of its membership. It's a vision of a diverse union both in membership and leadership that will be a trusted support for its members through every stage of their working life, a leading advocate for the arts, entertainment and media industries, and with a commitment to constant improvement of pay and conditions.
This plan is the culmination of steady work over half-a-decade of consolidating our union's strengths, tightening its finances, and building a solid base from which to grow.
Little were we to know that a mere three weeks after that meeting in February 2020, our lives would be thrown upside down by a virus that very few of us had even heard of at the time.
The media, entertainment and arts industries were bludgeoned by COVID-19. No part of our union was left unscathed. Performers lost contracts, screen and live crew were stood down, musicians had gigs cancelled and hundreds of journalists lost their jobs as their outlets were shut down or pruned in size.
We cannot underestimate the physical, emotional and mental stress this has caused to our members. And, that stress was compounded by the continued negligence demonstrated by the federal government towards the arts and entertainment industries.
Yet even at the same time as the impact of COVID was battering our industries, MEAA members were being relied on more than ever before.
Australians turned to our journalist members for factual and impartial news and information about the pandemic.
The work of MEAA members in our Musicians Section and in the screen industry – actors, sound and light technicians, wardrobe, hair, and make-up, set builders, and all the others who go into producing every single minute of television or film – was a lifeline for so many marooned in their living rooms during lockdowns and restrictions on public gatherings.
As Australia awakes from this enforced hibernation, the joy and shared experiences of live performances presented by our members will be crucial to rebuilding the sense of community that was frayed by COVID.
*
In this environment, the easy thing to do during the pandemic would have been for MEAA to abandon the strategy we had adopted in February last year.
But that is not the decision we made.
Yes, the pandemic has been confronting.
It has absorbed resources and has had a significant effect on our finances, but it could not be used as an excuse to distract us from our plan to build a stronger and better union.
To have stood still would have been a betrayal of the faith of our members.
The challenge for MEAA has been to remain focused on the strategic plan adopted at the start of 2020 while dealing with the many crises caused by the pandemic.
We decided early into the pandemic that we had to help members in financial crisis. About 2500 members or 15% of our membership took up the offer of fee waivers. We also recruited several hundred new members with a temporary concessional membership for workers in financial hardship.
These measures had a significant impact on the union's finances but thanks to prudent management in previous years, we were able to weather the crisis.
Our approach to organising has had to be adapted for the restrictions imposed by COVID, and our staff have had to cope with the disruption of prolonged periods of working from home.
At the same time, we have strengthened our digital capacity, restructured our industrial team to better support the sections of the union, revamped our membership and call centre operations, and we are in the process of overhauling our training and education.
Our section directors and organisers have done an incredible job holding the line against employers seeking to use the pandemic as a fig leaf for cutting jobs, slashing pay and reducing conditions.
But they have also remained focused on the strategic growth campaigns ticked off by the Federal Council in 2020, like the amazing success of Musicians Australia, which grew by more than 35% in just the past 12 months.
We are adopting a similar approach in the Media section which is working hard to deliver on the commitments we have made to freelance journalists to lead campaigns to improve their pay and conditions.
We have major campaigns underway on working hours and fatigue in the screen industry, and to make safer workplaces for performers by campaigning for more diverse workplaces, to stamp out discrimination and bullying, and to embed recognition of Indigenous Australians' cultural needs.
Also under development is an overarching campaign for all of the union called Let's Get Creative to raise the status of the arts in the community after years of neglect by federal governments.
*
I would like to highlight one final achievement which MEAA has delivered despite the disruption of COVID: our first Reconciliation Action Plan, which was launched publicly during NAIDOC Week.
MEAA has established an Indigenous Caucus (ICMEAA). We have assisted with the launch of the National Aboriginal Press Club, and we are increasing First Nations representation on our section committees. We now employ two First Nations First Peoples Organisers. There is much more to be done, including education of union staff, changes to union protocols and practices in how we do business.
*
In closing, I would like to acknowledge the extraordinary work of Paul Murphy and all of our staff. The extended lockdowns in Melbourne and Sydney saw staff working from home, managing the union's affairs and organising members by Zoom for months on end. The staff of our union have provided vital support to so many members in extreme distress – harrowing work and without the usual support of their colleagues in the office.
I would also take this opportunity to thank my colleagues who form the MEAA Board. The Finance and Risk Managemnent Committee in particular was meeting fortnightly through much of the crisis.
Five members of the Board have not renominated in the current election. Marcus Strom has been a Board member for three terms – the last two as Media Section President. I would like to commend him for his engagement and activism in this role.
My thanks also to Michael Janda, Abbe Holmes, Camilla Ah Kin and Rosemary Westmore for their service as Board members.
And, finally I wish to make special mention of Pat Shaw. Pat has been a stalwart delegate for the ECS Section in Victoria for many years. Pat has recently retired from her position as Victorian President of ECS due to ill-health. I know she was thrilled to have been awarded the Gold Honour Badge by Council. On behalf of us all, I wish her the very best.
This is an edited version of an address given by MEAA Federal President Simon Collins to open the 2021 Federal Council meeting, which was held online on Wednesday, November 24.