My MEAA story: Erin Delahunty
---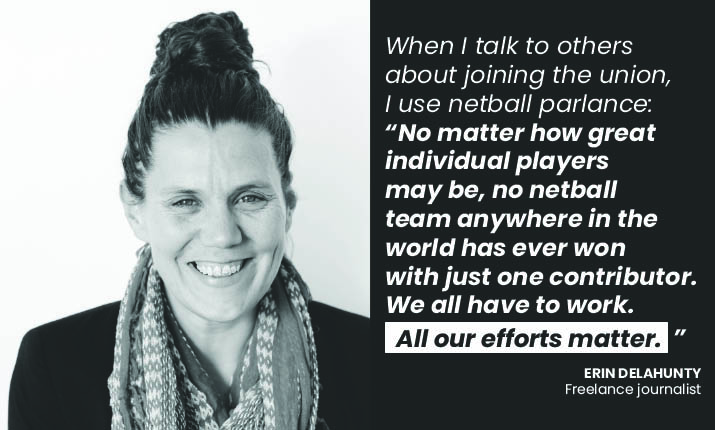 Erin Delahunty is a freelance journalist who was recently elected a Federal Vice-President of MEAA's Media section. She lives and works in regional Victoria.
---
Growing up, I watched my father, a primary school teacher and principal, live union values, without big-noting himself as doing such.
He believed in fair and fought for it in and out of the workplace.
That meant it felt natural to join the union when I started my print journalism cadetship in regional Victoria in 1997, aged 17.
At the time, progressing through grades was at the discretion of individual editors, so having access to industry information about how that should happen was important to me.
Then as my career progressed and I worked with larger media groups such as News Corp, being a member was about external professional development, protecting my own rights and solidarity with younger journalists and photographers, who were being asked to take on more and more.
My recent work with MEAA, to help improve the rights and pay for freelancers, has helped deliver tangible wins, something I am proud of.
Like most freelancers, COVID saw my commissions drop off as budgets tightened, but being part of the union and an elected member of the National Media Section committee has kept me connected to others in a real and meaningful way.
When I talk to others about joining the union, I use netball parlance: "No matter how great individual players may be, no netball team anywhere in the world has ever won with just one contributor. We all have to work. All our efforts matter."