An awesome track record
---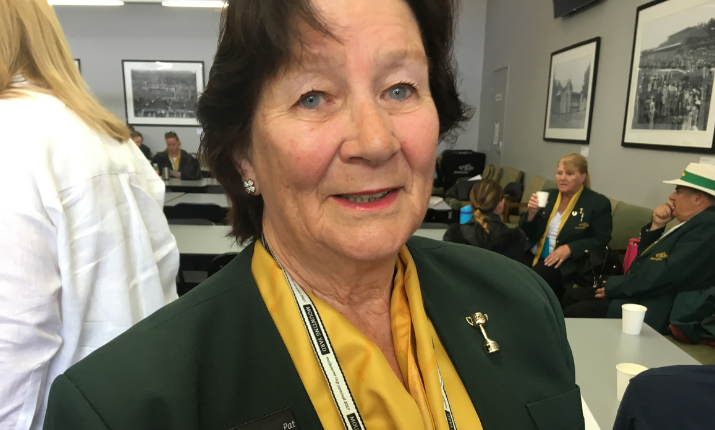 MEAA stalwart, Pat Shaw, has retired after decades of unstinting service to union members. Here, MEAA pays tribute to the long-time Federal Council member and outgoing president of the Entertainment Crew & Sport (ECS) section in Victoria.
For the last 40 years, Pat Shaw has relished her work at Melbourne's racecourses and the MCG. Whether working as a ticket seller, cleaner, parking attendant or in the cloakroom, Pat has been a passionate unionist, committed to improving conditions for the venues' casual staff.
"I started at the Victoria Racing Club in the 1980s, with a group of cleaning ladies," Pat recalls. "I went in to Neville Wilson, who was the boss way back then, and I said to him, The Birdcage is an absolute disgrace. Whoever is up there cleaning, they're not doing their job. I said, put me up there and I guarantee it will be different. That's how I got my first shift at the VRC."
Pat went on to work at Moonee Valley, Caulfield and the MCG, often simultaneously. "I have loved all of it," she says, "especially in my roles working with the public. And I love my colleagues. They are like family because we have worked together across all venues for so many years."
Pat retired this year, opting to concentrate on her health after a cancer diagnosis. "I would be there for the next century if I could," she says.
MEAA member Vicki Dial, who worked with Pat at the VRC for decades, describes her as the hardest-working and most loyal person you'll ever meet: "Pat is passionate about work, her friends, her fellow workers and union issues. All I can say is, what a woman!"
Since joining MEAA in the 1980s, Pat has helped negotiate collective agreements on behalf of her fellow members at Victoria Racing Club (Flemington) and Moonee Valley Racing Club, and has been a health and safety rep at the MCG. She has been elected by her fellow members to serve on MEAA's peak decision-making body, Federal Council, for many years and is the outgoing president of the Entertainment Crew & Sport (ECS) section in Victoria.
"I get so cross when people say, 'Oh, what does a union ever do for me?' I say to them, 'Did you enjoy that pay rise, or how about our tea rooms and tea breaks? That's part of what your union has done for you'."
This year, fellow members recognised her contribution with the union's highest accolade, a Gold Honour Badge.
"Pat has been a union member since before the union existed in its current form," says ECS Federal President, Fiona Donovan. "She has been a strong unionist and leader for outdoor venues and the ECS section, putting her values into practice and working for all members. Everyone in the section has been touched by Pat's warm welcome at meetings, and her understanding and care for the tracks and outdoor workers and the section as a whole. We all extend huge thanks for her contribution."