Meet Australia's first female stunt coordinators
---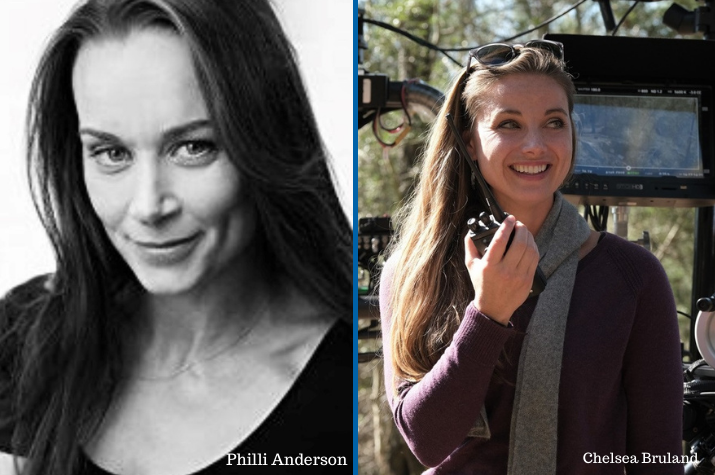 MEAA members Philli Anderson and Chelsea Bruland have decades of impressive experience in the stunt industry and a genuine commitment to maintaining and improving safety in our industry.
This week both Philli and Chelsea were officially graded as stunt coordinators by the National Stunt Grading Committee. Stunt coordinators must be graded through the Equity Grading Process to perform work safely in our screen industry.
How long have you been a stunt performer and how did you get into stunt work?
CHELSEA: I've been a stunt performer since 2004, however I've been a member of MEAA since 1999. I started out as a teenage actor, and made the transition over to stunts when I was cast in a VicRoads "Wipe off 5" anti-speeding campaign and met the Stunt Coordinator and stunt team. I had always been interested in stunts, and that was the perfect opportunity to start my stunt career.
PHILLI: I got into stunt performing 12 years ago, when I really knew very little about the job other than it seemed like it would be very exciting. I have been fortunate enough to be supported by the industry, although the first few years were pretty tough to break through. I came in from a gymnastics background and have had to develop are range of other skills. Training and upskilling is a constant factor in the stunt department and I particularly enjoy learning new skills. I have been lucky enough to be picked up and mentored throughout my stunt journey and hope to continue this trend with the young guys and girls coming through.
What are working on at the moment on and what does your role involve?
CHELSEA: I'm currently Stunt Coordinating a TV series called The PowerPuff Girls, and also a Reese Witherspoon produced film Where The Crawdads Sing based on the best selling novel. These two projects are vastly different. The PowerPuff Girls is a live-action version of a cartoon where the girls are superheroes with superpowers so this involves a lot of flying the actors, whilst Where The Crawdads Sing is a period drama, very real and grounded, set deep in the beauty of the swamp.
PHILLI: I am currently working on God's Favourite Idiot in northern NSW and have been lucky enough to pick up the role as 2nd Unit Stunt Coordinator. It's a very fast paced job and we are certainly keeping ourselves busy. We have a great team working with us and this makes it possible to meet the demands of the job. I feel very fortunate to be able to work with some true professionals, not only on this job but over the past few years.
What is one of the most memorable projects you've worked on?
CHELSEA: Most people think of stunts as driving, fighting and explosions … but my favourite stunts to coordinate are those set in space! One of my specialities is using wirework to achieve zero-gravity and two years ago I designed all the action for a TV series called The First. It starred Sean Penn and was about the first human mission to Mars in 2032. Teaching the cast how to fly convincingly for zero-gravity is always fun, but the most memorable part of that job to me was going to NASA in Houston to take part in their astronaut training program so that I could properly emulate the nature of zero-gravity on the International Space Station and the Mars Transit Vehicle.
PHILLI: Each project is different and has its own challenges and achievements. The beauty of what we do is that no two jobs are the same. Hanging in the treetops in Thailand was a pretty surreal experience for me on Fast 9. This job cemented for me how I would like to develop and to run a team and it is something that I hope to establish over the coming months. In the stunt department we are very lucky to have a range of experiences and to be able to call them work. For each day we are jumping from buildings and crashing cars there is a day where it is 3am in the morning and we are freezing cold in a lake somewhere. We take the rough with the smooth and don't complain!
For those who haven't worked with a stunt coordinator what does the role involve?
CHELSEA: The stunt coordinator is the head of the stunt department and works closely with the director to design and implement the action elements of the story.
PHILLI: Each stunt coordinator will run their team differently and require different things of their performers. For me it is key that the team works together to achieve the action and to keep each other safe. A true team engages the right people for the job and allows them to use their expertise to create the directors vision. As the stunt coordinator the most important thing is to ensure the safety of the performers whilst delivering more than the director could ever think was achievable.
How long has taken you to become a qualified stunt coordinator and what did the process involve?
CHELSEA: MEAA has a National Stunt Grading Committee with a process of assessment by my industry peers to work your way up through the grades from an entry level stunt action performer to a stunt coordinator. My application was 76 pages long and needed to have proof of things like days worked, qualifications, examples of budgets, risk assessments and stunt breakdowns along with letters of recommendations by other stunt coordinators and producers, directors or 1st AD's.
PHILLI: When I started my journey as a stunt performer becoming a stunt coordinator was not on my radar. I was fortunate enough to be recruited to a number of stunt teams who have guided me through my journey. As a stunt community, we really are a family, and without the support of a range of people I would not be able to call myself a stunt coordinator today. I have been inspired by so many of my stunt brothers along the way. I would also like to acknowledge Ingrid and Chelsea who have been leading the way as Australians coordinating overseas, and to a number of female performers in Australia who are changing the face of stunts by doing great work whilst raising a family. These breakthrough concepts are opening doors for the younger generation of stunt performers coming through and with so much work heading to our shores I am proud to be part of the Australian stunt community.