Five lessons from Avenue Q
---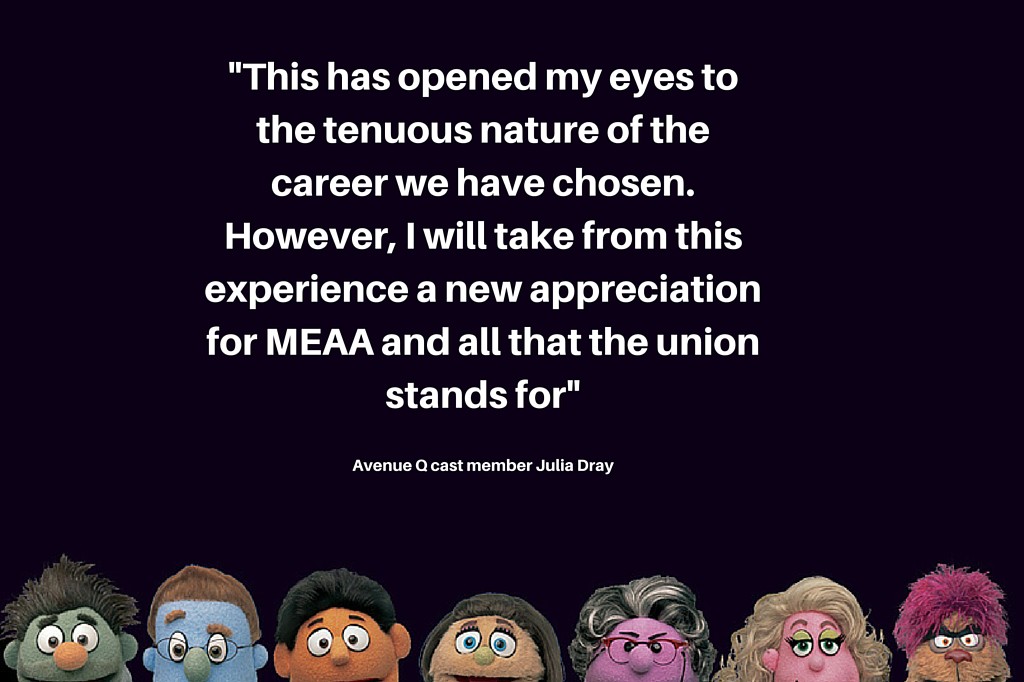 Earlier this year MEAA Equity recovered $114,000 in unpaid wages for performers who worked on Avenue Q at the Enmore Theatre in Sydney.
It was a difficult time for the performers and musicians involved. Here's five ways to make sure you don't find yourself in a similar situation.
1.Keep up your Equity membership. MEAA Equity was unable to act on behalf of the non-members who worked on the production. Their wages remain unpaid. If you aren't a member, we can't assist you.
2.Never use your ABN. Performers should be employees, not independent contractors. If you work under your ABN you may not be able to access various protections under the Fair Work Act and if anything goes wrong it is much more difficult to recover any money owed to you.
3.Always use Equity's Performers Collective Agreement (PCA) contract. This will set out that you must be paid weekly which ensures you will know quickly if there is something amiss with your wages. Some of the cast on Avenue Q were working on contracts which said they would only be paid at the end of the run, meaning when this didn't happen there was a huge amount of money to try and recover for them.
4.Read your contract before you sign it. Make sure you understand what your working conditions are. If you are concerned about anything in your contract ask your agent to explain or contact Equity.
5.Keep track of your time sheets and wages payments. Don't leave it all to your agent.
MEAA Equity members with questions about their terms of engagement or employment contracts should contact MEAA Member Central on 1300 65 65 13.