Federal Council meets in Sydney
---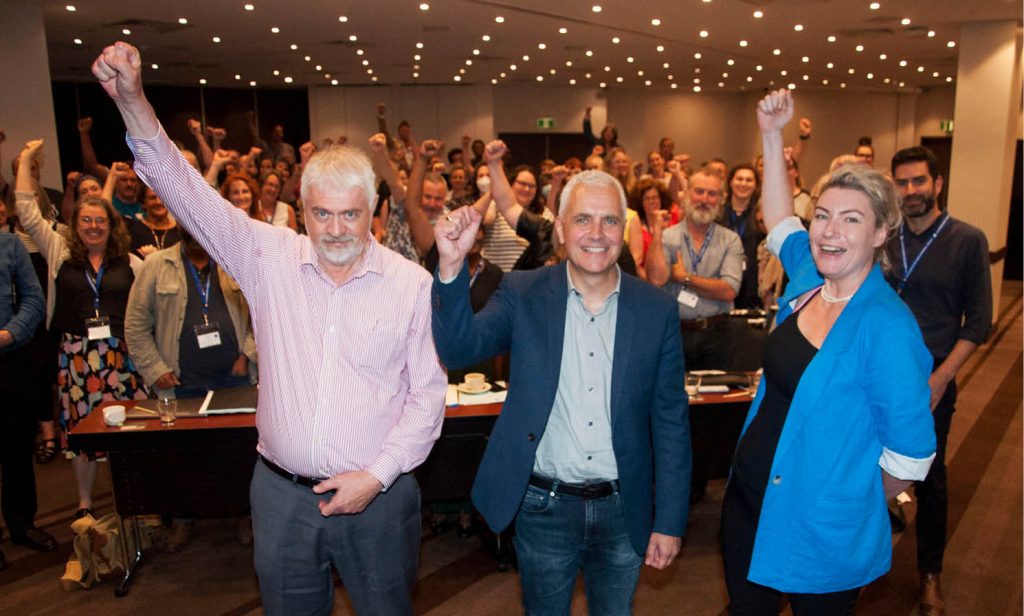 For the first time since 2020, Federal Council, the decision-making body of MEAA made up of 95 elected members from all sections (Equity, Media, Crew and Musicians) and from all around Australia, met face-to-face in Sydney last week.
The meeting gave us a chance to reflect on our many achievements since the last Federal Council, including membership growth despite COVID, and how we can work with the Albanese government to improve wages and conditions in our industries and make the most of the opportunities presented by the new National Cultural Policy.
Meetings of each of the four national section committees were held on Thursday, February 16, followed by two days of full Federal Council.
Delegates heard from Federal President Simon Collins and Chief Executive Erin Madeley, while Transport Workers Union National Secretary Michael Kaine was a special guest speaker on how our two unions can combine to win job security and better conditions for gig workers.
In a series of panels, rank-and-file members explored how they are dealing with the challenges of delivering safe, quality and decent jobs and organising workers who are atomised and do not have secure employment. Another panel discussed harnessing the strong community support for our members to help win workplace and industry campaigns.
There was a strong consensus from Federal Council that having endured the devastation of the COVID pandemic, our union is now as united and strong as it has ever been and well-placed to deal with any challenges and seize the many opportunities ahead.
In his opening address, Federal President Simon Collins said a key to success in the future would be connecting with the wider community beyond the workplace.
"If we want to be an effective union, we need to win beyond the workplace," he said.
"We must connect with the community so that the work our members do is protected and valued and respected at all levels.
"It needs to be constantly reinforced that without MEAA members informing, entertaining, and reflecting the Australian community, civil society would stagnate, quality of life would decline, social disfunction would accelerate and democracy would weaken.
"We need to educate the community that we exist not only for entertainment but for a decent and civilised society. This is so important for the protection of press freedoms and journalistic independence.
"Art, creativity, and culture are central to our lives and essential for community well-being and a vibrant civil society – whether it be reading a piece of investigative journalism, seeing a new film at the local cinema, or listening to music on your daily jog."
Along with some minor rule changes, the Federal Council also approved the awarding of 17 individual gold honour badges for meritorious service to the union.