Cold reads: Let it flow
---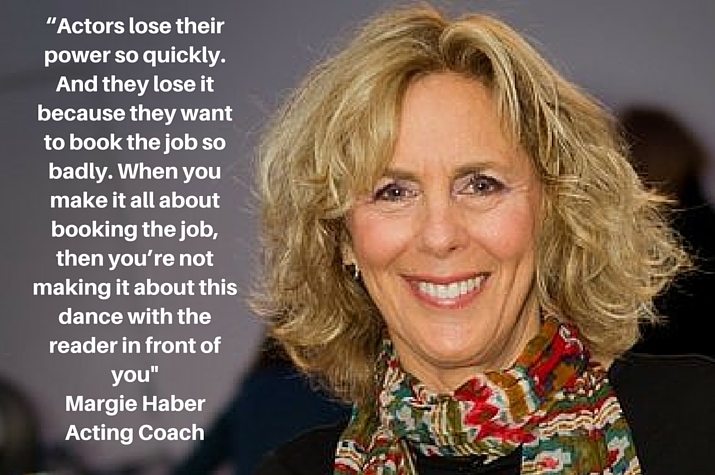 How would you feel about turning up to your next audition without memorising the script? Lizzie Franks finds out how it's done in Hollywood.

What is the difference between Margie Haber and the many other American acting coaches with their own techniques, best-selling books and famous clients?
"Many acting coaches can help you prepare thoroughly. Some can help you do it quickly.  The combination of both is my specialty,"says Haber.
Often described as an "audition techniques guru", Haber is perhaps best known for the "Haber Phrase Technique" which gives actors a way of doing cold reads without memorising the scenes or what Haber refers to as the "slices of life".
"I try not to talk in acting terms because I want you to stop being an actor. Instead be a human being and live the life that's on the page in front of you."
Haber says her background as a speech therapist helped her invent the technique, although you won't catch her referring to it as a "technique".
"It makes it sound very technical and it's not. It's a communications skill that is actually second nature, once you allow yourself to stay on the page and let it flow naturally."
Haber says the skill is particularly important in Hollywood where not only are actors not required to memorise their scenes, they often won't have the opportunity anyway, particularly during pilot season with several auditions a day and last-minute rescheduling.
"Most actors lose their life when they read off the page and usually use it as a crutch in case they forget a line. It becomes an obstacle and gets in the way of the audition. But what I teach is another alternative to memorising; how to use the paper as a part of your behaviour so that it is a fluid, natural rhythm that is a part of the conversation." she explains.
In an article on Backstage.com, Jean Schiffman describes the technique as "all about working off the page".
She writes: "You go back and forth from eye contact with your partner, during which you utter a few quickly-memorised phrases, to returning to the page and actually reading a few phrases without worrying about eye contact, and then back to your partner again for a few more quick-memorized phrases, and so on. You establish a natural rhythm — eyes up, eyes down, eyes up, eyes down — as you go. It works whether you're reading a monologue or a scene."
Haber says ultimately it is about taking away the three "p's" (pain, panic and performance anxiety) and giving back the big "P", Power to the actor.
"Actors lose their power so quickly. And they lose it because they want to book the job so badly. When you make it all about booking the job, then you're not making it about this dance you are doing with the reader in front of you."
The 10-step audition method taught by Haber is based on a philosophy she describes as "stopping acting and living the life". By "live the life" Haber says she means a focus on relationships.
"I don't focus on character development and story. I focus on relationships and tell actors to let that be their guide. Even if you only have two minutes to prepare, at the very least you need to know what your relationship is with the other character and what is your objective there."
Haber currently works with at least seven actors a week who all work on US TV series. She also runs classes at her Los Angeles studio and travels widely to host workshops and masterclasses. In March she held a series of events in Sydney, Melbourne and Auckland.
"Actors from that part of the world are extremely popular over here in Hollywood," says Haber. "We do things slightly differently, such as cold reads, and the pace can be crazy. Your agent can call you at 11am and say you have an audition at 4pm. That's why I really love helping actors learn to work physically and instinctively, rather than intellectually. That's my passion, as the title of my book says, to help actors "get the part, without falling apart."
Lizzie Franks is the Editor of The Equity Magazine.