Boots and all
---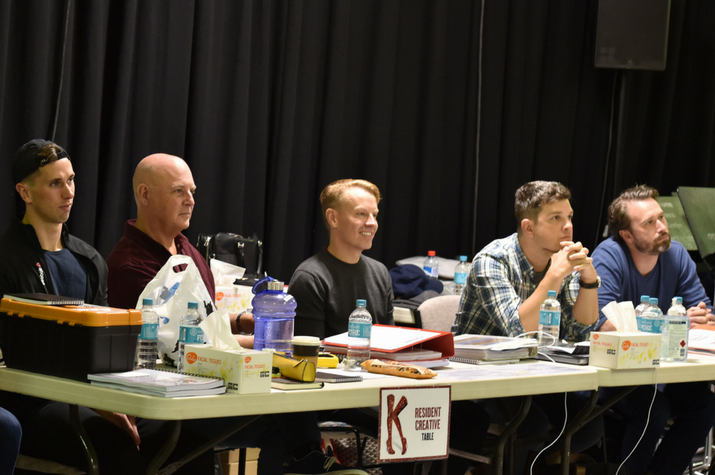 DB Bonds, associate director of the Broadway hit musical, Kinky Boots, tells The Equity Magazine why he gave up a successful performing career to indulge his passion for directing, and offers words of wisdom to local performers on how to improve their craft.

Broadway performer-turned-director, DB Bonds, is reflecting on the first time he saw a workshop of Kinky Boots. The musical was yet to debut on Broadway, win six Tony Awards or take him around the world to mount productions in London, Canada, Korea, Japan and, most recently, Australia.
"I thought, 'Oh, my gosh, I have got to be involved in this, it's going to be spectacular. It's infectious and joyous'," says Bonds from Melbourne, where he opened the Australian production to rave reviews.
"But did I think it would take me all around the world? Did I think it would be my full-time job for over four years? I don't think you can ever think that because those things are so rare. I mean, who would have thought when we were standing in the back of the theatre in Chicago watching the out-of-town try-outs that four years later we would be in Australia? We've always hoped for it but I don't think anybody can actually say they thought this would happen."
Kinky Boots had its world premiere in Chicago in October 2012, with both direction and choreography by Jerry Mitchell. It made its Broadway debut in April 2013 and began a US tour in 2014. Among its six Tony wins are Best Musical, and Best Score for pop icon Cyndi Lauper in her first outing as a Broadway songwriter.
Bonds left behind a successful career as a musical-theatre performer to follow his passion for directing. "One day, I was talking to a friend about a show I was in and I said, 'I don't understand why the pace of this thing is so slow and I don't understand why the lights are so bright here'. He stopped me and said, 'You know, that's not your job. But it could be if you wanted it to be'."
Bonds wrote to all the directors he had worked with, whom he wanted to work with again and learn from.
"Jerry Mitchell, who I had worked with on both Dirty Rotten Scoundrels and Legally Blonde, got in touch and said, 'Let's have dinner'. Although I didn't know it, he was working on Kinky Boots. He was doing the workshop at that very time and said, 'I'm doing this show, come take a look at the workshop and see what you think'. I went to see it and thought it was amazing. And I said, 'Yes, yes, yes, I would absolutely love to work on it with you'. About three weeks later, he called me and said, 'Let's do it'."
Last October Bonds hosted a workshop in Melbourne for the Equity Foundation. The response was overwhelmingly positive, particularly in regard to the way his past life as a performer informs his feedback and advice.
"I do believe that when you have been an actor, your vernacular with an actor, your way to be able to speak to them like you would have wanted to be spoken to, is definitely there, definitely helpful," he says. "And you have to be able to recognise really quickly in a class or in a rehearsal process who needs what – not only the information they may need but how that information should be imparted.
"Particularly in my job with Kinky Boots in maintaining the shows and working with the actors on a day-to-day basis and, you know, giving notes and running rehearsals, you need to have a little bit of psychologist in you and diplomat, as well. There are some people who can just be given a note and they can take it and there are some people who need a little more explanation. Everyone is different. The bottom line is, I hope that actors can just tell that I'm really on their side."
Bonds often gets asked by actor friends what he knows now that he wishes he knew when he was a performer.
"If I had seen what I see now, it would probably have made me do two things at both drastic ends of the spectrum," he says. "It would have either made me quit or would free you up so much to know that there's only a certain amount of it that is about you.
"You have to release that control because all you can control is going in there and being your best self that day. And for a myriad of reasons, people are either going to be hip to it and want it or they're going to want something else. When I look back on my career as an actor, the times I had the most success in auditions was when I was able to achieve that. When I was able to go in and say, 'Look, I'm prepared, here's what I would do with it; I hope you like it, but I can't do much about it if you don't. I can be malleable and I can take direction and I can change, but, ultimately, there's no one like me. And there's no one like everybody else'."
Luck is not a word Bonds likes to use when it comes to carving a successful career as a performer. "For me, that old adage, 'when preparation meets opportunity', is certainly true. You have to be as prepared as you can be, and you have to study and work and learn and hone your craft. But then there does need to be, especially at the beginning, breaking through, a little bit of… I don't like to call it luck as much as I call it opportunity. But it's certainly difficult. I mean, it's a numbers game and the numbers are just immense."
Is there anything Australian performers can do to improve their craft or further their careers?
"The first one I'm going to mention (a) isn't their fault and (b) isn't even something that's exclusive to Australia," Bonds says. "It happens to all actors everywhere. But I think the stuff we just talked about, about auditions and desperation and nerves, is particularly hard for Australian actors because the audition opportunities aren't as plentiful as they are in New York.
"In New York, as an actor, if you have your agent, and casting directors know you, you're auditioning all the time. It becomes a little easier to do what I'm saying and relinquish some of that control and give in to the process, because each of them doesn't have as much weight as when you audition maybe once every couple of months. I would say that information I was talking about before – accepting what's beyond your control – is maybe even more important, but harder, to hone here."
Bonds also advises Australian musical-theatre performers to make strong choices. "American musical theatre has an attack, a front-footedness, a forward motion and drive, and it's not timid. I have found, both here and in the UK, sometimes the actors are laid back. The vibe here does feel a little casual. That's a wonderful thing in life, but not always a wonderful thing in musical theatre.
"I think sometimes it just means to make sure you're making a stronger choice. I'm not saying be really aggressive, either – I've just noticed that sometimes, to get that energy, that pop we look for in American musicals is a bit more of a challenge here."
On the whole, Bonds says he was incredibly impressed with Australian performers. "The cast is just phenomenal. It's so exciting to see them all fly, you know, from the first day of rehearsal to the first preview and, then, opening night. They're quite extraordinary."
KINKY BOOTS IS WILL PLAY AT THE CAPITOL THEATRE IN SYDNEY FROM APRIL 12. LIZZIE FRANKS IS THE EDITOR OF THE EQUITY MAGAZINE