2017: the year in review
---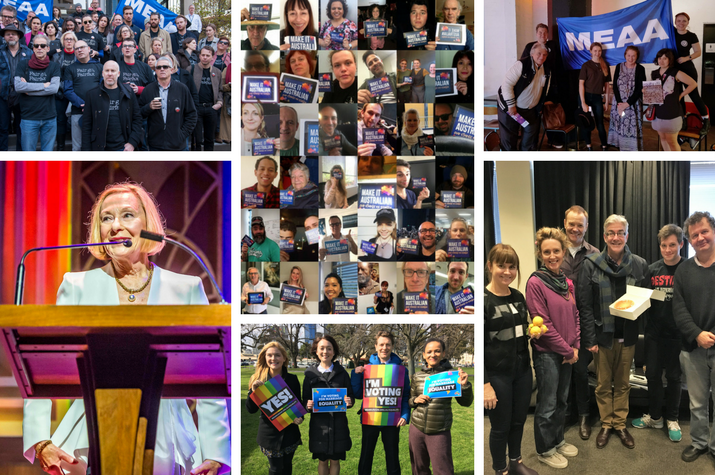 A look back at how 2017 panned out for MEAA members.
---
January
• Stunt man Johann Ofner is killed in a workplace accident during the filming of a music video in Brisbane on January 23.
• New MEAA Musicians director Bow Campbell joins MEAA.
• Equity member Ray Meagher, best known as Alf on Home and Away, is awarded an Order of Australia Medal in the Australia Day honours.
• The MEAA flag flies high in a sea of rainbow flags at the Melbourne Midsumma Festival Pride march in St Kilda.
• A massive backlash from the journalistic community in response to a blog post by MEAA member Ginger Gorman forces publisher Mamamia to remove an article from its website following accusations of plagiarism.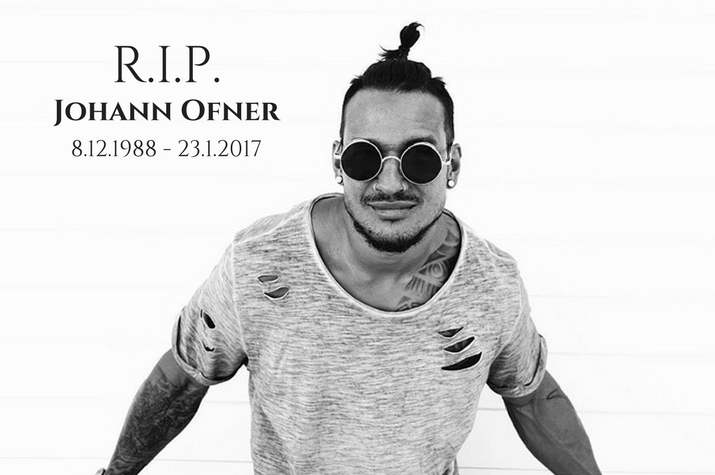 February
• Dozens of Equity and ECS members take up the opportunity to comment to a parliamentary inquiry into the future of the film and TV industry through an online submission tool set up by MEAA.
• MEAA tells the Fair Work Commission it will vigorously oppose a new attempt by screen producers to remove a raft of basic workplace rights for actors and other workers in the film and television industries.
• Campaign launched by MEAA on behalf of Manus Island detainees journalist Behrouz Boochani, actor Mehdi Savari and cartoonist Eaten Fish. Dozens of writers, journalists, and performers sign an open letter calling for the men to be brought to Australia.
• MEAA member Peter Grace wins an Oscar for best sound mixing on Hacksaw Ridge.
March
• MEAA calls for a total rethink of metadata retention laws, after a Senate committee hears that ASIO has been using Journalism Information Warrants to secretly trawl through the metadata of journalists and media organisations in the hunt for their confidential sources.
• A new restructure of production for the ABC's news services results in 42 people being earmarked for redundancy.
• Dancers at the Australian Ballet talk tough in negotiations with management over a new enterprise bargaining agreement, dangling the prospect of industrial action if their demands are not met.
• MEAA members at Melbourne & Olympic Parks celebrate a new collective agreement that gives priority to staff who are directly hired over agency temps.
• MEAA condemns One Nation leader Pauline Hanson for banning ABC journalists from attending her WA election night function on March 11.
• Journalists at Private Media, which publishes Crikey, Smart Company and The Mandarin, win a 30% penalty rate for early starts, setting a new precedent for other digital media organisations to follow.
• MEAA welcomes the axing of the controversial Catalyst Fund, established by former Arts Minister George Brandis, but calls for the full restoration of the $105 million stripped from the Australia Council in the 2015 Budget.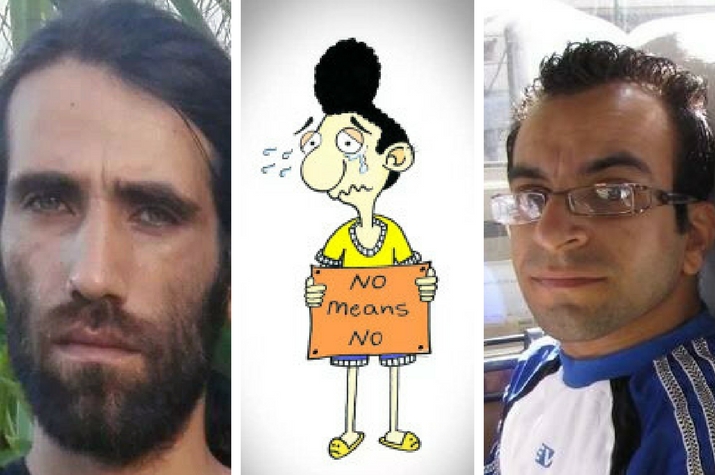 In February, MEAA launched a campaign on behalf of Manus Island detainees journalist Behrouz Boochani, actor Mehdi Savari and cartoonist Eaten Fish. 
April
• Fairfax Media announces another $30 million in cuts to its Sydney and Melbourne newsrooms. Meetings of MEAA members in both cities also roundly reject attempts by management to impose ideological direction and to interfere with masthead independence.
• The Australian entertainment world is shocked by the sudden death of satirist, writer, actor and director John Clarke of a heart attack on April 9. Clarke was an Equity member for more than four decades after arriving in Australia from New Zealand in the mid-1970s.
• The Fair Work Ombudsman investigates unpaid work at the Australian Grand Prix after MEAA exposes a potential breach of the Fair Work Act after hundreds of casual workers were sent a text message offering them the "opportunity" to work for free.
• MEAA's new CommsPro membership for people working in public relations and communications is launched with a "great debate" in Sydney over the future of journalism.
• News Corp editorial staff in Brisbane pass a unanimous vote of no confidence in senior management following news of a restructure of the business, including photography and production, that would result in significant numbers of staff being made redundant.
• Further pressure grows on the government's metadata laws after revelations that an Australian Federal Police officer accessed a journalist's telecommunications data without being granted the necessary Journalists Information Warrant.
• Equity joins the campaign to maintain local content quotas for children's drama after the free-to-air networks combine forces to lobby for the quotas to be abolished.
May
• To coincide with World Press Freedom Day on May 3, MEAA releases its annual report into the state of press freedom in Australia, titled The Chilling Effect.
• The same day, Fairfax Media vote to take industrial action for seven days in protest at the company's decision to axe the equivalent of 125 full-time equivalent editorial positions, or 25% of its metropolitan daily journalists. The action means none of the company's federal parliamentary staff are available to cover the Budget on May 9. More than 10,000 members of the public sign a petition supporting the journalists.
• The journalism world is saddened by the death of ABC broadcaster Mark Colvin, a MEAA member for 33 years. We also farewell legendary football commentator Lou Richards, a great friend of the Australian Journalists' Association over the years.
• MEAA's submission to the Senate inquiry into the future of the film and TV industry calls for government leadership through standardised production and location offset rebates, the restoration of funding to the Screen Australia agency, and a revamp of local content rules to rope in streaming video platforms.
• The casts of Barracuda, The Family Law and Cleverman win the 7th annual Equity Ensemble Awards on May 22.
• MEAA joins the international campaign to call for the withdrawal of criminal defamation charges against two East Timorese journalists over a story that was published about the nation's prime minister. Among those offering support is Peter Greste. As a result, Prime Minister Rui Maria de Araujo writes to the court not to convict the two journalists and they are cleared.
• On May 18, MEAA celebrates 25 years since the amalgamation that formed the present day union.
• MEAA appears before a Senate Select Committee inquiry into the future of public interest journalism. The inquiry was established in the wake of the Fairfax Media job cuts.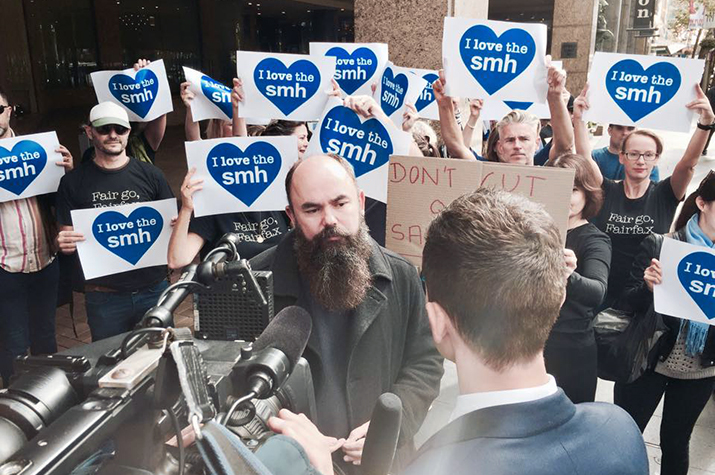 MEAA Media President Marcus Strom speaks at a media conference in Sydney during the week-long Fairfax Media strike in May.
June
• Concerns for the future of jobs at Network Ten after the debt-stricken company is placed into voluntary administration.
• MEAA member Julie Davis, a ticket attendant at the Melbourne Cricket Ground who is wheelchair-bound, successfully wins an undercover car parking space following a union campaign over her unsafe working conditions.
• Consultation begins for a new screen industry workplace health and safety code. The extensive code will be the first significant overhaul of safety in the sector for well over a decade.
July
• Equity opens a survey of sexual harassment, criminal misconduct and bullying in the Australian theatre industry.
• Dozens of people who worked on the Melbourne Grand Prix become potential recipients of back pay after intervention by MEAA about the employment by labour hire giant Adecco of "volunteer" staff.
• MEAA's National Media Section committee calls on the Walkley Advisory Board to reconsider its decision drop the category for international reporting.
• MEAA Equity members Adele Perovic, Noni Hazlehurst and Justine Clarke and MEAA crew member Dan Oliver give evidence at a July 20 hearing of the House of Representatives inquiry into the sustainability of the film and TV industry. They to urge greater government support and leadership in the sector.
• Jo Chandler is named freelancer of the year at the mid-year Walkley Awards in Sydney on July 26.
• MEAA's submission to the Senate inquiry into the future of public interest journalism warns that governments can no longer stand on the sidelines but must step in to support independent journalism to preserve democracy.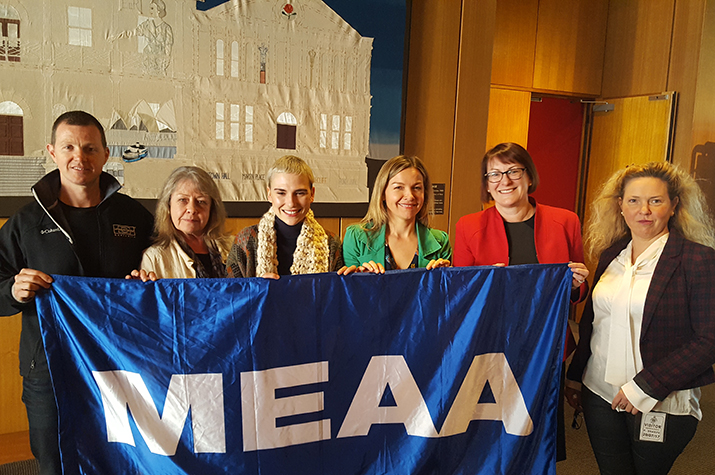 MEAA members (from left) Dan Oliver, Noni Hazlehurst, Adele Perovic, and Justine Clarke with Labor MP Susan Templeman and Equity Director Zoe Angus during a break in at a hearing of the House of Representatives inquiry into the sustainability of the film and TV industry.
August
• MEAA writes to the Fair Work Ombudsman about a potential breach of workplace laws through the use of unpaid workers by the Virgin Australia Supercars Championships.
• An injection of 32 fresh faces are elected to MEAA's Federal Council following the elections held in July. In other changes, Marcus Strom is elected President of the Media section after the retirement of Stuart Washington.
• Eliza Goetze, from the Bundaberg News Mail is announced as the inaugural winner of the Caroline Jones, Women in Media, Young Journalist's Award.
• MEAA condemns as a "dangerous step" a proposed inquiry into the ABC announced by One Nation today as the trade-off for support for the government's media reform package.
• Launch of a 'Good Jobs Charter for Digital Media' to push for a fair set of workplace standards in this fast growing sector.
• The Equity and ECS sections of MEAA join with the industry bodies for live performance and screen to back a yes vote in the marriage equality postal survey. "We believe the time has come for the Marriage Act to be reformed to allow same sex couples to marry," they say in a joint statement.
• MEAA calls on the Turnbull government not to stand in the way of the proposed acquisition of Network Ten by CBS so that months of uncertainty for employees can end.
September
• MEAA helps to host a visit to Australia by East Timorese journalist Raimundos Oki, who spends a week at Fairfax Media in Sydney with funding from the Balibo Five-Roger East Fellowship.
• On Equal Pay Day on September 4, MEAA calls for concrete action from media organisations to close the gender gap which is 23.3% in print and publishing and 22.2% for in broadcasting, well above the national average. The action required includes transparency about gender pay, family-friendly workplaces, and the dedication of annual merit pools to fixing the problem of unfair pay.
• Home and Away crew win significant back pay after MEAA members took action when they noticed return travel payment when on location had not been passed on by Channel Seven.
• Federal Parliament passes legislation removing the two-out-of-three media ownership rule which had been in place since the early-1990s. "This is a poor day for media diversity," says MEAA. "The last important protection – the two-out-of-three rule – has been abandoned and there is nothing in its place."
• The Make It Australian campaign is launched around the country on September 18, bringing together MEAA, Screen Producers Australia, the Australian Writers' Guild and the Australian Directors' Guild to fight for the future of the screen industry. More than 700 people take a selfie in support of the campaign.
• One of the nation's most prolific and highly regarded performers, Ken Blackburn, is announced as the recipient of the 2017 Equity NZ Lifetime Achievement Award.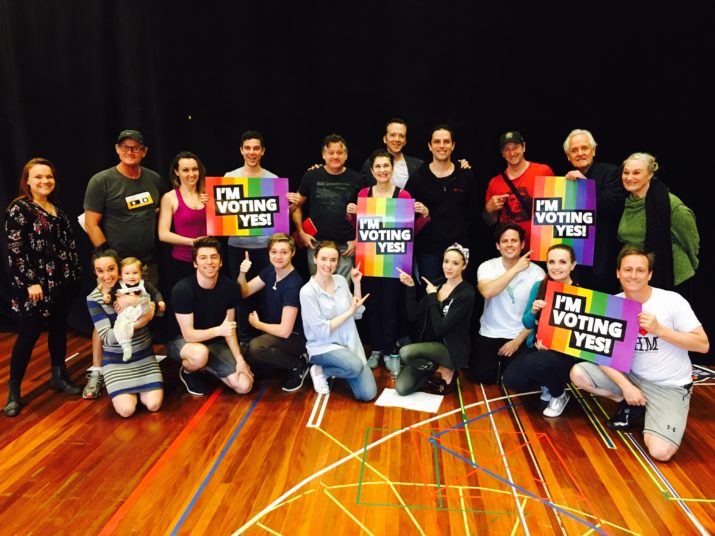 The cast of My Fair Lady in Sydney show their support for marriage equality.
October
• The film industry is changed forever after Hollywood mogul Harvey Weinstein's fall from grace over numerous allegations from female actors of sexual harassment and assault. The fallout will spread to Australia later in the year.
• In response to growing concerns and complaints about the attributed re-use of journalists' work online, MEAA asks freelancers to take part in a survey about their own experiences of being plagiarised as part of a campaign to stamp out the practice.
• Members of MEAA's Equity and Crew sections head to Canberra on October 18 to lobby politicians to support the Make It Australian campaign for the film and TV industry's future. Actors Bryan Brown, Sigrid Thornton, Sean Keenan, and Matt Day, actor-director-writer Leah Purcell, sound technician Ben Osmo, production designer Fiona Donovan and special effects expert Dan Oliver represent MEAA in the delegation. About 1200 people send emails to politicians as a result.
• Queensland police raid the offices of the ABC in Brisbane on October 25 in an attempt to identify the source of leaked Cabinet documents. MEAA says this is an "outrageous attack on press freedom".
• The newly-elected Labour government in New Zealand announces it will repeal the 'Hobbit Law' which classifies all film workers as "independent contractors", unable to bargain collectively and receive other benefits associated with being an employee.
• About 250 people attend the first Women in Media national conference on the Gold Coast on October 27 and 28 with the theme 'Media is changing … you can too!'
November
• MEAA and Screen Producers Australia issue a joint statement on November 1 declaring zero tolerance for sexual harassment. The statement follows the exposure of high-profile cases of sexual misconduct in film and the media, including Hollywood mogul Harvey Weinstein.
• Media Monitoring company Isentia makes 29 jobs redundant and relocates the positions to the Philippines in a decision that follows a sharp fall in revenues.
• Anger as dozens of suburban newspaper journalists in Sydney and Melbourne will find themselves jobless just weeks before Christmas in yet another round of cost-cutting by the two largest publishers. Fairfax shutters six suburban mastheads in Sydney and sheds more staff at The Weekly Review in Melbourne, while News makes a 20% reduction to the editorial staff of its Leader group in Melbourne.
• Former Australian Journalists' Association Victorian President, Gold Walkley winner and journalism academic Philip Chubb, dies on November 9 after a battle with cancer, aged 66.
• Crew members at Opera Australia overwhelmingly vote up their new agreements, locking in pay rises of 2%, 2.5% and 3%. Members fought to maintain conditions, and most importantly limited the 'non rep' agreement to its original purpose – musicals, regional, and outdoor opera.
• ABC managing director Michelle Guthrie confirms a sweeping restructure of the broadcaster to focus on multi-platform content, but questions remain about the impact this will have on staff.
• MEAA formally complains to the prime ministers of Australia and Papua New Guinea after journalist and refugee Behrouz Boochani is arrested on November 24 during protests on Manus Island. "The actions and statements of PNG police confirm that Boochani was targeted during the police operation on Manus. That is a clear assault on press freedom," says MEAA chief executive Paul Murphy.
• Comedienne, actor, advocate and activist Noeline Brown is presented with the 2017 Australian Equity Lifetime Achievement Award.
• MEAA welcomes the announcement of an inquiry by the Australian Competition and Consumer Commission into the impact of social media giants like Facebook and Google on media advertising and journalism.
• Following a call from Women In Media national convenor Tracey Spicer for women to come forward with stories of sexual harassment and bullying, a major expose is published of years of offensive behaviour of former TV host Don Burke.
• Michael Bachelard and Kate Geraghty win the Gold Walkley Award for 2017, while the former political editor of The Age, Michael Gordon, is honoured for Most Outstanding Contribution to Journalism.
• Fairfax Media and HuffPost call it quits on their Australian joint venture, throwing most of the Australian editorial staff out of work. Staff had repeatedly asked for information about the local edition's future but were told nothing until the announcement, an act which MEAA describes as "disrespectful".
December
• MEAA Crew members are big winners at the AACTA Awards industry luncheon: for a second year in a row, Katherine Brown and Troy Follington are part of the team that won the AACTA for Best Hair and; Fiona Donovan, takes out the award for Best Production Design in Television; and Paul Brincat and Shanti Burn are winners for Best Sound in Television. Equity member Osamah Sami is a joint winner of the AACTA for Best Original Screenplay for Ali's Wedding, in which he is also the lead male actor.
• MEAA welcomes the announcement on December 4 of an inquiry by Australian Competition and Consumer Commission into the impact social media giants Facebook and Google are having on media advertising and journalism.
• On December 7, legislation is passed by Federal Parliament making same sex marriage legal in Australia, following the 62% vote in favour from the postal survey on the issue.
• The report of the House of Representatives inquiry into the future of the film and TV industry is released with both good and bad news for MEAA members. It recommends almost doubling the film location tax offset to 30%, but a 25% cut to the feature film production offset. It also puts in doubt children's content quotas for commercial free-to-air TV.
• The Entertainment, Crew & Sport section honours three screen industry stalwarts and union activists with special awards. Ray Brown, key grip on dozens of films and TV series including Crocodile Dundee and The Matrix, is made a lifetime member, while Julie Deakins and Jenny Ward receive Gold Honour Badges.
• Equity announces the collaboration of all state theatre companies to develop more effective processes to combat sexual harassment and bullying. It follows an Equity survey of 1124 performers and theatre workers which found at least 40% had experienced or witnessed sexual harassment.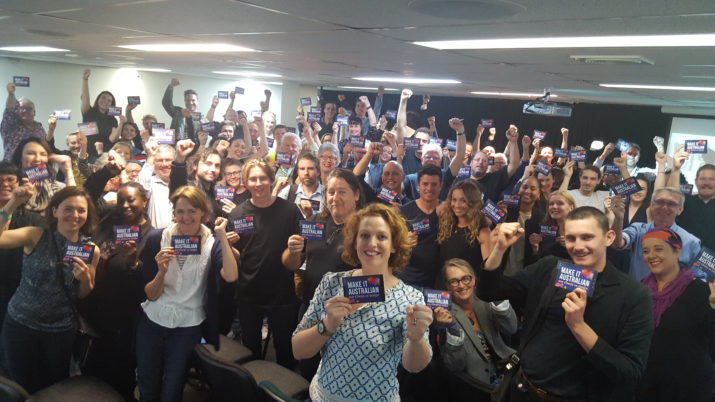 The Make It Australian campaign was launched around the country on September 18. Here is part of the crowd at the Brisbane launch.