We stand with the LGBTI community
---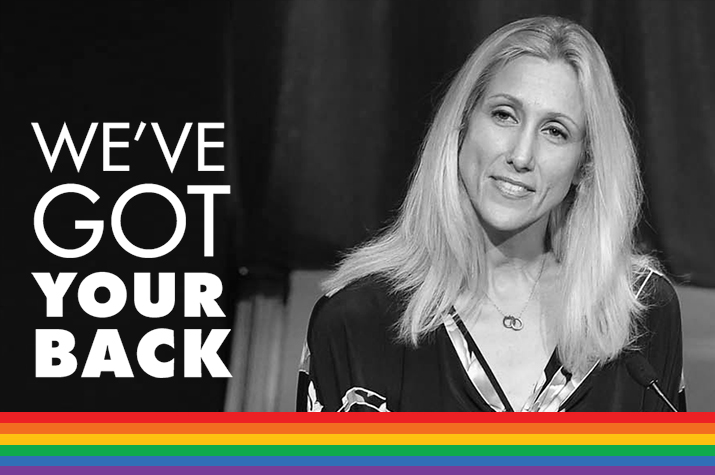 With the likelihood of a heated debate in the lead up to the marriage equality postal survey, MEAA Equity stands with our LGBTI members and recognises that this may be a difficult time for you.
In the words of actor, General Practitioner and member of the Equity Wellness Committee David Spencer:
"Our arts community has a reputation for celebrating diversity and often is a place of refuge for those looking for a safe place to express themselves without ridicule. Working on the cusp of both the Arts and Medicine, I can see this plebiscite is having a real and measurable impact on the mental health of those in the LGBTIQ community and their supporters. Reasonable and respectful conversation is being pushed aside particularly on social media which is inundated with reports of hate speech and fear mongering. Past traumas thought to have been left behind are being relived as the personal hurt of being judged by others is experienced again long after we thought those days had passed.
"This is not just an issue of equality in marriage. It is about the respect we show for one another regardless of sexuality which is fundamental to equality. This is an important time to let our friends, our families and our loved ones know that we are here to stand beside them, equal in love and friendship. To remind them that they are heard, they are safe and they are respected."
Need help?
Together we can provide safety and support. The Equity Wellness Committee and Equity Diversity Committee are encouraging members to take the time to check in with one another and be available to all those who are finding this time challenging.
If you need support in the workplace, please seek help from your delegate or from the MEAA office (1300 65 65 13).
If you need more general help, please reach out to available support services like Qlife, Lifeline, or Ruok?. We encourage all members to actively support LGBTI people in our workplaces and communities.
With the possibility of misleading or harmful information as part of the NO campaign, particularly on social media, it may be useful to equip yourself and others with information presented by medical professionals, health organisations and LGBTI groups and leaders. Evidence of offensive material can be submitted to the Parliament of Australia's Finance and Public Administration References Committee.
For more general information on the Equality Campaign, including resources and frequently asked questions, visit their website.
Love is love
MEAA Equity president Chloe Dallimore said the Equity section will be campaigning for a Yes vote in the postal survey.
"The time has come for marriage equality," she said.
"As workers in Australia's screen and live performance sectors, we embrace diversity and strive to promote equality for all Australians, regardless of their race, ethnicity, gender, age, sexual orientation, religious beliefs, or physical or intellectual disabilities. Marriage equality would make a material difference to the lives of many of our members who are currently being discriminated against by a Marriage Act which fails to bestow them with the same rights as heterosexual couples.
"Our preference would be for this reform to be determined by the Parliament, but we accept that a postal plebiscite is now a reality and will be held later this year. We will be urging all of our members to vote yes in the plebiscite. This issue has dragged on for far too long and needs to be resolved once and for all by Parliament as soon as possible after the plebiscite. Over the coming months in the lead-up to the postal plebisicite, we urge all parties to be respectful and tolerant of each other and to refrain from hurtful language as this issue is debated.
"To our LBQTI members we say: we stand with you and look forward to the day when you are treated as equal under law."
Get involved
Together we can help make real changes which will affect the future of not just our members but all current and future Australians. Please channel your frustration and anger as fuel for action.
There are many ways to get involved and the way to win this is by making sure that those who support marriage equality are remembering to vote.
Fill in your details here to connect with ways you can help - by making phone calls, knocking on doors and having conversations.
Equity will be present at the YES campaign rallies around the country. Please attend the rallies in your state and look for the MEAA banner or connect with your local organiser.
ACT
Canberra Rally: Yes to Marriage Equality!
Saturday, September 2, 1:00 PM
Garema Place, Canberra
NSW
YES Rally for Marriage Equality!
Sunday, September 10, 1:00 PM
Sydney Town Hall, 483 George Street, Sydney
QLD
Rally - Vote Yes to Marriage Equality!
Sunday, September 10, 1:00 PM
Queens Gardens, cnr George and Elizabeth St, Brisbane
NSW
Unity: The Equality Campaign Concert
Tuesday, September 12, 8:00 PM
Enmore Theatre, 118-132 Enmore Road, Newtown
SA
Adelaide Rally: Yes to Marriage Equality!
Saturday, September 16, 1:00 PM
Parliament of South Australia, North Terrace, Adelaide
WA
Yes! Fest Perth - Marriage Equality Rally
Saturday, October 7, 1:00PM
Russell Square, Shenton Street, Perth