Why I'm a member: Brett Beacham
---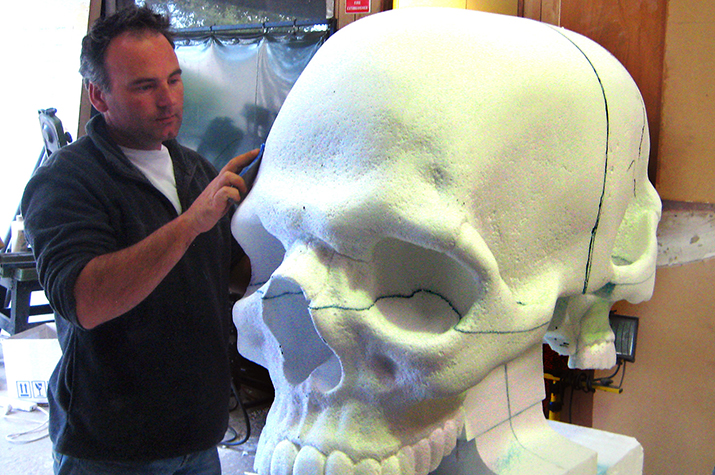 Brett Beacham is a head of props manufacturing for films based on the Gold Coast. He has worked on some biggest Hollywood blockbusters filmed on the Gold Coast in recent years. He talks about his job and how MEAA supports him in the workplace.
---
What does your job entail?
A prop maker generally services the prop and set decorating departments. If the prop or set piece can't be purchased or, in the case of a sci-fi film for example, simply doesn't exist we're tasked to make it. Anything from intricate and complex props to large specialised set pieces.
How long have you been working in the industry, and how did you get your start?
I've been in the industry 29 years since 1988.  When I was ready to leave school my father asked "what do you want to do for a career?". I answered with I'd like to make monsters in the movies but I can't do that unless I'm in America. We researched and found the thriving Australian industry. So I ended up in make-up college for two years then found a job as a junior sweeping floors in a creature fx workshop. Long story short, I spent the next 15 years as a creature and prosthetics technician. But with computer graphics starting to take hold I saw the writing on the wall and thought they'll always need props, so I made the switch into prop making.
What does a typical day or week for you look like?
As the head of the prop making department my typical day consists of meetings and many discussions regarding the incoming prop and set pieces to be made. Making sure the specific cast and director requirements for props are met. Estimating the build costs and timelines and liaising with the various other departments involved. Also keeping an eye over the current pieces being worked on making sure they're on track ready to shoot. A large part of my day also involves trouble shooting the more complex builds.
What is the best thing about your job?
My crew! I love working with the very clever and talented guys and girls in the department. Together creating a fantastic prop from nothing.
What have been the highlights of your career so far?
As a prop maker it would have to be working on the larger Marvel and DC films. Lots of 'cool' props to make and have a hand in creating the iconic props in the films.
What is the biggest challenge you face working in this sector?
The inconsistency in work. Having accepted it's contract based work. The industry has its busy and lean times. It's when the lean times are the rule rather than the exception it gets tough.
What would be your advice to people wanting to get into the industry?
The film industry can give you a huge amount of job satisfaction and an outlet for your creative drive. But in return it's not a 9-5 job. Be prepared for the long hours and to almost put your life on hold while on the project.
Why is it important to be a member of the MEAA?
The productions are trying to bring their films in cheaper and cheaper, they're always elbowing bit by bit to strip conditions and wages. We need a body to protect and maintain the crews rights. A single crew member or small group is a small voice that's easily ignored and dismissed. The MEAA is a larger and louder voice . . . as long as it's backed by the crew it's speaking for.