#VaxTheNation so we can stop the interruptions
---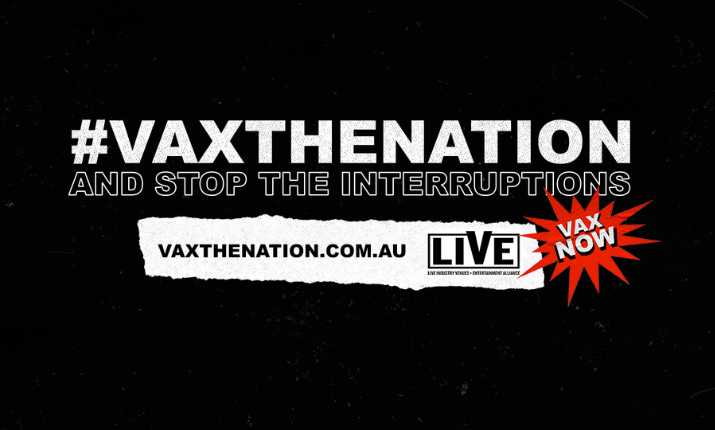 MEAA is part of a major new campaign launched today urging Australians to help "stop the interruptions" to the live performance industry and get vaccinated.
#VaxTheNation has brought the music and entertainment together as never before, with more than 300 artists and organisations teaming up to spread the word that we need to increase our vaccination rate so venues can open up again to live audiences.
The campaign kicked off today with a television commercial and will continue until Australia reaches the 80% vaccination target set by National Cabinet.
Dealt a massive blow by COVID-19 over the past 18 months, the live events sector has seen thousands of performances disrupted, postponed or cancelled, tens of thousands of workers stood down (or unable to work at all), and hundreds of millions of dollars lost. In addition, the lack of flow-on revenue from these missing shows hugely effects hospitality, accommodation and tourism industries too.
We want all Australians to remember the good times live events bring.
Unless we reach the 80% target, there will be no live music; no festivals; no theatre; no opera; no dance; no comedy; from local or international act.
The best way to "stop the interruptions" is to get vaxxed as soon as you can so we can get the industry back on the road.
Spearheaded by the 'LIVE Alliance' (Live Industry Venues + Entertainment) of major music industry organisations, the campaign has enlisted Artists, promoters, festivals, venues, ticketing agencies, record labels, comedy producers, theatre, dance and opera companies, streaming platforms, peak industry bodies and more.
Among the artists involved are Tim Minchin, Amy Shark, Powderfinger, Midnight Oil, Archie Roach, Courtney Barnett, Montaigne and dozens of others.
MEAA Chief Executive Paul Murphy says the union is excited to be supporting the campaign as vaccination provides a road out of the isolation caused by COVID.
"The shared experience and connection of live performance is going to be essential to rebuilding the sense of community that has been decimated by isolation and lockdowns," he says.
"But it can only happen when enough of us are vaccinated to make it safe to reopen venues.
"Performers, crew, front of house and others working in live events are looking forward to once again delivering joy to audiences, and we urge all Australians to get themselves vaccinated as soon as possible."