Ten top tips: Emily Joy
---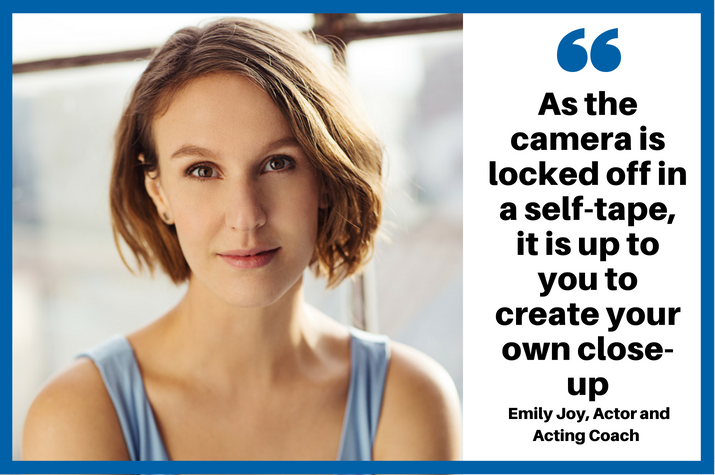 Actor and acting coach Emily Joy offers 10 ways to make your self-tape a winner.
Emily Joy is the owner of Joy Studio, a boutique acting studio in Melbourne. Her actors have secured countless roles for major film and television projects, including Picnic at Hanging Rock, Jack Irish Season 2, Stan's Romper Stomper and True Story with Hamish & Andy.
1. Have a self-tape plan in place. The turnaround on tapes is getting tighter and tighter, so have a way to tape stress-free and quickly. Whether it's setting up a space to film at home or scoping out self-test studios in your area, have your self-tape plan in place before the audition comes along.
2. Remember that the performance quality is always more important than the quality of the tape. While it's great to have perfect sound, beautiful lighting and a neutral backdrop, don't worry about these things more than your performance.
3. For physical action, like kissing or fighting, understand what it means contextually and find a way to show that in the mid-shot. For example, you can't kiss your scene partner, but you could take a pause, hold eye contact and breathe them in for a moment. Don't ignore the big print; know why it's there and make it your own in the frame.
4. Keep in mind that everything about an audition is stripping you of your individuality. Everyone auditioning is around the same age and level of experience, similar look, in the same mid-shot, saying the same lines. Stand out by personalising everything strongly. Bring yourself wholeheartedly to the role. Don't try and guess what the casting director is looking for – own the part and boldly give your personal version of the character.
5. As the camera is locked off in a self-tape, it is up to you to create your own close-up. Do this by slowly stepping towards the camera or leaning in, for an important moment of the conversation.
6. When auditioning for comedy, submit one take that's word-perfect and another version where you improvise to show off your comedic skills.
7. When there are multiple characters in a scene, a post-it note to mark separate eyelines works wonders. Make sure you know how you feel about each person in the conversation, and do a run-through with your reader pointing at who is talking, so you know and then can play.
8. Always play to your highest emotional intelligence, and with the highest stakes possible. Audition scenes are often selected because the casting director wants to see the character handle that particular moment. It's not everyday life for your character; it is a turning point.
9. Presentation matters. Good lighting and clean hair, along with an outfit that suggests the period, are best.
10. Have fun compiling your tape. Think of it less as an audition and more as a short film. Perhaps there's a scene in the script that you want to film in addition to the ones requested, or there's a song that would go well playing in the background of the scene, or you want to film the character having a private moment. Whatever feels fun and organic for you, go for it!
The Equity Foundation has Self Test Studios in Melbourne and Sydney which Equity members can use free of charge. Bookings here.