Reality Check
---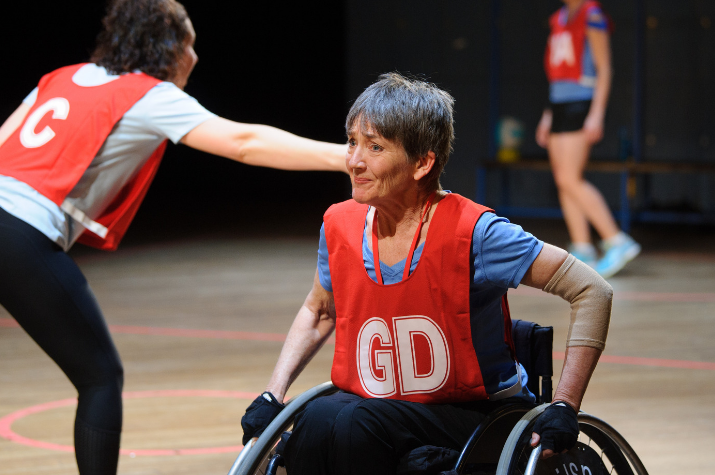 Kate Hood readily describes herself as disabled. Her theatre company storms boundaries, with productions reflecting the reality of the world around us.
A change is occurring in the performing arts in Australia. Theatre, television and film creatives are all actively looking to cast in a way that reflects the world around us. For the vitality and longevity of the industry, and to attract new audiences, it's obvious that we have to do this.
I am proud of this change, especially as a re-emerging disabled actor.
Emilie Collyer's play Contest made a conscious effort to put change into practice. This production crashed through some well-worn boundaries. Ours was an all-female company of creatives, technical artists, set builders, designers, choreographers and actors. (In case you're wondering, they were all the best person for the job).
Emilie wrote a beautiful, devastating piece about female relationships using netball as a metaphor. Part poem, part script, she made a conscious effort to cast it inclusively. We had a breast-feeding woman, a brown-skinned woman, a blonde Celtic woman, a white Everywoman and a disabled woman in the cast.
The physical score running alongside the text was the vision of director Prue Clark, realised by choreographer Nat Cursio. This heightened physicality was a big challenge for me as a wheelchair user. We worked hard to find a physical language for me that fitted. Along with the others, I got buff.
In week three of rehearsals, I contracted a virus, as did another cast member who temporarily lost her voice. My doctor said there was nothing she could do for me, that antibiotics would not help. I just had to go to bed.
So I did, for week three of a five-week rehearsal period.
Of course I had several conversations with both Prue and Emilie about the practicalities and boundaries of my recovery – at what point should they start looking for a replacement? I was expecting to leave the show, so Emilie's response kind of floored me. It went something like this:
Me: I would obviously completely understand if you felt you had to recast.
Emilie: Well, I would want that to come from you. And I need you to know, I don't want to recast.
Pause
Me: Oh OK. Well, how about we make the cut-off date Saturday? Do you feel that would give you enough time?
Emilie: Yes, that's fine.
Then we talked through an idea I had. I figured that my NDIS (National Disability Insurance Scheme) package would pay for a 'buddy' for me, who could replace me in rehearsals, take copious notes, bring them to me after each day and tutor me in what had happened in the rehearsal room. If she stayed, she could also run lines with me, be my dresser, my personal carer and assistant for the season.
Emilie and Prue thought this could work. My first choice of person was available, enthusiastic and perfect. She was an able-bodied actor who had attended Inclusive Practice workshops with my company Raspberry Ripple and was keen to walk the talk. Her presence made it possible for me, and the rehearsals, to continue. Had she been there from the start, I doubt that I would have become sick.
In retrospect, I needed a rehearsal buddy from day one. This would have helped with my logistical needs (transferring from wheelchair to wheelchair; picking up the script I dropped; getting lunch in an inaccessible shopping strip) and paid a performing artist to improvise a new specialty, so that I and everyone else could concentrate on the job at hand.
Instead, I had organised a Disability Services personal support worker to drive me to and from rehearsals, offer personal care and platitudes 'as needed' and get my dinner ready at night. She turned out to be a hippy born in South Yarra, with a nose ring, dreadlocks and an attitude about transgender people, which came directly from her conservative upbringing. We didn't hit it off. She lasted a week.
But here's the thing. Because our rehearsal period was organised differently: around our breast-feeding mother pumping every four hours; one of our actors needing her injured shoulder strapped and re-strapped; another with a painful hip needing to modify some movement; and me needing Wednesdays off for home access needs (we worked four days a week), we were all up for doing things differently. So when I had to take week three off, it focused our minds beautifully. As a company, we knitted together to make it work. Recordings were made, blocking was notated, soup was sent. I arrived on the Saturday knowing my lines, the blocking, and feeling well.
Opening night came and went, reviews were written – and the production was pretty universally considered outstanding (even with a sound glitch that stopped the first show. Not the first time, definitely not the last!).
My take-home message is this:
Every theatrical production has problems. Disability is just a new problem. I think every rehearsal period should start with every person (disabled or not) answering the question: "What do you need to do your best work?"
Let's listen to the unique responses – and act on them. That way, we would all get what we need.
And our work would flourish.
Postscript: There were three imperfect artists in this production: Sound designer Emah Fox (Ehlers-Danlos Syndrome), me (Hereditary spastic paraplegia) and Prue Clark, our director (Hard of hearing). Emah and I identify as disabled – I use a wheelchair and Emah walks with crutches. Prue uses a hearing aid but does not identify as disabled. She thinks of her hearing aid as equivalent to a pair of glasses. Brilliant! Exactly the same way I see my wheelchair.
KATE HOOD IS A PERFORMER AND THE DEPUTY CHAIR OF EQUITY DIVERSITY COMMITTEE.