Profile of actor Aaron Pedersen
---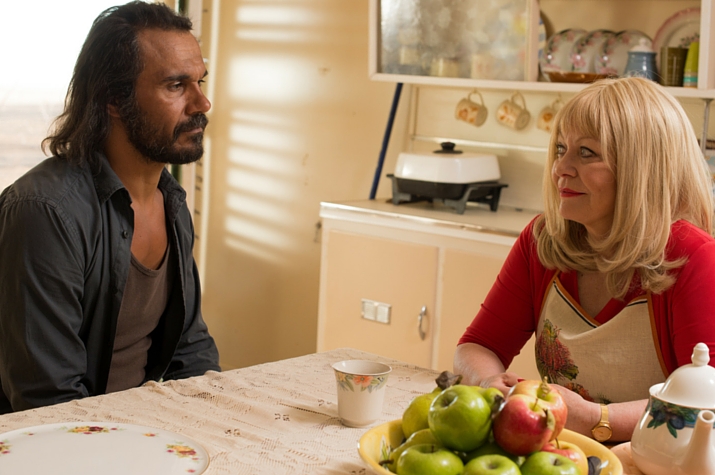 Equity member Aaron Pedersen's focus has always been on longevity in the industry. After three decades and with a critically acclaimed new thriller under his belt, he tells Lizzie Franks he reckons he's about halfway through his career

Aaron Pedersen didn't begin his storytelling career as an actor but as a journalist at ABC TV in Melbourne. "My inner drive and belief in myself has always dragged me out of more marginalised areas of society and into the mainstream," he says. "I wasn't necessarily qualified to be a journalist but I turned that opportunity into something really positive."
Pedersen worked a sports journalist and on an Indigenous-themed series called Blackout before he approached the casting director of a new ABC miniseries, Heartland, in the staff canteen.
"Acting was always my first love," he says. "I didn't find acting until I was 25, which I think was a good thing. It gave me the chance to get a sense of myself. Again, it wasn't something I felt qualified to do but I just chipped away slowly."
Pedersen landed a small part in Heartland (the lead went to Ernie Dingo). His first major role would be as lawyer Vince Cellini in the ABC's award-winning police drama Wildside from 1997-99. "I'm so grateful to people like Michael Jenkins, who gave me a break on Wildside," he says. Subsequent TV drama series have included Water Rats, The Secret Life of Us, The Circuit, East West 101, City Homicide, The Code and Jack Irish.
"There are not a lot of cabs but there are a hell of a lot of passengers," he says. "That's just the reality of what we do. Our craft requires a thick skin and it has to kick in early. You have to have a really good sense of who you are and what storytelling abilities you have."
This year, Pedersen reprised his role as detective Jay Swan in Ivan Sen's feature Goldstone, a spinoff of critically acclaimed Mystery Road, both of which were selected to open the Sydney International Film Festival (in 2013 and 2016 respectively).
"Both these shoots have been monumental in my life, in relation to what they are and what they mean," he says. "They'll always be a joy to my heart and I know that's the same with the crew.
"Ivan and I had a real strong sense of how we saw this country because our families were brought up under different policies and legislation compared to non-Indigenous Australians. We just wanted to make a film that felt right for us, so we could have the right conversation. And that's how it worked out.
"I think my character, Jay Swan, is someone we want to see more of. His story wasn't finished after Mystery Road and I still don't think it's finished. I feel like he is part of really good book, and audiences would be excited to read the next chapter. I'll keep dropping hints to Ivan about that and we'll see."
Sen wrote, composed the music, directed, shot and edited both movies. In a recent interview with The Sydney Morning Herald, he said of Jay Swan: "He's full of socio-political elements which I don't think you could ever get to the bottom of or stop talking about. He's someone of Indigenous background but upholding white law in an ever-changing political landscape, where Indigenous people are being tempted with corruption at a level that we haven't seen before, which is largely what Goldstone explores."
Both movies were shot in outback Queensland – Goldstone in Middleton and Mystery Road not far away in Winton.
"We had no internet," Pedersen recalls. "No phone reception. It was really nice being off the grid. For the first time in a long time on a film shoot, nobody was looking at their phones. I think Ivan and I were probably the only ones who enjoyed that part!"
Pedersen says he hopes movies such as these encourage filmmakers to create mainstream roles for Indigenous performers. "I just believe that things will get better by filmmakers being braver, like Ivan Sen. The audience is very intelligent and there is a real hunger for this type of storytelling. Something that people will walk away from feeling empowered or informed or educated. Don't be scared of putting Indigenous actors in mainstream roles."
Pedersen's focus during his three-decade career has always been on longevity. "Being part of this industry is not just a short moment, it's a long moment… So I don't necessarily just follow one line. I follow the line of my heart. My heart is always about being true to my storytelling, whether it be through news or drama. I'm kind of halfway through my career and where it goes from here is really up to me and the projects I end up with."
Lizzie Franks is editor of the Equity Magazine. This article was originally published in the Winter 2016 issue of The Equity Magazine.