Spotlight on John Lafferty
---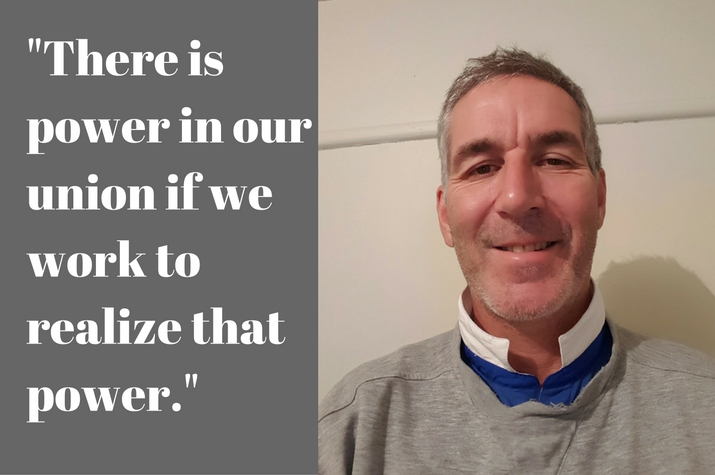 John Lafferty works in customer service at Etihad Stadium, he chats to MEAA about what its like working at one of Melbourne's biggest venues, what it takes to get into the industry and why it's important for him to be a MEAA member.
What is your role at Etihad Stadium?
What is your current role I work in customer service, so checking tickets, showing customers to their seats, answering questions
Take me through a full day for you at work.
The shifts are quite short, from as little as three hours long to about seven hours at most. The average would be four hours. I get to the stadium about 15 minutes before my shift starts. I collect my uniform, get changed and be at my rostered position for my start time. I would usually be working on a gate (mainly checking tickets), an aisle (mainly showing customers where to sit), or being a runner (covering for other people). Other jobs include working in the car park, selling tickets or patrolling the playing field.
I'll have a 10-20 minute break where, like a lot of staff, I eat half-price unhealthy fast food. I'll knock off usually just before or just after the game - normally AFL, which is the bread'n' butter of this stadium.
How did you start in the industry?
Through a now deceased friend, I was encouraged to apply to work at the 2009 Melbourne Cup Carnival. I soon got regular shifts there and became a supervisor and a union rep. I also started working for the Melbourne Racing Club at Caulfield, Sandown and Mornington, and Melbourne Stadiums Limited at Etihad.
What's the best thing about your job?
The best thing about the job is seeing the different events, highlights being Eminem, AC/DC, the Edinburgh Military Tattoo and the soccer and rugby internationals. Also, meeting interesting fellow workers and customers. Getting paid comes in handy too.
What would be your advice for people wanting to get into the industry?
No matter what industry you work in, or indeed whatever you do in life, know yourself and be true to yourself. Authenticity and integrity without ego. You are first and foremost a human being, not a commodity nor a mere actor.
Why is being a MEAA member important to you?
If I was to choose between company, customers or fellow workers, I'll always choose my workmates, who I share a common interest with. I grew up to believe in the power of the working-class. I believe I always will. There is power in our union if we work to realize that power.