Performers passionate about local jobs in live performance
---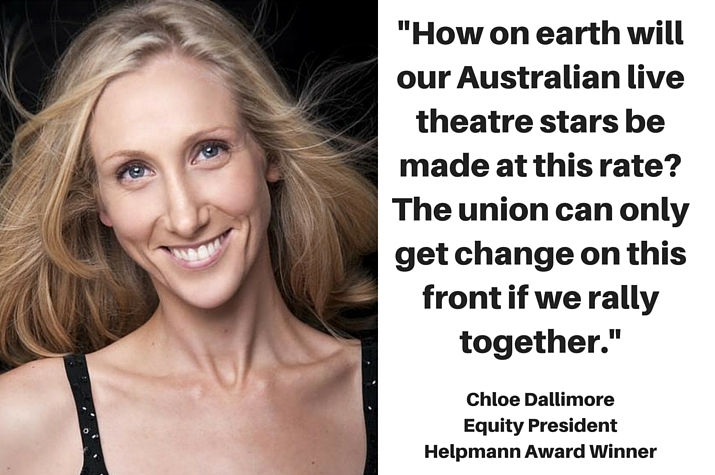 There is growing concern in the Australian performer community about foreign artists being imported to star in major musicals.
In the coming weeks MEAA will hold meetings around the country to hear from performers about their concerns and how we can work together as an industry to protect vital career opportunities.
In a recent Facebook post, which was shared more than 500 times, Equity President and Helpmann award-winning performer Chloe Dallimore said we must stand together if we want to see change on this front.
"It feels as if we are regressing to the JC Williamson days when all the principals were imports and the ensemble and understudies were Australians. How on earth will our live theatre stars be made at this rate? One show can make a career and our talented Aussies are being robbed of that opportunity. We must instigate change, but we can only do it together as an industry."
Equity director Zoe Angus says although some producers consult Equity about importing artists there needs to be a more rigorous consultation framework.
"Without an agreed industry framework, some producers notify us the day before the public announcement or don't consult at all. Others take consultation very seriously. This issue is too important for an ad hoc approach," says Angus.
In 2012 Live Performance Australia (LPA) informed Equity that it was terminating the agreement that governs the use of overseas performers in live productions. Ninety nine Helpmann Award winners – including Richard Roxburgh, Geoffrey Rush and Rachel Griffiths – signed an open letter to LPA calling on them to reconsider their abandonment of the long standing agreement.
Angus says: "This issue of imported artists is felt widely and deeply amongst Australian performers because ultimately we all know that one role can make or break a career. While we welcome the time and effort some producers put in to consulting the union regarding imports, unless it's an exceptional case, we would always rather see the role filled by one of the thousands of exceptionally talented performers we have in this country, ready and eager for such an opportunity.
"It is entirely legitimate that these decisions are held up to close scrutiny to ensure that it is an exceptional case and an extensive, exhaustive and genuine casting process has occurred."
Please stay tuned for details of member meetings.