New Australian TV show puts diversity on the agenda
---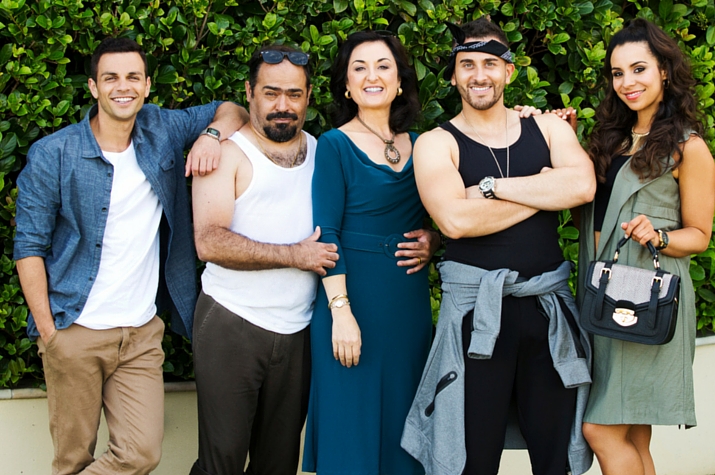 In the lead up to the premiere of Here Come the Habibs a short promotional trailer was released by the Nine Network. Perhaps purposely edited to be controversial, the reaction of the public and the media was swift. A petition was launched calling for the show to be pulled. It was signed by more than 2600 people. Online commentary slammed the program for perpetuating stereotypes and promoting casual racism. Daily Life called it a "classist show poking fun at those in lower socio-economic circumstances"
Cast members and creators were quick to defend the program and encourage audiences to judge the first episode when it had been aired in its entirety. Creator and cast member Rob Shehadie told Pedestrian TV "They're going off a promo where half of it wasn't even in the show, it's judging a book by its cover…I can tell you right now that I would never be involved in a show that makes a joke of the Lebanese race in anyway."
The first episode proved to be a ratings success for Nine, pulling in more than 1.2 million viewers. It was the second most watched program of the evening, beaten only by ratings juggernaut My Kitchen Rules. Reviews also tended to be largely favourable.
"On the basis of the pre-publicity for Here Come the Habibs you'd think it was all about to destroy the fragile last hope of multicultural Australia" Fairfax journalist Andrew P Street wrote the day after its debut. "So it's a huge shock to report that Here Come the Habibs is… well, a solid commercial network sitcom."
Kat Hoyos, who plays Layla Habib, says the show's style of comedy wont be everyone's taste and that's OK.
"Not everyone likes ice cream, particularly if that ice cream tastes like hummus. We are all diverse in our reactions and approaches to life, so of course our taste in comedy varies! I think some people overreacted after viewing the promo seeing something fairly new and different for Aussie TV. But that's OK, we have six episodes for everyone to get to know this modern, dynamic family, of a non-anglo background, and who they really are in their new surroundings. It's a refreshing change."
Camilla Ah Kin, who plays Mariam Habib, says she relished the opportunity to bring a family of Middle Eastern background to our screen during prime time.
"The first shot of the family is of them dancing together around the pool. In slow motion –so we can see in a lingering way, their expressions of joy. Whoever they are. Well in this case they happen to be Lebanese. I'm Lebanese (on my father's side) but I'm never cast in the 'dancing family'." says Ah Kin.
"My roles tend to be either carrying an AK47 or weeping over my dead son with an accent not my own. Who is this Lebanese family and what are they doing front and centre on prime time TV? They are opening the doors of their home and inviting us in."
The Gaurdian's Michael Safi also praised the show for having a Middle Eastern family front and centre but believes it could have done more than this.
"Putting an Arab family at the centre of a prime-time sitcom as the heroes? That's revolutionary. (It's a low bar.) But it's also a missed opportunity. Tackling the faultline between Lebanese Australians and the rest, why not go all in? Hire some Lebanese, or at least Arab writers….. As SBS's The Family Law has shown, a diverse writer can tackle multicultural Australia in stories about divorce, success, heartbreak and being a fish out of water without ever really mentioning the R-word at all. That's the thing about race: it will bleed through anyway."
The Equity Diversity Committee released a statement in the wake of the program's debut welcoming programs that showcase actors of diversity. "We call on all networks to commit to even greater levels of diversity on our screens and representative portrayals of modern Australian society."
MEAA Equity member Tyler De Nawi, who stars as Elias Habib, says the program successfully uses comedy to shine a light on important topics.
"I hope Here come the Habibs is the start of many more of its kind. Such shows create more work for everyone of all backgrounds, whether crew or talent. They also, hopefully, will lead to a day when we can turn on the telly or go to the cinema to see locally-produced content with brand new subjects that are naturally diverse and colour blind."
Here come the Habibs airs on Nine Network on Tuesday at 8.30pm AEST.
Article by Lizzie Franks.