Member spotlight: Pearl Tan
---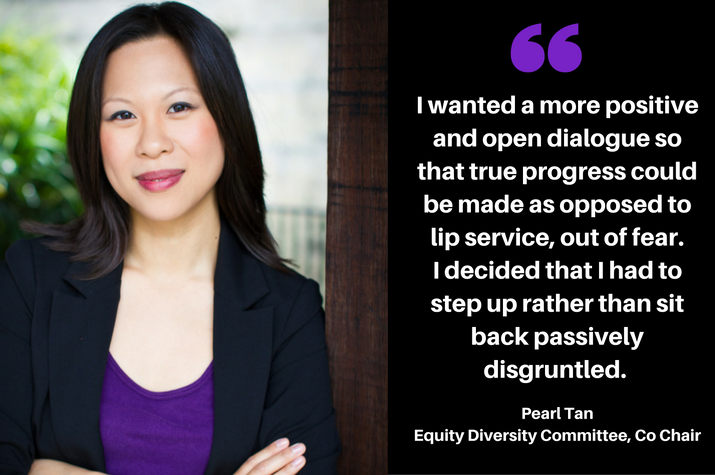 Equity member Pearl Tan is among the Australian Financial Review/Westpac's 100 Women of Influence in 2016. Pearl is a founding member and co-chair of the Equity Diversity Committee. She is a also a member of the National Performers' Committee. We talk to Pearl about her passion a more inclusive industry, where it came from and what's she doing about it.
1.Why did you become involved with the Equity Diversity Committee?
In the past, I noticed voices in the public arena addressing issues around diversity on Australian stages and screens, which didn't reflect my views. At times, I found them aggressive and counterproductive to the conversation. I wanted a more positive and open dialogue so that true progress could be made as opposed to lip service, out of fear. So, I decided that I had to step up rather than sit back passively disgruntled.
2. What's your proudest achievement as an EDC member?
I am proud of the work Bali Padda and I, along with the committee, did with Screen Australia recently. We consulted with them in the creation of the surveys that led to the report Seeing Ourselves: Reflections on Diversity in TV Drama. I look forward to seeing the initiatives and incentives that Screen Australia puts in place, as a result of this, to increase diversity on our screens.
3.Can you tell us a little about the #creatediversity campaign?
The #CreateDiversity campaign is a pledge created for different parts of the screen and stage industry to demonstrate their commitment to more diversity. It is a positive form of engagement and a tool to connect with stakeholders and bring together different parts of the industry to move forward on this issue together.
We originally created the #CreateDiversity campaign for writers, and inadvertently created scaffolding for future campaigns. It has since been rolled out to the Casting Guild of Australia, with the casting directors now committing to incorporate statements encouraging more diverse casting in every brief. There is momentum from the Equity Diversity Committee to expand this campaign to create pledges for directors, producers, theatre companies, drama schools and more. The industry now looks to us when they want to publicly increase their commitment and we look forward to continuing this positive way of increasing diversity.
5. Why are you an Equity member?
If Equity didn't exist, the rate of pay for actors would be zero dollars. Equity fights hard to ensure its members are fairly represented, treated and compensated for their work.
6. Who is a performer you most admire and why?
The list is extensive so I won't single anyone out! I admire many for their craft. I admire diverse performers who break through to the mainstream with their extreme grit, tenacity and talent with grace and humility.
7.If you could see one major change in our industry what would it be?
I would like to see systemic change to allow previously marginalised groups to tell their stories. There are many organisations and companies who are on board. I would love for it to be normal to see a smorgasbord of diversity on our screens and stages.