Meet your NPC: Alan Fletcher
---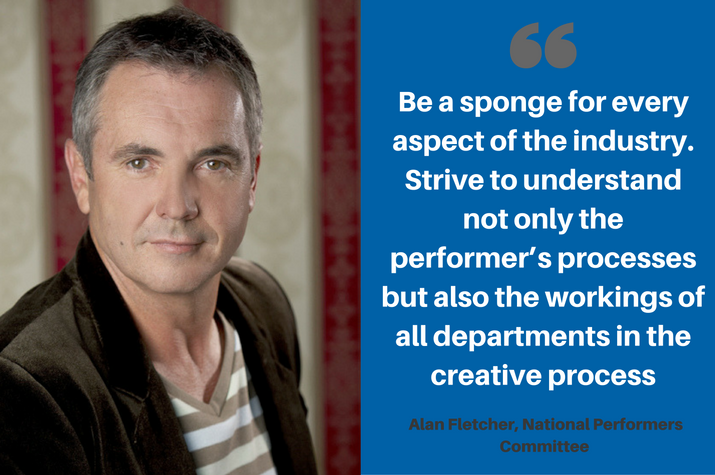 Elected via secret ballot, members of the Australian National Performers' Committee (NPC) represent their fellow performers on the issues affecting their industry.
At regular meetings the NPC discuss leading industrial and professional issues and the best course of action to take to ensure a strong and vibrant entertainment industry and a safe and fair workplace for performers. Alan Fletcher is among the Victorian-based NPC members.

1.Do you remember your first day on the set of Neighbours?
I remember my first day like it was yesterday. I had worked on Neighbours briefly in 1987 so the experience was not all together new. Regardless, when I joined as a regular in 1994 I was very nervous because my first scene was location. No rehearsal, no characterchat with anyone, just turn up and create a fully formed character.
2.What has been the highlight of your career as a performer?
Besides 22 years on Neighbours my highlight will remain the mini-series Sword of Honour. I played a Vietnam vet who took his own life. It was a special job for me for what it had to say about war and how military personnel were treated in that era. Also it was a typically brilliant Roger Simpson script.
3.Why do you think Neighbours has been so enduringly popular, especially in the UK?
I think Neighbours strives to maintain a delicate balance between comedy and drama. This 'light' touch is central to its success, particularly in the UK where soap dramas are often quite heavily orientated toward intense drama.
4.Why did you join Equity?
I joined Equity the day I secured my first professional job in 1977. For me my Equity membership was a badge of honour, a recognition that I was acknowledged by my industry colleagues to have attained professional standing. In Perth, where I worked, the industry was small and solidarity was crucial to prevent exploitation of performers.
5. Why are you a member of NPC?
Since I joined the union I have always contributed to Union committees because it strengthens my connection to my working colleagues. I enjoy the responsibility of working to improve performers' pay and conditions as well as trying to safeguard our industry in an ever changing environment.
6.What is the number one piece of advice you would give to a performer starting out?
Be a sponge for every aspect of the industry. Strive to understand not only the performer's processes but also the workings of all departments in the creative process. Most importantly do not neglect the business side of your job. By connecting with your union you can expand your knowledge of how contracts and awards apply to you and avoid being ripped off.