Guiding lights
---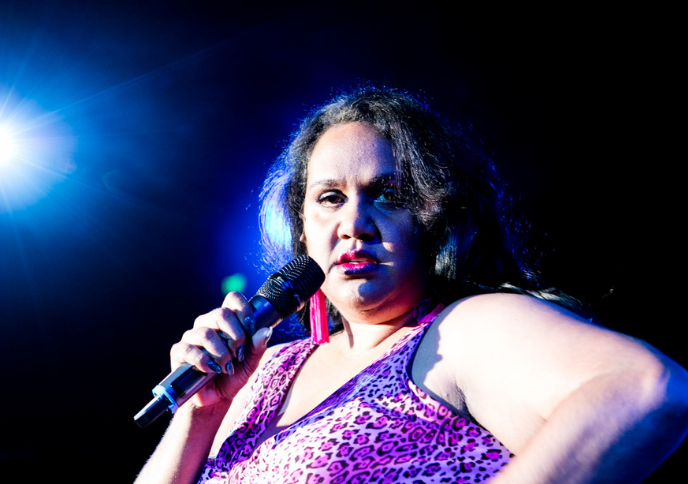 MEAA's new First Nations Organiser, Elaine Crombie, reflects on the people who have helped shape her career – and her life. Elaine is an actor, singer and composer, known for Top of the Lake, Black Comedy and Redfern Now. She is a Pitjantjatjara, Warrigmai, South Sea Islander woman.
---
Equity: Where did you get your interest in acting and music?
Elaine Crombie: I grew up in Port Pirie in South Australia and my Mum Lillian Crombie lived in Sydney. Mum was an actor and every Christmas, she would come home and bring some old scripts. We would play drama games, make up stories.  Visiting Mum on sets and growing up knowing people like Uncles Kevin Smith and Bob Maza and Aunty Justine Saunders, and the way they carried themselves, I'll never forget them and will always pay my respects and be thankful for my career, because without them, we wouldn't be where we are now. With regard to music, I've sung since I was 13; friends would request songs at lunch and recess and I would just sing. I love singing. I write my own songs and perform them when I get the chance.
Equity: Was it a conscious decision to follow this career path?
EC: I think I fell into acting, to an extent. I was 19 and I auditioned for Wesley Enoch to be in the chorus for The Sunshine Club, the show he wrote with John Rodgers. I always thought I'd be a famous singer, playing to stadiums, but that wasn't to be (yet … maybe). My decision to not take a 9-5 job two or three years ago is probably the most conscious thing so far.
Equity: How would you describe your time at the Aboriginal Centre for the Performing Arts?
EC: My days at ACPA are precious to me. I made lifelong friends and family connections. The resounding message I've taken away from that place is: Just do it, yeah! This is the main echo I carry in my head and heart. Michael Leslie is one of my greatest influences. He gave me belief in myself.
Equity: After your first audition with the QTC, you did a tour of regional Queensland. What was that like for you?
EC: Being on tour with some of my greatest influences – David Page, Tessa Rose, Ursula Yovich and Wayne Blair – was life-changing. The day we came home from the tour, everyone converged on my house in East Brisbane. It was only once I got home I discovered my best childhood friend, my brother, had passed away in Sydney. I screamed the house down while on the phone to my Nan in Port Pirie. With a broken heart, I finished the rest of the Queensland tour and then came to Sydney to do a season at the Opera House. During sound checks, I would sing and cry and then go and sit behind Uncle David and shed a few more tears, and then get on with it. That show changed my life and I'm forever [both] heart-broken and grateful.
Equity: Did touring become harder as a Mum?
EC: When the kids were little, it was easier to say: Get in the car, we're going on an adventure to see our Sydney family. Now they're older, they've made a clear choice that they'd rather stay in Port Pirie. I also made a choice that I'm out here to see what my dreams are made of and can I bring them to life. I'm in it for the long haul and my kids know that.
EQUITY: Are there any fellow actors/directors whom you consider mentors?
EC: Leah Purcell is definitely a mentor. We had a coffee the other day and I told her my plans to write a one-woman show. We got talking about Box the Pony and she said: "It's painful but you just gotta do it." I admire all of my peers, especially my black arts family. No matter what stage of their career they're at, they're inspiring and I hope I am to them also.
EQUITY: In terms of opportunities for Indigenous performers, what changes do we need to see in the industry?
EC: A greater understanding when it comes to telling our stories. 'Nothing about us without us.' Nothing!
EQUITY: Are there any acting jobs you're particularly proud of?
EC: Barbara and the Camp Dogs, most definitely. I got to act and belt out an original tune and spend quality time with my sister Ursula [Yovich]. See, even after 19 or 20 years, we are still here doing what we love.
EQUITY: What do you love and hate about being an actor ?
EC: I love the highs and I hate the lows.
EQUITY: What was your first National Performers Committee meeting like?
EC: It was an eye-opener for sure! I was inspired and moved. Seeing comrades working together and supporting one another was something I wanted for my black arts family. We need to be a part of this room. We need to be a part of this conversation. We needed to be a part of it yesterday. In saying that, we are here now. I've started to work on bringing together Indigenous brothers and sisters, aunties and uncles, friends and family who are involved in any and every aspect of the arts industry. The future is hopeful and bright, and I'm glad to be here now and to be a part of it.
This article was originally published in the Autumn 2018 issue of the Equity Magazine.