Spotlight on Sharna Galvin
---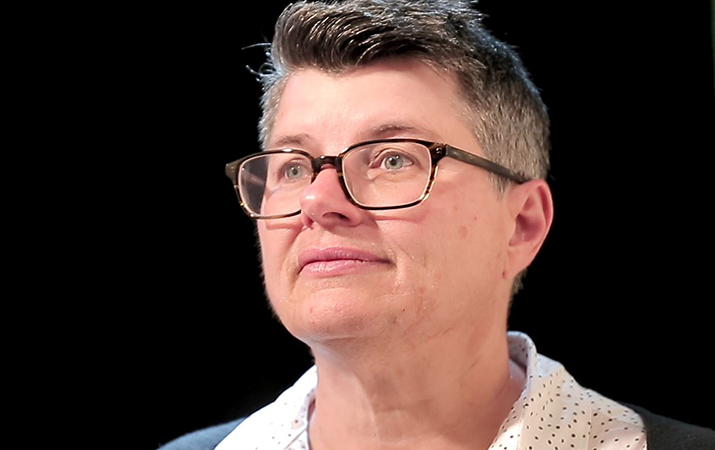 Sharna Galvin is a freelancer in theatre and events, stage managing, site managing and production managing, who mainly works as a casual in the Sydney Opera House's Stage Management team. She also occasionally directs theatre. Sharna is a MEAA Federal Councillor and member of the ECS national section committee, and earlier this year attended the Safe Theatres Forum in Melbourne as a representative of MEAA. She talks about her career and why she's a member of MEAA.
---
How long have you been working in the industry, and how did you get your start?
I started working professionally in 1984 – I'll let you do the sums. My first job out of college was as resident stage manager and lighting designer for the Riverina Theatre Company in Wagga Wagga, which gave me a very good grounding in creative problem solving and self-reliance. The other members of the company were very supportive but I was far away from home and in the 80's Wagga was a very remote place and a lot of things were hard to source locally and budgets were very small.
What does a typical day or week for you look like?
I don't really have a typical day or week – if I am working for a theatre company it is the same as all stage managers running a rehearsal room or a show. At the Opera House, generally I would be rostered half an hour before I am due to be in the venue with the event so I can read through all the documents around the event. I would collect any equipment I would need – laptops, first aid kits, keys, radios, towels for performers, table cloths, cleaning material for pianos and go to the venue ( there are six to choose from at the Opera House).
I check in with the production manager and liaise with clients. Like all stage managers, I will be the disseminator of information and am generally the client's go-to person. I will endeavour to keep rehearsals, sound checks, etc. on time. I will liaise with front of house get the show up on time and call the performance as required. At the end of the day I write my report and return my equipment.
What is the best thing about your job?
Variety – even the most boring gigs don't last too long. And people – I work with loads of great people both at 'the House' and in my other workplaces and many really interesting folk walk through the doors all the time.
What have been the highlights of your career so far?
I've done a couple of trips to China with Meeting Mozart which is a CDP [WHAT DOES THIS STAND FOR?] production for little kids and although China is a very frustrating place to work and my lack of Mandarin can get me into trouble, I love the folk I travel with and have a lot of fun with them. Even in frontier capitalist towns like Chongqing you can hop into a taxi between shows and find something amazing to see or do.
What would be your advice to people wanting to get into the industry?
I was told if you can imagine yourself in any other job do not pursue theatre. To a certain extent I agree, but I think a more valuable piece of advice is that the industry is so subjective that it is very easy to fixate on how well your peers are doing. So I would say don't worry about other people's careers; live and enjoy your own.
You recently took part in the Safe Theatres Forum – how was that experience and why was it important to be there? What do you hope the forum will achieve looking into the future?
I was invited with a couple of other stage managers to give our perspective on the issues and join the conversation about how ensure there is an industry-wide education around these issues and what safeguards and reporting should be applied.
The experience was very positive as there was consensus among companies and theatre workers present that industry attitudes and actions had to change and we were ready to do the heavy lifting to make it happen.
My hope is that industry standards are created, implemented, maintained and policed so we can make it difficult for the vulnerable to be abused or taken advantage of, and to change mindsets so that calling a co-worker or a boss out on unacceptable behaviour becomes the norm.
Why is it important to be a member of MEAA?
We as a society have forgotten the power of the collective and because of that business and governments see themselves as more powerful than the workers and are taking advantage of that power. As a result we are losing important conditions that past unionists and workers fought so hard to give us like Sunday loading, 10 hour breaks between shifts, etc. We need to take back our lost power to influence governments and businesses.
MEAA also provides many other benefits like providing insurance covering travel to and from work, and offering advice and support for a worker facing a variety of disputes with their employer. In many workplaces, the union assists workers with negotiating their enterprise agreement, so greater membership gives more bargaining power. The benefits outweigh the cost of membership 100-fold.