Federal Council finds MEAA in good shape
---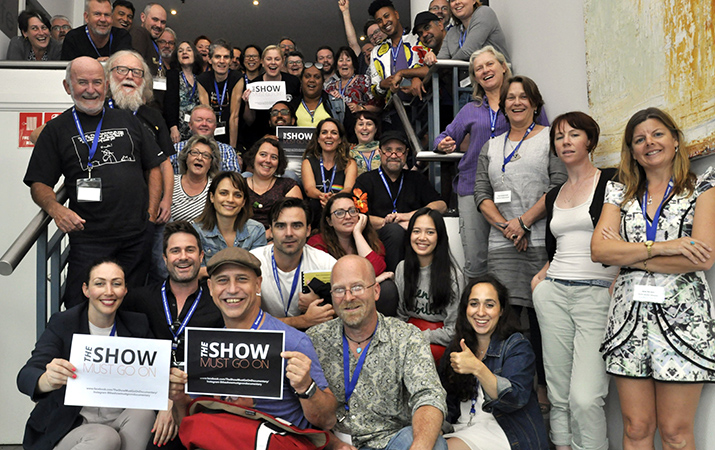 MEAA Federal President Simon Collins has issued a rallying call for the union to continue to innovate to remain relevant to its members in a rapidly changing working environment.
The union must be prepared to take risks and try new things to support members who are confronting job losses, insecure work, technological change and the "uberisation" of employment conditions, Mr Collins told MEAA's biennial Federal Council meeting on Friday.
"The challenges of our changing industries mean hard decisions need to be made about how to best allocate limited resources," he said.
"Do we continue to focus on resource-intensive bargaining campaigns at the traditionally largest workplaces? Do we put more resources into servicing our existing memberships in areas of strength? Or do we take the risky approach of concentrating resources on searching out and organising in new areas?
"At MEAA, we are responding through innovation.
"Just as the industries within which our members work are rapidly changing, so is the union. As I say, we cannot stand still. We cannot rely on the old ways. We cannot yearn for the past and hope for a return to the days of the closed shop."
Peak decision-making body
Federal Council is MEAA's peak decision-making body, where 94 elected rank-and-file representatives come together every two years to deliberate on the union's future direction.
It met on Friday and Saturday in Sydney. The full Federal Council meeting was preceded by national section committee meetings on Thursday.
The delegates were told that MEAA was holding ground in membership numbers, growing slightly over the past two years to about 15,400.
"The simplest metric of success or failure is our membership numbers and on this measure, MEAA is holding its ground, while around us some other unions are in freefall," Mr Collins said.
"Currently, we have a touch over 15,400 members, which is a marginal increase from when we met two years ago.
"Is this good enough? Perhaps not, but I can tell you there would many other unions who would envy these results."
The Equity section has increased members by 6% in that time, offsetting a decline due to job losses in Media. Entertainment, Crew & Sport and Musicians have also grown, while NZ Equity is fast-approaching 1000 members.
Support for Change The Rules campaign
The Federal Council received reports from each of the section directors, outlining their section's priorities for the next two years.
Media director Katelin McInerney said the section will continue to expand its services for freelancers on the back of the FreelancePro membership, as well as the CommsPro membership for people who work in communications and PR. An industry-wide campaign for good jobs for digital media workers is also gaining momentum.
Equity director Zoe Angus outlined the work the union is doing to tackle the culture of sexual harassment and bullying in theatre and screen. Equity, along with ECS, will ramp up the Make It Australian campaign this year.
ECS director Erin Madeley said the union was growing rapidly in the screen sector through the Get Real On Rates campaign, and would be seeking to improve pay and conditions for theatre and venue workers over coming years.
Musical theatre musicians will be an area of focus for the Musicians section.
On Friday, Federal Council was also addressed by ACTU Secretary Sally McManus and gave strong endorsement to the national union movement's Change The Rules campaign for a fairer workplace system.
In other important decisions, MEAA will be developing a Reconciliation Action Plan and rolling out an associate membership category for the supporters of the union's political and industrial campaigns.
Gold Honour Badges were presented to former Media section president Stuart Washington, former board member Lorna Lesley and Equity vice-president Jonathan Mill. These medals are awarded to members who have made a significant contribution to the union over a long period of time.
•  Read Simon Collins' full speech
•  See a photo gallery from Federal Council