Actors beat writers at annual charity cricket match
---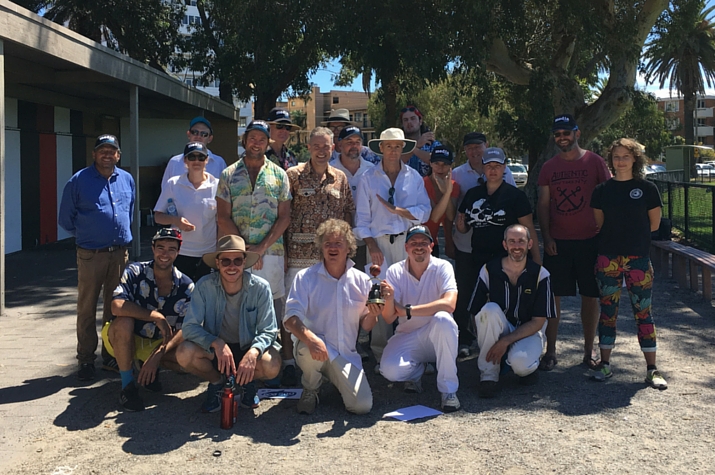 A strong comeback by the MEAA Actors team denied the AWG Writers team victory in a hard-fought but fun-spirited match in perfect cricketing conditions at the Peanut Farm Reserve on Sunday, writes Warwick Holt.
In the 33rd annual grudge match, the final score line of 127 to the Actors defeating the Writers on 98 didn't fully reflect the closeness of the tussle, with wickets tumbling in the final overs as the AWG batsmen took risks to try to reach the target (and losing five runs for each of those wickets).
Batting first the Actors got off to a steady start but things turned with John Pace's action packed first over, which featured a total of three wickets including one extraordinary caught-and-bowled which John finally took after sprinting more than half-way to the cover fence.
At the half way mark of their innings, the Writers were 61 off 12 overs, and were only propped up to their final tally by a fine performance with the bat by Nathan Strauss, who, batting twice, easily top scored with a total of 39. Other scores in double figures for the Actors were Leon Teague (12), Frank Magree (12), Clem McInnes (11) and Ezra Bix (10). Wickets for the Writers went to John Pace (2), Kate Hanley, Chloe Gaul, Haydn Growden, Josh Samuels and Warwick Holt, plus a run out.
The Writers started well, thanks largely to Kate Hanley (13) and Colin Cairnes (11), before Shane O'Neill (13) and John Pace (10) put on an extras-assisted partnership of 40, putting the AWG in a strong position on 75 at the 12 over mark. But some good bowling and fielding pegged us back in the second half, and when Shane and John went in again as the final pair, they needed 52, and while John's second dig netted him 15, Shane lost a few lives to risk-taking and an incredible one-handed pluck by Clem McInnes.
Nathan Strauss and Mel O'Shannassy each picked up two wickets, others went to Ezra Bix, Andrew S. Gilbert, Clem McInnes and Neil Pigot.
Well done to everyone who played, the playing and sportspersonship were both outstanding, and particular congratulations to Andrew S Gilbert on a successful debut as Actors captain.
Many thanks to Media Super's Trevor Miller for umpiring, as well as providing caps and keyrings for all participants. And to Chloe Gaul, Ruthi Hambling and William McInnes for their work behind the BBQ, and Catherine Wilson for helping out with salads.
Thanks also to those who came along and offered their support.
Please remember you can show your support for the match and the Ponting Foundation by pledging a donation here.
Warwick Holt is a writer and member of the Australian Writers Guild. Warwick has helped organise the cricket match for several years.