Why I'm a member: Tom Mraz
---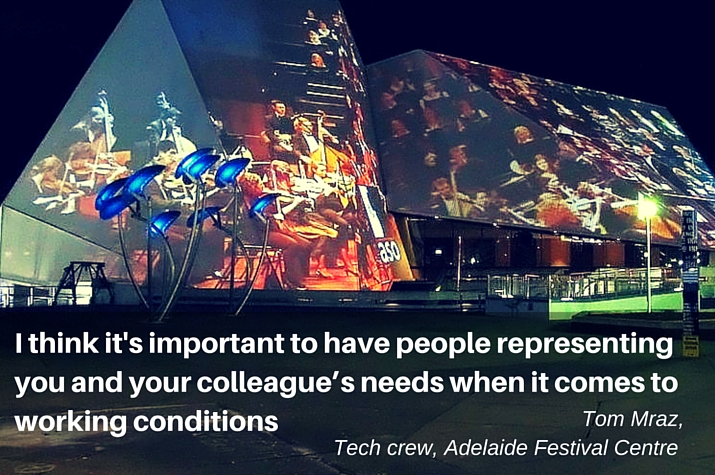 Tom Mraz works at the Adelaide Festival Centre as part of the production team. A proud MEAA member with a passion for the arts, he chats to us about some of the most fulfilling roles in his line of work, and some of the fantastic people he has met along the way. 
What is your role at Adelaide Festival Centre?
I am part of the production team, specifically as technical crew working within the mechanist department.
Take me through a full day for you at work.
A full day at work can vary wildly depending on what sort of production is in the theatre, whether it is opera, ballet or some other form of performance. The Adelaide Festival Centre also produce and run several festivals throughout the year, such as The Adelaide Cabaret Festival and the Guitar Festival, which call for their own specific work content.
In terms of traditional performances rolling up to our theatre, my day will consist of firstly unloading freight trucks filled with set, props and costumes, laying it out on the stage, and then bit by bit connecting all the pieces to construct the incredible sets that audiences come to see. Opera sets tend to be big, old, clunky things made of heavy steel and timber that require lots of grunt to bring together. Ballet sets on the other hand, tend to be slimmed down and more of a flown cloth framework, giving the dancers plenty of room to move. Carpentry and metal work skills have to be harnessed to make sure everything is functioning properly, because some sets are decades old requiring a little love to restore them to their original glory. Gaffer tape always plays an essential role.
Once the set is built, which can take up to several long days with lots of hands on deck, we move into rehearsal and then performance mode. Upon learning our cue plots, we rehearse and then perform all of the moves that are needed to make the set and props function within the show. This can sometimes mean donning a costume to quietly move about the stage without distracting the audience. Finally, we reverse the process and break down the set, load it back into trucks and sweep the theatre clean, all ready for the next show to arrive.
How did you get your start in the industry?
I always had a passion for theatre through school, originally finding myself onstage until one day I froze under lights in front of the audience forgetting my lines, and from that point on I chose positions backstage, behind the curtain away from the spectators!
A few years out of school, a friend recommended that I apply for a job at Adelaide's premiere theatre to get involved with the machinations of large scale productions. I relished the opportunity to see how it all works in the professional realm. I haven't looked back since.
What are some of your career highlights?
There are so many to date that it's hard to single out one in particular, but if I had to, it would be when I was given the opportunity to work on Robert Lepage's hallucinatory production of Needles & Opium. A completely psychedelic trip of a show, sound tracked by Miles Davis, it was incredibly demanding for the technical crew. The set was an open sided cube, revolving from its corner point with harnessed performers walking up and down walls as the cube slowly spun under dim blue lights and flawless 3D projection. My role was to work beneath the cube as it rotated, sometimes pressed flat to the floor as it moved just above my back, sorting props, closing doors as performers crawled through, and along with all the other local and Canadian crew, made sure the show went off without a hitch. At the end of each show, we were called out on stage to give bows among the performers - our hard work not going unnoticed or unappreciated.
That being said, for me the best thing about this gig is the people that I meet and have the pleasure working with. People from all across the globe, sometimes without shared language but always with a unifying passion for theatre, really make this job what it is. I've played charades over vodka with blokes from Poland, shared gelato with Italians backstage, laughed at loud with cocky Texans and built puppet sets with beautiful Tasmanians. I have good friends dotted around the world now from all of my years on the job.
What would be your advice for people wanting to get into the industry?
My advice would be simple - just dive into it. Study, if you are chasing particular qualifications but at the end of the day there is no substitute for real experience, so apply for positions until you get a foot in the door. The entertainment industry always needs new and up-and-coming talent to fill out the ranks, so don't be afraid to get knocked back on your way in. I find the industry to be filled with supportive people that are always willing to give you a go if you show the right enthusiasm and temperament. If you're open to opportunities, you will soon find doors opening up all around you, and it's almost impossible to predict where the job will take you.
Why is being a MEAA member important to you?
I think it's important to have people representing you and your colleague's needs when it comes to working conditions, be that how much pay you take home at the end of the week or how safe your job is. Not everyone has the time or know-how to navigate all the legal documents and negotiations that end up having a lot of control over your daily work life. As a member, you all have a say in what is important and what rights you want to see championed, and it is then the job of MEAA to fight for those needs to be met.