Vale Murray Smith, 1940-2016
---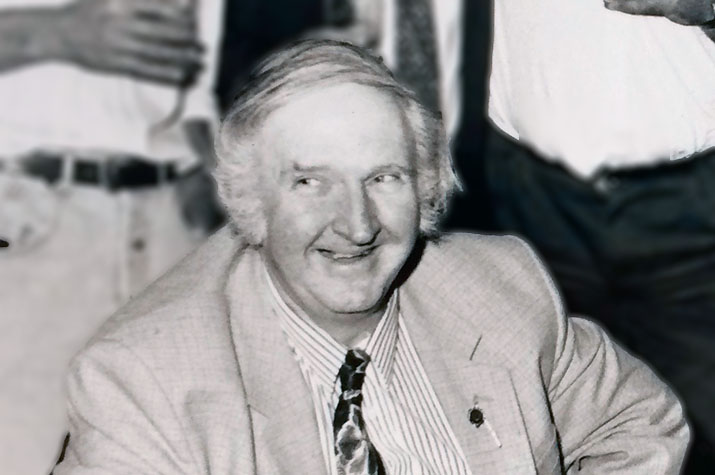 Murray Smith, who spent most of his career working for Standard/Leader newspapers in Melbourne, was a stalwart of the Australian Journalists' Association and MEAA for well over half a century. He was a delegate for many years who tirelessly recruited dozens of members and attended countless union functions and events. Our thanks to Paul Amy and Leader newspapers for permission to reproduce this obituary:
HEARTS are heavy that he's gone. Some of us thought he'd live forever, dispensing quiet wisdom and wit around newsrooms in his kind, unassuming manner.
But it's a comfort to know that Murray Smith — the legendary editor who worked at Standard/Leader Newspapers for 56 years — died with a book lazing in his lap and surrounded by a stack of newspapers.
Words were his life, and he did some wonderful things with them.
When his old pal George Coote died in 2000, Murray delivered an obituary that no itchy-fingered subeditor could touch. One reporter cut it out and kept it in his wallet, hoping some of the magic of its expression would rub off. It never did.
His tribute to Standard photographer Bruce "Scoop'' Dynan a few years earlier was also worthy of clipping.
As a reporter, he thought everyone had a story to tell. He once said that you could stop any person in the street, chat to them for a while and find something valuable to write about.
As a sub and news editor, he had a gift for eye-taking headlines and putting a sparkle to so-so copy, as many grateful reporters will attest.
He was unceasingly thorough. Shortly before his retirement in 2012, he picked up a sleepy story concerning a tennis club. Unsure of a name in it, he tried to contact the reporter. Eventually he tracked down a number for the club, spoke to the secretary, corrected the name and sent the story off, another blush spared.
This gentle and humble man was also a mighty mentor to scores of young journalists, always preferring encouragement to admonishment.
---
"Journalism wasn't a job to him; it was a craft that required the utmost care and respect."
---
They never forget his guidance. When The Age ran a series called Personal Heroes in 2001, the great journalist Peter Ellingsen spread his wings over a full page in praise of Murray Smith.
"Conversations with Murray, as I found after landing a cadetship in his office, revolved around him listening, nodding and chuckling, always with a twinkle in his eye and a Coke can in his hand,'' Ellingsen wrote.
A cadet who in the late 1980s joined Standard when it was in Park Rd, Cheltenham, was hired by regional editor Garry Barker but walked through the newsroom by Murray Smith, who also took the time to explain the preparation and presentation of the newspapers and the need to work fast, to be concise and to be right. Another newcomer quickly put at ease — and quickly handed a membership form for the Australian Journalists' Association!
Colleagues also remember his prodigious work ethic, how he reported for work early and was the one to turn off the lights as he left.
Journalism wasn't a job to him; it was a craft that required the utmost care and respect. The salary was apparently a bonus; envelopes containing pay cheques could be seen spilling out of his desk drawer. He often forgot to cash them, to the chagrin of head office.
The accumulation of pay slips was nothing compared to the books, magazines and of course newspapers that built up around him.
He bought the dailies every day and what he didn't get through he set aside. He also supported the careers of reporters once under his wing by buying their publications. And so the piles increased.
He owned many books — they nourished his curiosity — and 300 or so formed a library for colleagues. Others he gifted to young journalists.
He must have bought 10 copies of The New Journalism and The Art and Craft of Feature Writing.
In his later years Murray Smith was a little hard of hearing. But he was always deaf to praise. He'd meet it by dropping his head and making an unobtrusive inspection of his feet. Modesty could have been his middle name.
When he retired, he made it clear he wanted to go out quietly, brushing colleagues' attempts to have a turn at head office and a drink in town.
"Hey, NO parting gifts of any kind for me, thanks, mate,'' he wrote to a colleague. "Most desirous of a no-fuss ease-out.''
Murray Smith was 15 when he started at Standard Newspapers in 1956. He was the legendary Murray Smith when he finished at Leader Newspapers in January, 2012.
A funeral service will be held at the Wilson Chapel, Springvale Cemetery at 10.45am on Tuesday.