The year in press freedom
---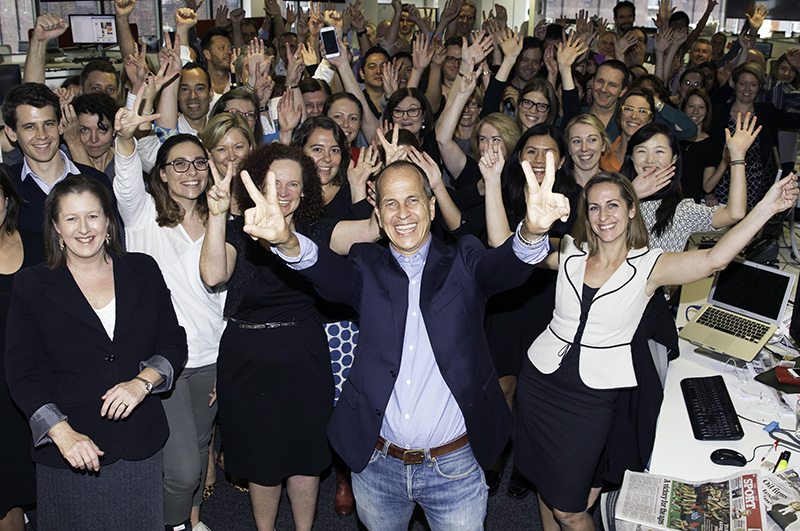 The past 12 months have been tough for defenders of press freedom and free speech.
During the past year, press freedom in Australia underwent the most sustained assault in peacetime as government legislation sought to persecute and prosecute whistleblowers and the journalists they work with and to criminalise legitimate public interest journalism.
MEAA has been at the forefront campaigning against these changes. More details can be found in MEAA's report into the state of press freedom 2015: Going after Whistleblowers, Going after Journalism.
Asio Act
A new section in the Asio Act, 35P, threatens journalists and their confidential sources with up to 10 years jail for revealing the existence of a "secret intelligence operation".
Because an operation is secret, it is possible that a journalist could inadvertently report a legitimate news story about an operation but be jailed for doing so.
The law is also so sweeping that it punishes journalists for legitimately scrutinising Asio's operations, particularly if Asio has been engaged in an illegal activity or if an operation is a threat to public health and safety.
MEAA subsequently made a submission to the Independent National Security Legislation Monitor regarding our concerns with section 35P.
Foreign Fighters Act
New legislation extended the life-span of several aggressive counter-terror laws beyond their original "sunset" dates.
Amendments also gave a broad definition of "advocacy" of terrorism that could undermine freedom of expression. And attempts to prosecute people in proscribed areas could threaten some journalists as well as those who work with them, such as interpreters, drivers, fixers and personal security personnel.
Data Retention
The amendments to the Telecommunications (Interception and Access) Act require telecommunications companies and internet service providers to retain two years of telecommunications data which can be accessed by at least 21 government agencies.
A last minute amendment, introduced without any industry consultation, created Journalist Information Warrants.
This requires all the agencies except Asio to seek a warrant before accessing a journalist's or media organisation's telecommunications data for the purpose of identifying a confidential source.
As such, the warrant circumvents the ethical obligation to protect the identity of confidential sources "in all circumstances".
The warrants operate entirely in secret under threat of a two-year jail term.
A Prime Minister-appointed Public Interest Advocate will argue the matter before a federal judge or member of the Administrative Appeals Tribunal but will not "stand in the shoes" of the journalist or media organisation who are unable to defend the public interest of their journalism.
Border Force Act
The Act makes it a criminal offence, punishable by up to two years in prison, for anyone working at a detention centre to reveal to the media anything that happens in the centres. Because of this, journalists have had to work with their sources in secret.
Raids carried out by Nauruan police have seized the phones and computers of centre staff and NGOs with the aim of identifying journalists' sources.
Australian journalists abroad
MEAA has campaigned on behalf of Australian journalist Peter Greste and his Al Jazeera colleagues detained in Egypt from the moment they were arrested in December 2013.
We were delighted when Peter Greste was finally allowed to return home in February 2015 after being deported but we remain dismayed that while his two Al Jazeera English colleagues were pardoned, at the time of writing Peter is still waiting on a pardon and at least 18 journalists continue to be detained, without charge or trial, and are repeatedly denied bail.
MEAA also worked closely on the case of Alan Morison and his colleague Chutima Sidasathian of the news web site Phuketwan.com who were charged with criminal defamation by the Royal Thai Navy over a paragraph reprinted from a Pulitzer Prizewinning Reuters investigation on the plight of the Rohingya people. Both journalists were subsequently acquitted.
MEAA continued to press the Australian Federal Police (AFP) to conduct war crimes investigations into the murder of the Balibo Five and Roger East in 1975. We were dismayed when, in the week of the 39th anniversary of Balibo murders in October 2014, the AFP announced it was abandoning its investigation without ever having made contact with the Indonesian National Police seeking information from Indonesia.
MEAA also urged the AFP to consider extradicting Mullah Krekar from Norway over his alleged involvement in the murder of ABC cameraman Paul Moran in northern Iraq in 2003. Krekar subsequently reoffended and was arrested by Norwegian authorities.
Other laws
During the year the South Australian Government refused to countenance the need for shield laws that recognised journalist privilege, thus blocking the push to a uniform national shield law regime.
The Tasmanian Government briefly considered reintroducing the ability for corporations to sue for defamation but, as MEAA reminded the state Attorney- General, this would have required the approval of all jurisdictions under the uniform defamation law regime. The proposal was eventually abandoned.
This article is from the MEAA 2014-15 Annual Report.