Ten top tips: Pip Edwards
---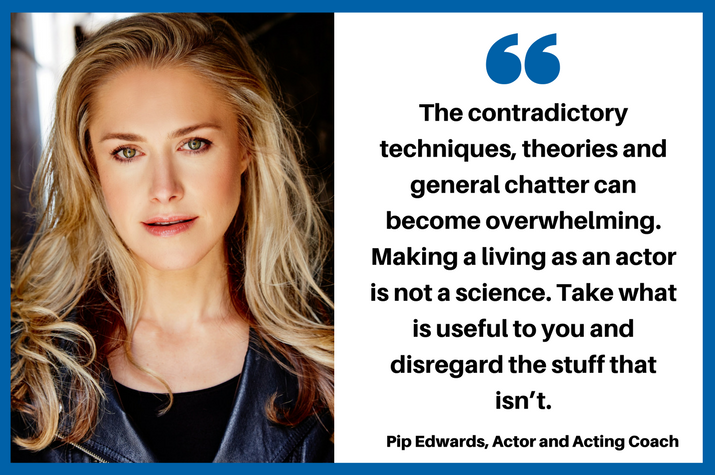 Life as an actor is unpredictable but there are several things you can be doing to give yourself every chance of success. Here actor and acting coach Pip Edwards provides her ten top tips for taking control of your career.
Through her coaching and self-taping studio, Pip has helped actors book roles on many productions, including including 'Truth', 'Hacksaw Ridge', 'Pulse', 'Home & Away', and 'Neighbours', with major theatre companies including STC, Belvoir, and MTC, and into drama schools such as NIDA, WAAPA, and ACA. She also mentors actors through career advancements such as changing agents, transitioning from 'hobbyist' to jobbing-actor, industry knowledge and connections, and moving to LA. Pip teaches acting, screen-acting, auditioning, and 'business of acting' at many of Australia's leading drama schools and studios. Pip also runs weekly private/small-group classes for actors wanting to break through barriers and develop their craft. As an actor, Pip regularly works in television, film, theatre and TVCs (credits including 'Home & Away', 'A Few Less Men', 'Anzac Girls', 'Miss Fisher's Murder Mysteries' and with MTC). Since graduating NIDA, she has trained extensively in both Australia and the US. Pip has been host/presenter on a number of live and recorded events, panel discussions and programs, including work as a TV presenter. Visit www.pipedwardscreative.com
1.Target. Where do you want your acting career to go? Recognise your strengths, weaknesses, opportunities and threats. Identify your unique story and allow that to inform your path. Write a list of goals that you can control, and be accountable. Break big goals up into do-able tasks: updated headshots, American accent, audition technique, reel footage, vulnerability, industry connections and knowledge. Remember that 'booking the job' is not within your control, so don't bother wasting your energy worrying about that.
2.The power of 'yes'. Be prepared for the curve ball. It's okay for your path to change. Whether the industry throws some peculiar opportunity at you or your goals change, enjoy the ride. You may spend years slogging uphill, when suddenly a string of unexpected opportunities arrives and you have to make decisions NOW. Don't let time-pressure, self-sabotage, imposter-syndrome, perfectionism, fear or the survival job get in the way. If it feels right, just say 'yes'. You'll work out how to do it.
3.And sometimes the power of 'no'. You don't have to say 'yes' to everything, nor do you have to put your entire life on hold for your career. Claim the power you have. Trust that there will be other opportunities.
4. Moolah. Acting costs money. Headshots, casting sites, audition clothes, classes, travel, Equity membership fees, the time-cost you take off from your survival job to audition or pursue your passion project. Try re-framing your thinking. Every small business has start-up costs and every entrepreneur expects to spend money to make money.
5. Time. Being a committed actor means living at least two lives (more, if you are a slashie). Be honest: are you turning down auditions and opportunities because it's too late to get the time off work? Are you unprepared for acting class because you're tired after a big day? If you're serious about your acting career, find a survival job that allows for flexibility. You will be tired sometimes, but that is better than living with the knowledge that you never really gave it your all.
6. Toolkit. Have your 'actor toolkit' sorted. Popping headshot. Clear resumé. Showcast, Casting Networks and IMDbPro profiles up-to-date. A good portfolio of footage – demo-reel or self-tapes. Flawless American accent (The Equity Foundation regularly runs free accent workshops). Self-taping knowhow. Audition (and audition TVC) skills. Audition wardrobe. Industry knowledge. Good relationships. Creative community. Ninja mind-set.
7. Self-tape. If you haven't already done so, try setting up your self-taping studio now, before the self-tape arrives. Whether you can't be seen in the room, are interstate/overseas or want to put down mock-sides as practice or reel footage, self-tapes are a fabulous way to showcase your work. They can, however, be stressful if you're a technophobe. Work out where in your house you can shoot so that you can be seen and heard, camera/tripod/mic/lighting/backdrop set-up, shot size/framing, edit/upload according to file-size instructions and finding at least one or two good reader-friends. The Equity Foundation runs a monthly Self-Test Project, which gives you a chance to tape your auditions and get feedback from top casting directors.
8. Internet-land. It exists and can allow you to be extremely proactive. Research the trades and funding-body websites to find out what is coming up, use IMDbPro and production-company websites to learn who's who, watch every Aussie show on catch-up TV. Use social media productively: Facebook is great for expanding and nourishing your network of peers and potential collaborators; use Twitter if you've got something to say; and use Instagram if you're good with images.
9. Golden age of television (or the Wild West). The multitude of platforms for self-generated content means there are no rules any more. You can take responsibility for your career and artistic fulfilment. If you have a knack for producing, writing or directing, get amongst it! If you're not a born slashie, identify your strengths, and collaborate. You're drawn to acting because you love to act, so do it.
10. Bottom line. There are a lot of (ahem) 'gurus' out there, with a lot of opinions about how to be an actor. The contradictory techniques, theories and general chatter can become overwhelming. Making a living as an actor is not a science. Take what is useful to you and disregard the stuff that isn't. Do your best acting work, be gracious, make fearless choices and be your daring, curious, creative, fabulous, authentic self.