Ten top tips: Janine Snape
---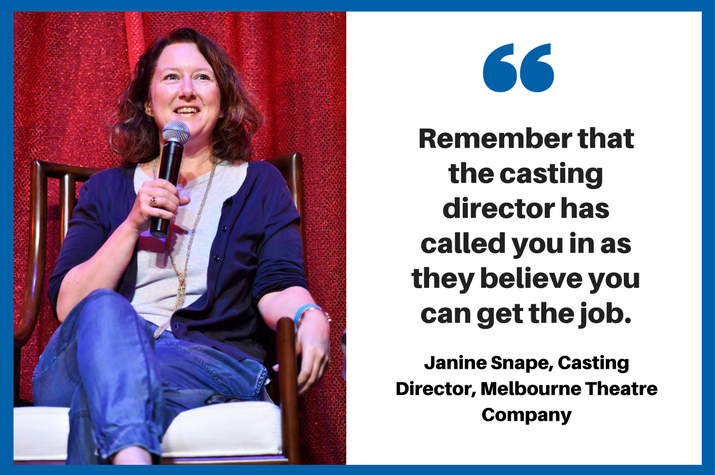 Janine Snape is currently the casting director at Melbourne Theatre Company. Here are her ten top tips on how to make the most of every casting opportunity. 

Janine Snape's previous experience includes casting at the Royal Shakespeare Company, as well as film, commercials and TV casting in the UK. Janine is a member of the Casting Directors' Guild of Great Britain and Ireland, and the Casting Guild of Australia.
1.Listen and respond to the director's instructions in an audition and adapt your performance accordingly. If you are not sure where or to whom to direct your performance, ask.
2.Choose wisely. If you are meeting for a general, choose audition pieces that you are passionate about and show you at your best.
3.Be prepared. Make sure you have your showreel and voice clip uploaded onto your Showcast page.
4.Plan ahead. When inviting casting directors to shows, give them as much notice as possible and follow up with a reminder closer to the time.
5.Be polite, be courteous, be yourself.
6.Have confidence. Remember that the casting director has called you in as they believe you can get the job. We want you to do well.
7.Allow plenty of time to sit and collect yourself before an audition, but don't arrive hours early – we may not have the space set up to accommodate you.
8.Know who you are meeting and make eye contact with/engage everyone in the room when you enter.
9.Be flexible in your approach – it's great to come in with your own ideas but remain open-minded and able to take on board a director's vision. Don't talk over the top of them.
10.Do your research. If you are sent the full script, read it. If you are meeting a particular director or auditioning for a particular company you are unfamiliar with, have a look at their previous work so you can discuss past projects and their approach and style, if this comes up in conversation.