Ten top tips: Financial fitness
---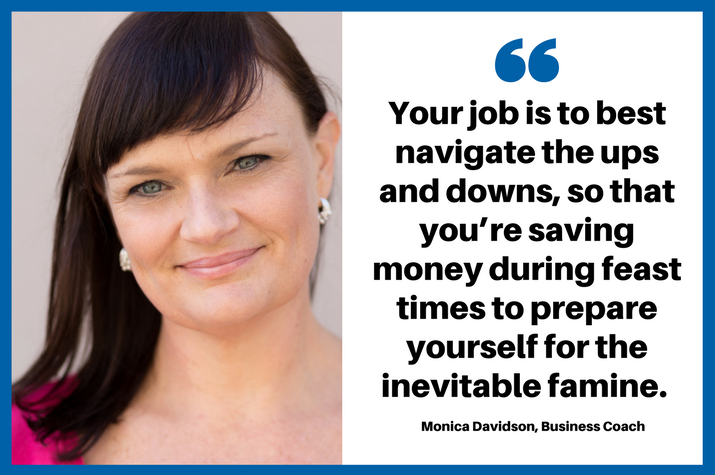 With more than 25 years' experience as a freelance writer and filmmaker, Monica Davidson now uses her expertise to help creative professionals understand business basics, money, tax, legal issues and marketing.  Here are her top tips for performers wanting to start the New Year on top of their finances. 
Monica Davidson is an award-winning expert on the creative industries, who began her creative life as a freelance journalist and filmmaker before starting a film-production company in the early 1990s. Her experience highlighted how unprepared creative people can be for a life of entrepreneurship. Davidson decided to use her expertise to help other practitioners develop and improve their business skills, and now she works with individuals and larger organisations as a business advisor, strategic consultant and workshop facilitator. For more resources, help and free downloads, visit www.creativeplusbusiness.com
1. Accept that feast and famine are the norm. Being a performing artist means living with an irregular income. It's part of the deal, and it's not anyone's 'fault'. Your job is to best navigate the ups and downs, so that you're saving money during feast times to prepare yourself for the inevitable famine.
2. Rethink what you earn. The term 'to earn' implies that you have the crystal ball of regular income to help you understand your finances. As a freelance worker or jobbing artist, you'll never really know what you're going to earn, so it's a flawed system. The traditional way of managing money is to figure out what you earn, then work out how much you can afford to spend. Freelancers need to flip that – instead, figure out how much you cost, then work out how much money you need to earn to meet that cost.
3. Learn how to manage your spending. Working out how much you cost, as a starting point, means understanding your budget. How much does it cost to make your work, and run the business behind the work, and sustain your lifestyle? All three budgets need your attention. Do your best not to guess but to work it out based on receipts and bank statements. Guessing and money are not friends!
4. Understand what your minimum rate means. Actors Equity and MEAA negotiate wages and conditions, and fight for the professional and policy issues that matter to performers. They set Equity Minimums, which are the least amounts that you should be getting paid for various kinds of work. Your rate can then be negotiated up from this point. To find out the most recent rates here. 
5. Work out what to charge. In addition to your minimums as a performer, you might also need to negotiate your rate for other kinds of work, such as event hosting or teaching. There are no hard-and-fast guidelines about what to charge, sadly, so just remember the golden rules – you can charge whatever the market can bear, and whatever you can get away with.
6. Project your cash flow. This is very simple – it's the process of looking into the future, and working out how much money is going to flow in and out of your professional life in the next few months. Most creative practitioners only ever look into the past, if they look at the money at all. Once a month, sit down and project your cash flow, and anticipate whether or not you have enough. If you don't, work out what you're going to do about it before it becomes a big problem.
7. Diversify your income. There is a common myth that if you are a jack of all trades, then you are a master of none. In the creative industries, this is completely false. The only people who have a single source of income are those who have traditional jobs. Businesses, even freelance creative businesses, need to diversify their income in order to survive. How many different things can you do to make money? Remember, even cafés have to sell more than just coffee.
8. Take care of your taxes. It's tempting to stick your head in the sand and ignore your tax responsibilities, but do so at your peril. Taxes are horrible and boring, but they are also a necessary part of life. The best place to go for more information is the Australian Taxation Office.
9. Understand superannuation. Many creatives are unaware of the responsibility that clients and employers have when it comes to paying your super, even as a contractor or freelancer. It is very likely that your super should be paid for you, even if you have an ABN and issue invoices. More information here.
10. Get professional help. It's important to seek help for your financial situation, but make sure that your advisor is familiar with the performing arts and able to understand the specific needs of artists when navigating the financial feast and famine.