Sports journalists want fairer go for women on and off the field
---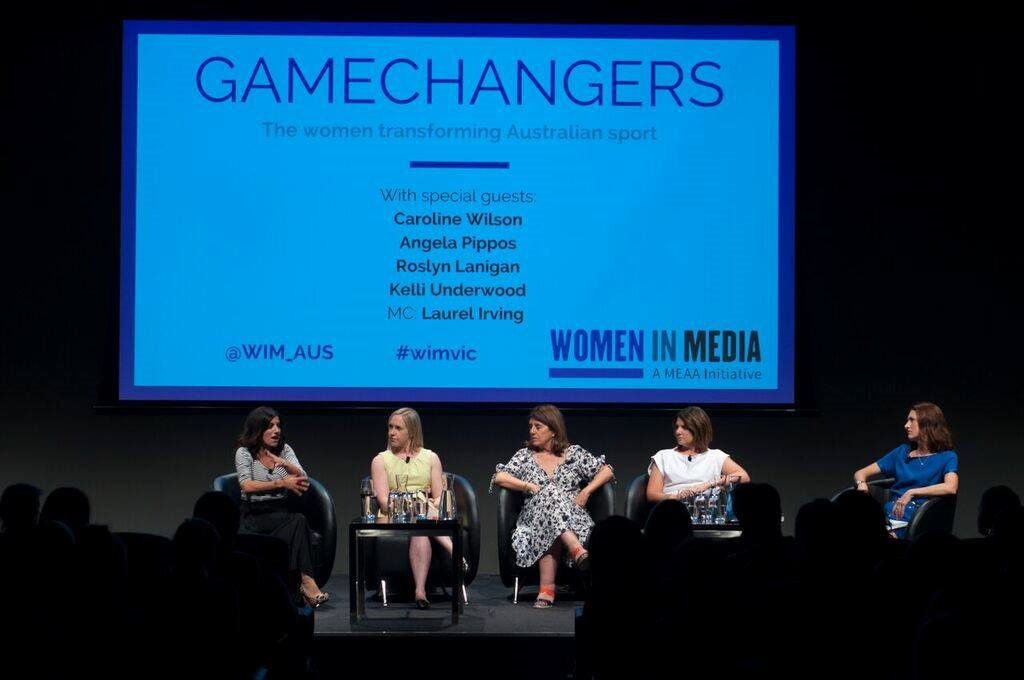 The sports media in Australia is "still pale, male and stale," broadcaster and writer Angela Pippos has told a panel discussion on women in sport and journalism.
"It's conscious and unconscious bias . . . that's what you're up against," Pippos said. "We're talking about undoing centuries of traditions and customs here. Sport and masculinity have been doing a merry dance since ancient Greece."
Pippos was joined by commentator Kelli Underwood, Crocmedia's Roslyn Lanigan and The Age's Caroline Wilson on the panel, convened by MEAA's Women in Media Victoria mentoring and networking group and held at the Melbourne Convention Centre on Thursday, March 10.
The crowd of about 120 heard that despite recent progress gender inequality is still rampant both on and off the field. Wilson said she was "horrified" when she met with female journalists at Fairfax Media and realised the extent of the pay gap at the company, "and this was last year".
A recent MEAA survey of the media industry found an entrenched gender pay gap of 23 per cent.
And some workplaces in the traditionally blokey world of sports journalism remain unwelcoming to women. "When I started 12 months ago at [sports content provider] Crocmedia, I was not welcomed by the all-male production team, not in any sense," said Lanigan. "I like to think I've helped change the culture there a little bit, but it's hard."
The panel celebrated the recent success of the AFL's Women's league. "If you told me five years ago I'd be commentating women's footy in front of big crowds, I honestly would never have believed you," said Underwood, who calls matches for Fox Sports. "Five years ago we were desperately trying to get women's sport on free-to-air television, and now on a Saturday night you can sit back and pick between sports. It's remarkable."
The popularity of the league also took Wilson by surprise. "The best crowd in the women's league last weekend was the same as the average crowd for the opening of the NRL season. It's just unbelievable," she said. "I think some of the clubs [that] didn't really push for [women's] teams, like Hawthorn and Sydney, are now looking a little foolish."
She also called out the lack of female administrators in the AFL. "I cannot understand how somebody as forward-thinking as Gil McLachlan... how you can have the guts to fast track a competition but not fast track a woman commissioner, is beyond me. That's an opportunity lost."
The panel agreed that players in the women's league were doing at least 50 per cent more than what they were being paid to do. "When the Richmond coach is complaining about six day breaks [between matches] . . . it's just embarrassing when you see what the women are doing, pretty much for nothing, for free," Wilson said.
Pippos said that progress for women footballers would come from taking a stand. "For there to be change you need to be more than just grateful," she said. "The Matildas (the national soccer team) took a stand and that was fantastic for all women in sport." In 2015, the Matildas went on strike over low pay, and subsequent negotiations led to a rise in the base salary for top players to $41,000 a year, plus match fees.
The current base salary for AFLW players is around $8500, with marquee names attracting $25,000. It's chump change compared to what the men earn: Underwood noted that the average male player's $300,000 salary could fund an entire AFLW club.
Wilson said she wouldn't be surprised if the contracts were re-written ahead of next year's league, with pay rates being bumped up.
Channel 7 journalist Laurel Irving, who moderated the panel, pointed out that many of the hurdles facing female athletes also applied to women in the media industry. The panel agreed, and held up Wilson's role as a trailblazer in journalism. Asked if she had ever considered giving the game up, Wilson noted that during the Essendon saga, lawyers and spin doctors working for former coach James Hird and others "occasionally told me that when it'd all be over, I'd be gone. "That's the only time I'd say that [my job has] been hard on my family.
"I get really disappointed with some of the people," she continued. "This morning, [former AFL coach] Mark Williams apparently went on a radio station and called me a sad old lady because I had a crack at him in a column. Well he's older than me, and a lot sadder!"
Pippos noted that the response to Wilson's journalism came down to one thing: she's a woman with strong opinions about sport.
Collingwood president and media personality Eddie McGuire's comments on Triple M radio last year about drowning Wilson also came under fire. "When [he] uses that language, he gives his audience the green light to use it about me, or Ange or Ros," Underwood said.
Wilson noted that she ignored the running commentary on social media. "It's too many people who don't have the guts to say things to your face," she said, to audible agreement from the audience.
Workplace cultures directly influenced where the panellists chose to work. Underwood said she was attracted to the ABC and Fox Footy because of the positive and encouraging environments. "If I went to Triple M, would I feel the same way, given they're targeting different audiences? I wouldn't have thought so."
The broadcasters agreed that they were constantly being judged on their looks. Underwood recently walked a red carpet at an awards ceremony because it was the only way to enter the building. She opened up the next day's Daily Telegraph to find her appearance had been rated out of 10. "I'd love to see Gerard Whateley given a score for walking the red carpet," she said.
When Pippos worked at the ABC, the top drawer of her desk was "full of letters that were just people talking about my hair."
Asked for the advice they would give emerging women journalists, Wilson offered a characteristically no-nonsense response. "If you want a pay rise, you go and ask for it," she said.
Pippos mentioned the importance of calling out sexist behaviour. "It's easier to speak out now," she said. "You'll find somebody who'll back you."
"You need an element of toughness about you," Wilson added. "Expect severe competition."
Underwood agreed. "You have to develop a thick skin to make it in this industry."
Words by Anders Furze Co-published with The Citizen. Photo - Mark Farnell.