Performers combine to combat mental health stigma
---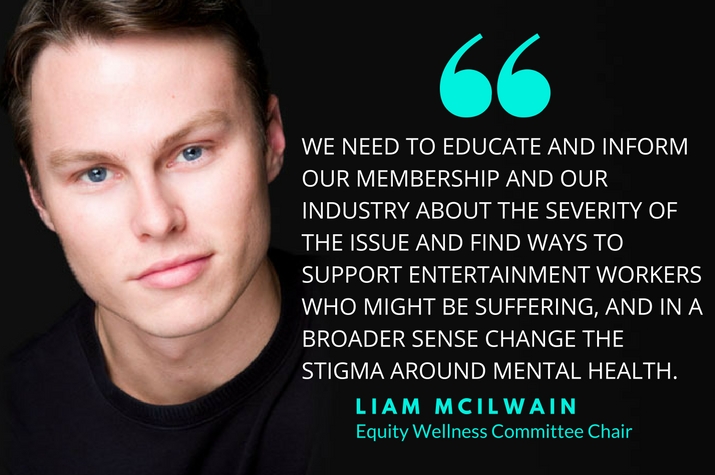 The newly-formed Equity Wellness Committee has held its first meeting to start setting in place an agenda to put performers' physical and mental wellbeing at the forefront of all Equity activities.
The committee has been established to work on responses to two surveys last year which found high levels of anxiety and depression among actors, including the Equity Foundation's Actors' Health and Well-being Study, conducted by researchers from the University of Sydney.
Key objectives of the committee include reducing stigma about mental health within our industry and providing resources to performers to help support their mental wellbeing.
Members from around Australia took part in a phone hook-up meeting at which Liam McIlwain, a Melbourne-based actor and member of the Equity National Performers Committee, was appointed chair of the Wellness Committee.
He has seen first-hand how fellow performers struggled with mental health issues associated with their work, particularly performance anxiety.
"I haven't personally suffered but I have witnessed many close friends suffer from it and it's something that has been on my radar for some time," he says.
"It's something I have been passionate about and just in the last few years I feel people are talking about it."
McIlwain says the high incidence of depression and anxiety was a byproduct of the particular demands of working in a competitive and creative sector.
"It's the nature of the industry. The fact that a lot of performers are shift workers, they spend a lot of time away from home sometimes interstate when they are on a production, that there's not a lot of work around – there are so many challenges coming at people and that's all feeding into mental health issues.
"Another thing that came out of these surveys was how little Australian actors are making from acting and the high number of actors who are living below the poverty line, and there is a relationship there as well."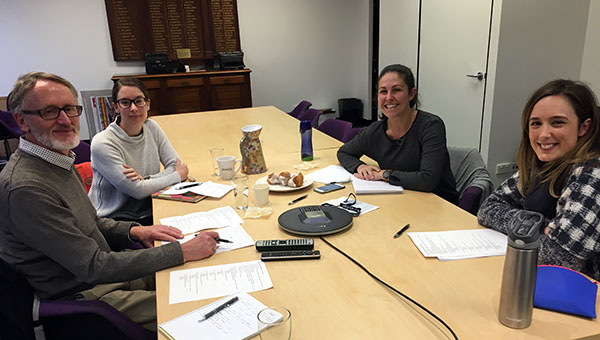 Melbourne Wellness Committee members during last week's phone hook-up. Photo: Ruthi Hambling
McIlwain says there is still stigma related to mental illness that actors felt uncomfortable talking about.
"What's scary about mental health is people get very practised at hiding it and a lot of people are self-medicating with alcohol and drugs," he says.
McIlwain, who was involved in putting together the Out From Under concert for Entertainment Assist last year, hopes that educating and supporting performers will help to change attitudes about mental illness.
"I feel that in the last few years there has been a shift not just in our industry, but in a broader sense people feel more confident to talk about it," he says.
"The good thing about Out From Under was afterwards people came forward with their own stories. It's amazing when you give people the opportunity to talk about it, they will come forward."
• People who feel they need support for a mental health issue should talk to a GP or health professional or contact one of these free services: SANE Australia Helpline 1800 18 SANE (7263) www.sane.org; beyondblue support service line 1300 22 46 36; Lifeline 13 11 14 www.lifeline.org.au