My MEAA story: Aarti Betigeri
---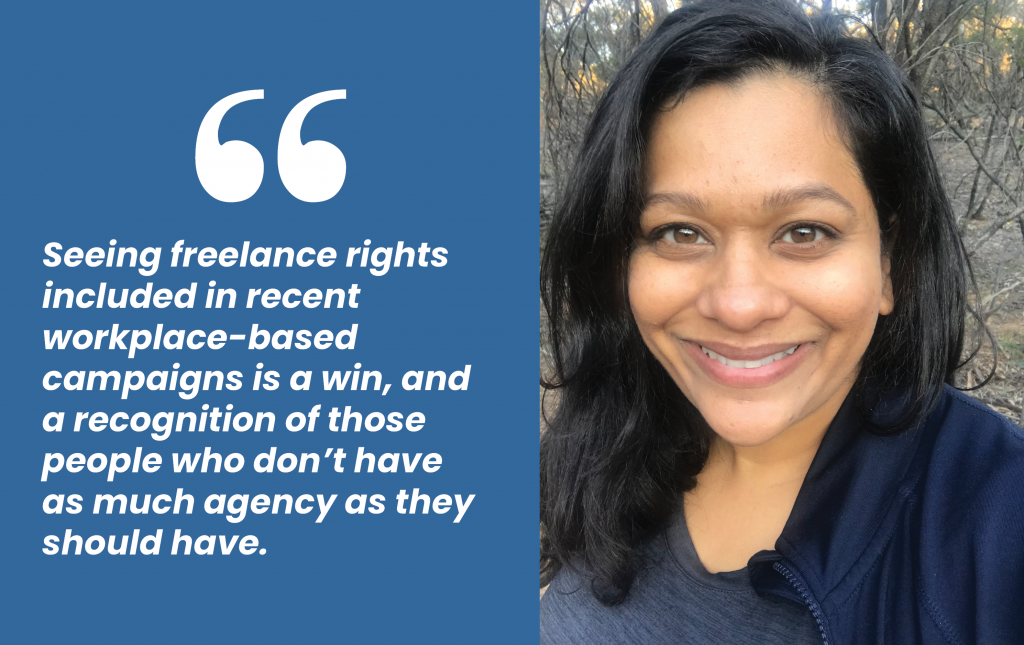 Aarti Betigeri is a freelance journalist and media adviser.
---
I started my career in journalism working nights and overnight shifts at SBS Radio in Melbourne in the newsroom. It was an amazingly fast ascent into journalism: within weeks I found myself covering federal politics and courts.
During the daytime I was working to carve out a niche as an arts writer for the now-defunct street press publication Inpress.
From there I spent time in the ABC radio newsroom before moving to Sydney, where I first worked at AAP, then back to SBS where I had my first taste of television newsreading.
I travelled back to Melbourne to work at ABC Australia Network where I remained for a few years before quitting to fulfil my dream of working as a foreign correspondent in India. My initial plan had been to stay there a year or two, but I thrived so ended up living there for almost nine years.
While there I filed for outlets around the world, including the New York Times, Wall Street Journal, Time, GQ, Newsweek, Al Jazeera and more, and was also the Delhi correspondent for Monocle magazine.
After returning to Australia, this time to Canberra, I spent a bit more time in the ABC newsroom before heading to the ANU to fulfil another goal, to study a Master of International Relations.
Nowadays I keep a toe in freelance journalism, however my day job is as a media advisor in the humanitarian world, for the aid sector's peak body ACFID.
I first joined MEAA early on in my career; I had already belonged to unions via my university jobs in retail, and my high school job at McDonald's.
It seemed normal and natural to me to join MEAA – particularly as my early years were marked with casual work and almost no job security.
After I moved back to Australia, a MEAA state delegate asked if I'd join the freelance committee, which I have been on ever since.
I've been involved in the long-running campaign to gain recognition and awareness of freelance issues and rights.
The casualisation of the media workforce is a festering sore that has never been properly addressed, not when I was a 23-year-old working overnights with no idea of when my next shift would be, or now, when I know talented, seasoned professionals are still worried about their next contract, or how to fill the twelfth month of the year with decent work, around their annual 11-month contract.
Seeing freelance rights included in recent workplace-based campaigns is a win, and a recognition of those people who don't have as much agency as they should have.
I sometimes get approached by freelancers wanting advice on how to get money from slow-paying or no-paying publishers. I do encourage them to join the union because collective bargaining is proven to pay dividends.
We have seen how other industries have raised awareness and consequently helped to shift the dial on bad practices. Doing the same in the media takes time, and it takes many hands.