Member profile: Joe Loh
---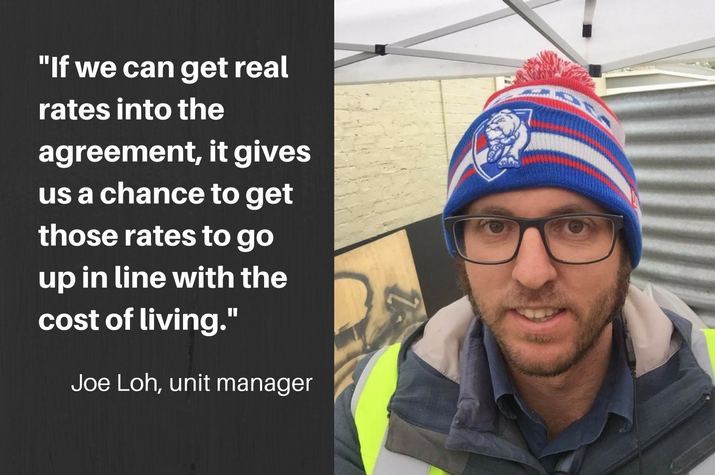 Joh Loh recently represented crew in a meeting with producers to talk about the Get Real on Rates campaign. He chats to MEAA about why it was important for him to be involved in those discussions, what his role in unit involves and the best things about working on productions.
What is your current role?  
I work as a unit manager. I recently worked as a unit assistant on House Husbands.
Take me through a full day for you at work.
Unit is usually first on location we set up the base of operations for the shoot, pop up marquees, chairs and tables, make and wardrobe facilities and probably most importantly the espresso machine. We keep the cast and crew hydrated and caffeinated throughout the day as well as maintaining the unit base.
How did you get your start in the industry?
I started out as a production runner which is a great apprenticeship as you get to interact with all departments.
What's the best thing about your job?
The people. I love getting to set and seeing friendly faces, catching up with what's going on in people's lives and having a laugh.
What are some of your career highlights?
I mostly work of TV commercials, but I've been lucky enough unit manage some feature films including, Galore, Fell and But What If It Works. I've worked on a couple that were the director's first feature and that's always a real buzz to help someone realise a lifelong dream.
What would be your advice for people wanting to get into the industry?
Don't do it for the money.
You recently represented crew in a meeting with SPA to discuss the Get Real on Rates campaign, why did you decide to get involved?
I got involved because the rates we have in the agreement do not reflect the real world. Even the real world rates that are getting paid are remaining stagnant year on year. If we can get real rates into the [Motion Picture Production Agreement], it gives us a chance to get those rates to go up in line with the cost of living. I think it's great for producers meet directly with rank-and-file crew from a range of departments rather than just dealing with union officials.
Why is being a MEAA member important to you?
I'm a union member on principle because I think workers should have a voice in their industry.